This week we're launching a new CSCCE working group – for any STEM community managers planning or supporting community champions programs.
What are community champions programs?
As a community manager, chances are you spend a significant amount of your time operating at the "whole community" level – devising shared programming such as community calls and also creating newsletters and other reinforcing communications to keep the group informed and aligned around the various programming and activities.
While that community-level alignment is crucially important, a community moves forward its mission when members are empowered to take on emergent leadership roles – which enables the community to grow, become more sustainable, and to advance specific projects together via working groups and other smaller-group activities. In the CSCCE Community Participation Model (see image below) we refer to this mode of member engagement as the CHAMPION mode – and we're working to develop our own champion infrastructure as well as working with other communities such as The Carpentries to develop theirs.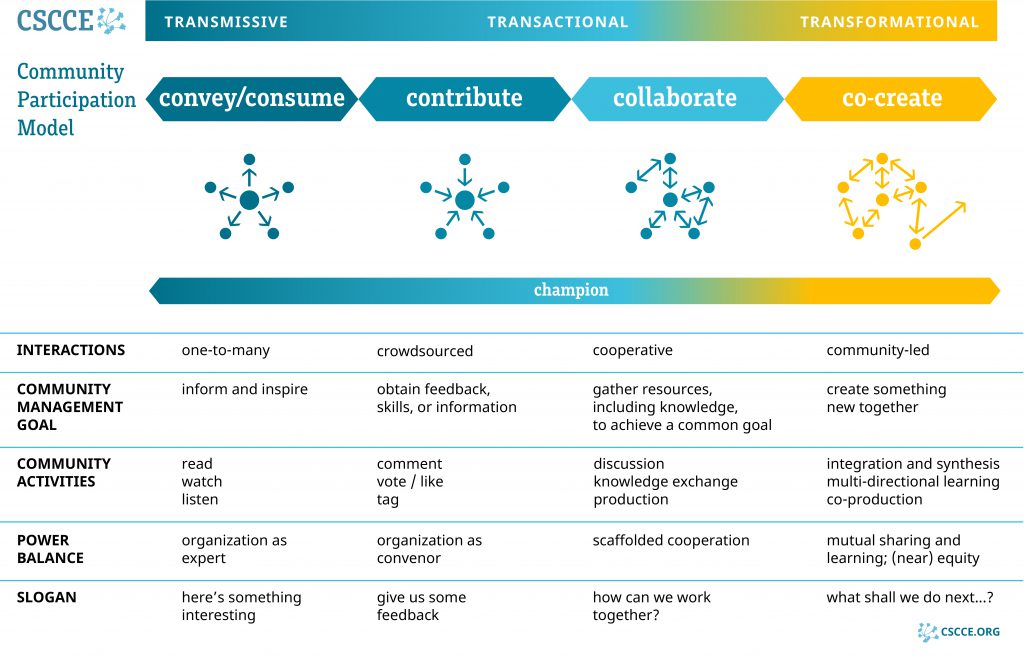 Examples of champions programs
Some of our community members already have champions programs of different kinds – a few examples that you may be familiar with are:
Why do we need a working group?
With many of our members either actively implementing champions programs or looking to do so, a working group is a great way to pool knowledge and document best practices. CSCCE staff will support resource curation, new resource development, and the creation of templates for reuse.
We also see this as an opportunity to continue the work carried out by the Advocacy Ninjas (CEFP 2017, see their report or watch their presentation on the March 2020 CSCCE Community Call) and the Busy Bees (CEFP 2019, watch their presentation on the March 2020 CSCCE Community Call). Both teams collected data on champion programs in STEM, one from the perspective of the community managers who implemented them and one from the perspective of program participants. These studies could be extended or their data further synthesized to gain additional insights into how these programs function and ultimately succeed.
Planned activities for the rest of 2020
We're planning to meet once a month in a working group call – with two of these meetings planned in 2020 – one in November and one in December. Before the end of the year, we'll deploy a short survey to gather information from group members about the various resources and activities they already have related to champions programs – and to assess needs and interests about what we build together in 2021. In early 2021 we'll then work together to shape a series of projects that the group will undertake in 2021.
Working group structure
As we continue to build out the infrastructure to support our community of practice, CSCCE working groups are led by staff and focus on specific projects that we can advance collaboratively together – with working group members receiving authorship credit or acknowledgements on working group outputs as well as opportunities to lead on specific activities such as writing blog posts. CSCCE special interest groups, which tend to be more general in focus, are led by community members.
Interested in joining?
Email info@cscce.org by 16 November 2020 and we'll send you an invite to the #community_champions_programs_wg channel on the CSCCE community Slack workspace.