For our fifth virtual tools trial, CSCCE community of practice member Mate Palfy shared his knowledge of the online conferencing platform Remo. In this blog post we offer a brief recap of the trial, and share our collaborative notes.
What's a CSCCE tools trial? It's an opportunity to try out an online platform with a group of your fellow scientific community managers and see whether it might be useful for your community. We have summarized all of our previous trials on the blog so you can catch up: Qiqochat, Mural/Padlet/Jamboard, Gather, and Etherpad+Video. And, join us next week at noon US EDT for the next trial in the series, which will be networking tool Wonder (previously YoTribe).
What is Remo?
The Remo platform offers the ability to stream live presentations, show pre-recorded videos, and host group chats at "tables." Within each video chat, participants are able to screen share or use a group whiteboard. And, because of the spatial layout format, participants can move around and join the tables and conversations they chose, making networking and catching up with colleagues relatively intuitive.
From their website:
"Remo humanizes online events and remote work.
"Made by a remote team, Remo makes it dead simple to create a delightful, immersive virtual space that empowers people to communicate, connect, and collaborate with each other just like they would in real life.
"When you enter a space in Remo, you will see a top-down, 2-D map view of an event venue, virtual office, conference, or school, full of interactive "rooms." Each room hosts an always-on video chat for occupants of a room, making it easy for collaborators to pop in and out of conversations with ease.
"Thanks to Remo, "remote" finally feels natural."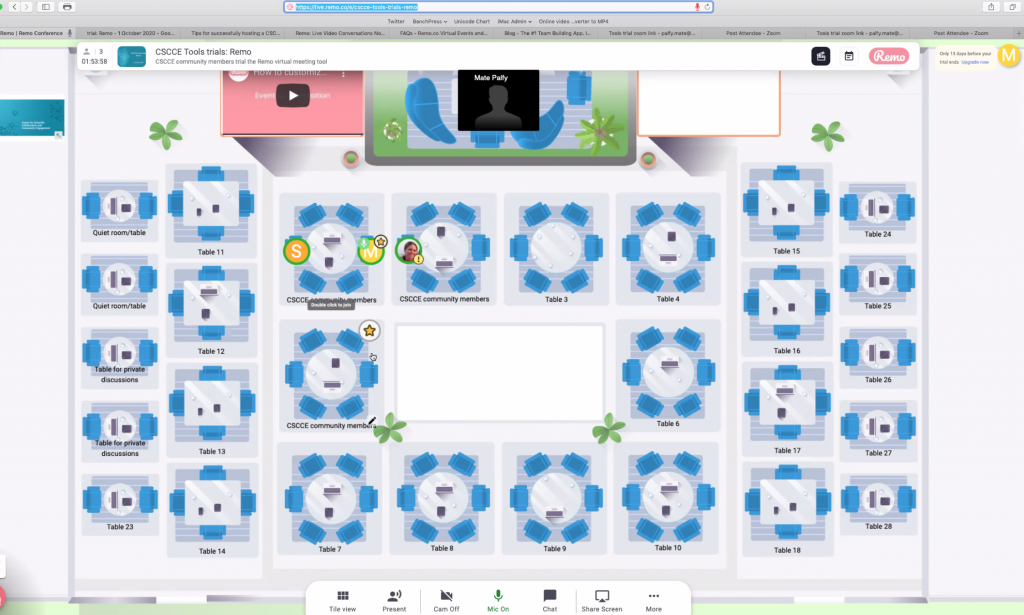 What sets Remo apart? 
Having already trialed a couple of conferencing platforms, we naturally started comparing Remo to Gather and Qiqochat. Similar to Gather, Remo allows you to create an avatar and navigate a virtual space. However, where Gather's function for starting video chats depends on proximity to other avatars, Remo is set up so that you join a table to join a chat. This is a nice way of setting boundaries on group sizes, and, by having tables for two in your layout participants can easily have one-on-one conversations without being interrupted.
The layout itself is customizable. You can create tables of different sizes and introduce your own color scheme and branding with relative ease. You also can have multiple floors in your virtual conference center, allowing for easy segregation of different activities or tracks, such asto exhibits or posters. For oral presentations, Remo has a nice feature for alerting all the participants in the meeting that a talk is about to start by sounding a bell, and allows for up to six presenters to be on the "stage."
Other pros:
The whiteboard feature also comes with pre-loaded templates to facilitate planning or brainstorming sessions.
Where Gather was playful with its 8-bit graphics, Remo offers a more staid approach to avatar creation (upload a photo or display your initials).
Participant profiles include a time stamp from the timezone they are in, so you immediately know what time it is for the person you are talking to.
Other standard features worked well, including public and private chat, agendas, and a participant list.
Things to watch out for
When participants want to join a Remo-hosted function they do have to register with an email address. As far as we could tell, you cannot log in as a guest. Mate also noted that, at least in the current iteration, when participants join a space they are arbitrarily assigned to a table. For his event, this meant there were a couple of occasions when folks accidentally interrupted behind-the-scenes logistics conversations.
The oral presentation feature is broadcast to everyone in the conference, with no option for concurrent sessions. For a small conference this may not be a problem, though. It also takes a little while to get used to the interface, so some orientation before your event would likely make it more enjoyable for your participants.
I want to know more…can I access the notes from this call?
Yes! 8 members of the CSCCE community of practice joined this tools trial, and shared their comments to a shared Google doc. You are welcome to add any comments you might have, especially if you've used Remo and have some tips and tricks to share. A big thank you to everyone who attended!
The next CSCCE tools trial: Wonder
Next week at the same time (Thursday, 8 October at 4pm UTC / noon US Eastern Time) we're offering a chance to get together to try out Wonder, a virtual networking platform. Download a calendar invite:
Disclaimer
Please note that neither CSCCE nor any of the participants (or their organizations) who attend these trials are endorsing the platforms. We will, where possible, ensure that participants have the option to enter the event as a guest and we will not provide any identifying information to the platform.