Over the past months, CSCCE Director Lou Woodley has been working with the Carpentries to develop a new community champions program, "The Carpentries Community Facilitators Program." The first module of the program, which Lou co-authored, aims to empower community members to influence Carpentries programming by channeling community feedback to leadership teams.
What are community champions?
In our recently-published community participation model (guidebook available for free download here) we outlined four modes of community participation (CONVEY/CONSUME, CONTRIBUTE, COLLABORATE, and CO-CREATE) that describe how community members might engage within a community. In addition, there's a fifth "meta-mode" to describe emergent leaders or super-users who supplement the role of a community manager in maintaining and expanding the community: the CHAMPION mode.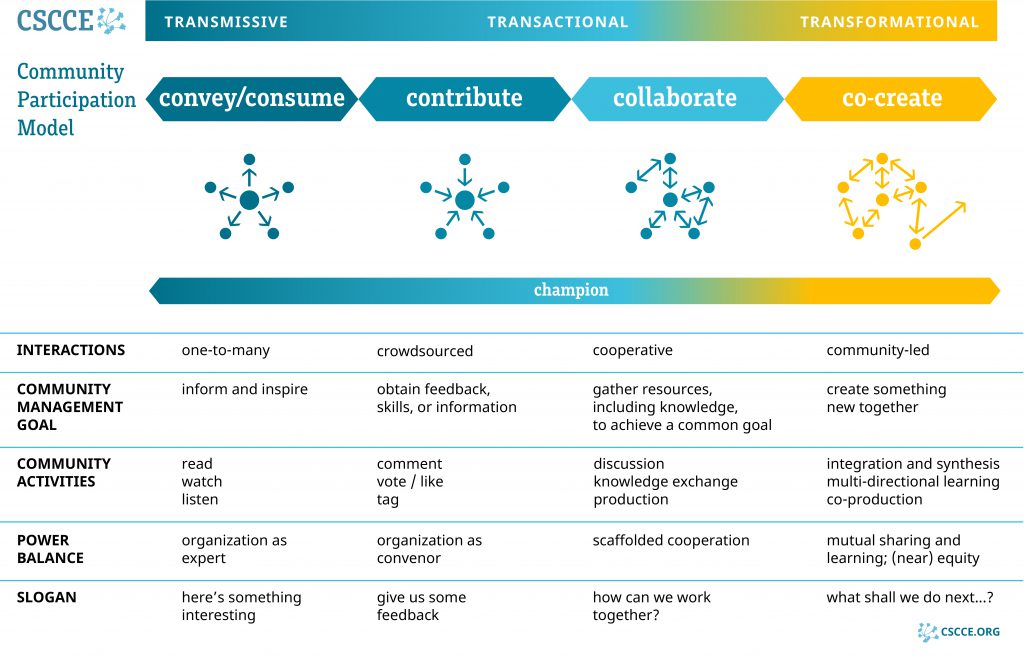 Champions often self-mobilize within active and engaged communities, but it is important to nurture and support these members. Moreover, formal champion programs (also known as ambassador programs, advocacy programs, or fellowships) can help encourage more members of the community to take on leadership roles and further the mission of the community. The structure provided by such programs can enhance impact, strengthen interconnections and avoid member burnout.
The Carpentries Community Facilitators Program
Our clients, The Carpentries, convene a large, global community around the need for coding and data science skills. They identified the need to mobilize emergent leaders within their ranks to address a specific need; to make sure that important member feedback get heard and channeled to where it can be acted upon. We worked with The Carpentries to develop a new champions program to train members in various aspects of facilitation and feedback gathering, and to empower them to elevate important feedback to leadership.
With the first module of the curriculum now in place, as well as the opportunity for members to suggest their own training modules, the program launched this week with a call for applications. The first cohort of Feedback Facilitators will form later this fall, with initial training beginning in October 2020 and running through the end of May 2021. CSCCE staff will continue to consult on curriculum development, and will act as trainers for the first two training modules.
CSCCE Trainings and Consultancy
If you are interested in working with CSCCE to develop a champions program for your organization, please contact us info@cscce.org. We also offer a series of training modules that we can tailor to your needs. You can find out more about our training and consultancy offerings here.