CSCCE is primarily concerned with the role of community engagement management within scientific teams, groups and communities – the human infrastructure for collaboration. Our research work focuses on better characterizing this role and its impacts.
We explore these topics via grant-funded research, as well as through the project teams of our Community Engagement Fellowship Program and via our Visiting Scholars Program.
The intention of our research work is to provide practically applicable knowledge that can assist community managers, their organizations, funders, evaluators and others interested in this emerging role.
If you would like to discuss our ongoing research, please email info@cscce.org.
Research projects
STEM netweaver dialogues – exploring transformative STEM learning networks
State of Scientific Community Management – 2016 landscape survey
Scientific community engagement manager skill sets
Ambassadors and Advocates in scientific community programs

What do ambassador programs look like?
What motivates ambassadors to contribute to their communities?
Current research
A study of online scientific and scholarly communities for broadening participation in STEM
In collaboration with Dr Lisa Elliot at Rochester Institute of Technology, CSCCE's director Lou Woodley is working to answer three research questions about online communities for broadening participation in STEM.
Grant Abstract
NSF INCLUDES EAGER – award number #1834978
This project is conducting exploratory research about two currently existing online scientific and scholarly communities (OSSCs), each of which was established to broaden participation in STEM in identified target communities: (a) the NSF INCLUDES Open Forum (NSF-1748345); and (b) the Deaf STEM Community Alliance's Deaf and Hard of Hearing Virtual Academic Community (NSF-1127955).
The goals of the proposed study are:
1) to apply the information systems theory of the life cycle of online communities and the theory of social capital to understand the dynamics of two NSF-sponsored OSSCs that are focused on broadening participation in STEM;
2) to strengthen NSF INCLUDES Network activities with best practices and lessons learned from the project.

The project is conducting comparative analyses of the OSSCs:
1) to determine life-cycle stages of the OSSCs;
2) to examine leadership and engagement activities of community engagement managers in each community and how they evolve over time; and
3) to explore the perceptions of community members.
WhY IS this OF INTEREST to SCIENTIFIC Community managers?
Communities often progress along a lifecycle from inception to maturity and possibly then decline or fragment into new communities. Little has been done to look at how the lifecycle maps to online communities of practice in science and specifically with communities focused on broadening participation – which is what the first part of this study is looking at.
Community managers help to steward their communities through the different stages of the lifecycle and their roles and activities change as a result. Part two of the study is looking at how the four community managers involved in the study use their skills over time.
Finally, online communities can be thought of as places where social capital is distributed and accumulated. This study seeks to explore what social capital looks like in the context of the two communities of practice and what role community managers may be playing in its distribution.
Dissemination OF RESULTS SO FAR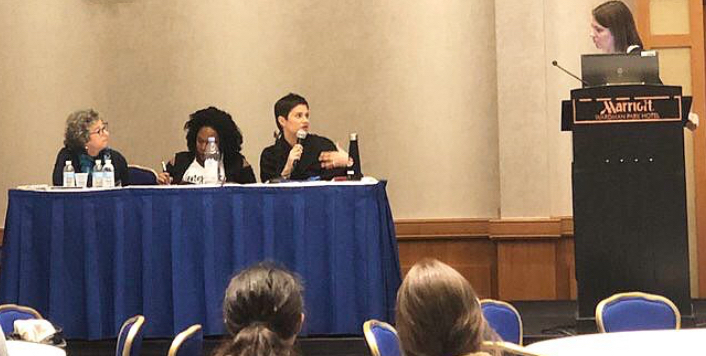 ---
STEM netweaver dialogues – exploring transformative STEM learning networks
Netweaving is a term used in STEM education for the brokering of relationships between stakeholders and has many similarities to community management. Lou Woodley participated in a research study led by the Netweaver Network in 2019. Here's a description of the study from their website:
"During the last half of 2019, Network of STEM Education Centers (NSEC) convened three 90-min network learning dialogues with four leading experts in network facilitation, systems change, and STEM education reform (Julie Risien, Lou Woodley, Ann Austin and Emily Miller). Our focus was how to design, create, facilitate, and manage transformative STEM learning networks. The topics were:

– Maintaining Connection for Transformation
– Transformative Assessment
– Transformative Capacity Building
These dialogues are being analyzed in conjunction with a parallel set of discussions among social-ecological netweavers to advance netweaving practice and identify next steps…We are analyzing the results of these dialogues in order to identify the insights and identify possible next steps to support a STEM netweaving community of practice."
---