Many STEM organizations and informal groups are using the term community to describe their members – whether they're a professional association, an extra-institutional community of practice or an organization that exists to provide infrastructure services such as training or standards setting. Additionally, academic research also consists of communities which might include scientists in the same field, grant program or large-scale collaboration.
Page contents:
With this broad-reaching emphasis on community there comes a need for community-building expertise – a role performed by scientific community engagement managers, the human infrastructure for collaboration. But how should community engagement managers describe the range of member activities seen within their communities – from unconnected newsletter consumers to highly active working group chairs? And how can describing community member engagement help to set funder expectations, improve programming, and equip a community manager to succeed?
It is with these questions in mind that staff at the Center for Scientific Collaboration and Community Engagement (CSCCE) created the CSCCE Community Participation Model.
The model
The CSCCE Community Participation Model describes four modes of member engagement that can occur within a community – CONVEY/CONSUME, CONTRIBUTE, COLLABORATE, and CO-CREATE – and one that can occur outside of it: CHAMPION. All modes may be present at once, with some members interacting in multiple modes – or a community may have member engagement that falls into only some of the modes described.
The model is shown in graphical form below.
Across the top you will see three forms of information flow: TRANSMISSIVE, TRANSACTIONAL, and TRANSFORMATIONAL.
Below that, the four major modes of community participation, CONVEY/CONSUME, CONTRIBUTE, COLLABORATE, and CO-CREATE.
How these forms of information flow map onto the four modes is described in more detail below.
Next, you will see a network diagram representation of community member interactions, which is further described in terms of INTERACTIONS, GOALS, COMMUNITY ACTIVITIES, and POWER BALANCES.
Below that, the CHAMPION mode (see below for details).
The last row offers a SLOGAN, which you can use to conceptualize the attitude of a convening organization engaging in each mode.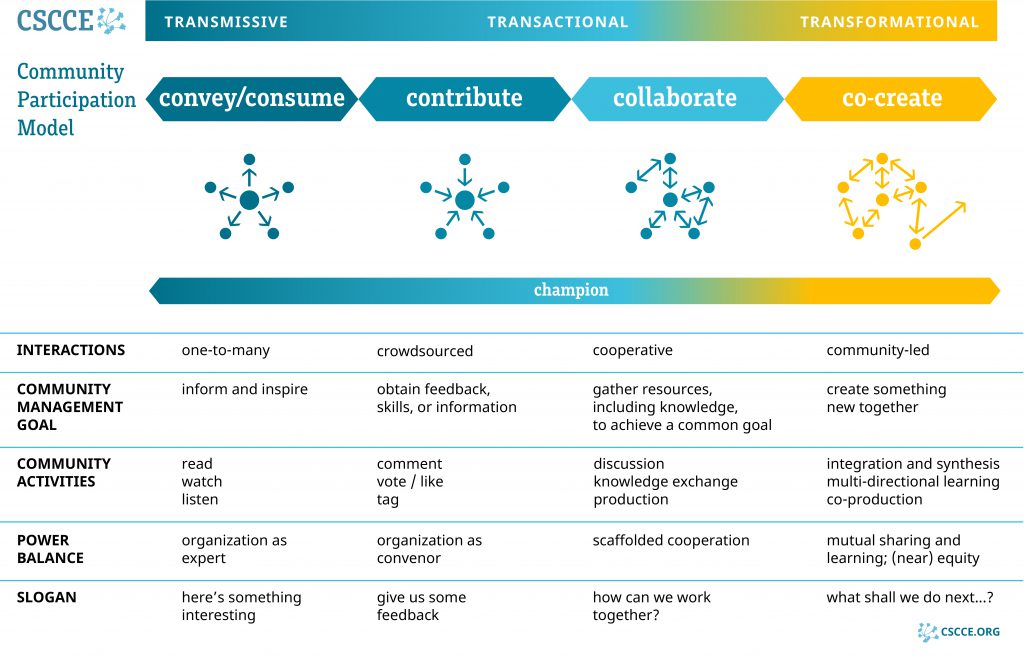 Figure legend: The CSCCE Community Participation Model describes four modes of community member participation, CONVEY/CONSUME, CONTRIBUTE, COLLABORATE, and CO-CREATE, as well as a fifth "super user" mode, the CHAMPION mode. Member activities are generally convened or scaffolded by a community manager, who usually represents an organization or institution. See the text for a full description of this figure.
---
Each of the first four modes in the CSCCE community participation model describes the manner in which community members interact with one another WITHIN the community.
CONVEY/CONSUME
Groups usually begin in this phase, with a community manager or communications professional CONVEYing information for members to CONSUME independently of one another. This might look like a regular newsletter to an email list, social media posts to followers, or other broadcast communications.
CONTRIBUTE
In this mode, members are empowered to CONTRIBUTE in some way. Often these contributions are invited or facilitated by a community manager, especially in the early stages of a community, and might include presenting on a webinar, writing a guest blog post, or sharing resources on a community platform. One function of the contribute mode is to enable members to discover the skills and interests of others in the group by making knowledge more visible.
COLLABORATE
In this mode members of a community COLLABORATE with one another, often with the community manager providing scaffolding for success but taking a less visible coordinating role. Such collaborations might include co-authoring a white paper or blog post and may involve infrastructure created or maintained by the community manager, but used more independently by community members. For example, there may be general guidelines for writing a guest blog post that the community manager has created, but co-authors work together without the community manager to write the post.
CO-CREATE
Most common within established communities, this mode describes how members work together WITHIN the community to CO-CREATE something that they couldn't do before. For example, community members might organize an event together, form working groups to push the work of the community forward, or establish new communication channels such as a podcast.
---
In addition to the four modes that describe member interactions within the community, there is a fifth mode that describes a meta-level of engagement:
CHAMPION
The champion mode is when a community member is motivated to take on more responsibility for the success, sustainability, and/or running of the community. This might look like advocating for the community on social media, running a working group or local chapter, or taking the lead in creating and maintaining documentation to support the community.
This can be thought of as a meta-mode describing actions both within and outside of the community. A community CHAMPION may use any of the four modes described above in their CHAMPIONing activities.
Examples of champion-ing activities
CONVEY: they post on social media to spread the word more widely
CONTRIBUTE: they invite others to attend a local event;
COLLABORATE: they host a working group call;
CO-CREATE: they run trainings or other activities for others in the community
In effect, a CHAMPION acts to supplement the work of the community manager in any or all of the four modes, and as such can be thought of as an emergent leadership role. A member acting in CHAMPION mode may or may not be part of a formal champion, ambassador, or advocacy program run by the community.
Want to learn more?
To help you to explore the model in more detail, we have created a series of three guidebooks with FAQs and spotlights on different aspects of the model.
You can also check out related resource pages on community champions programs and community programming.
by Lou Woodley and Katie Pratt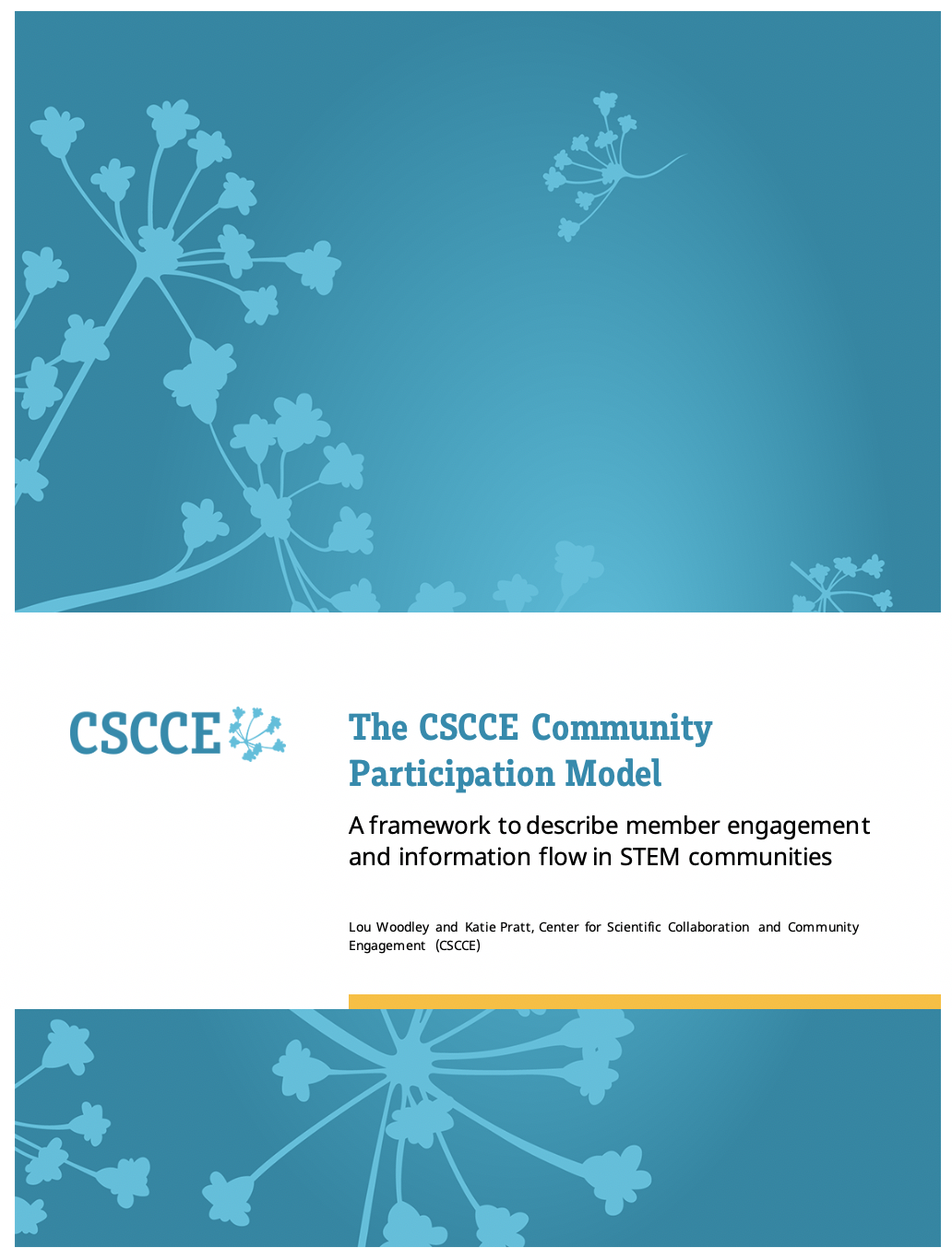 The CSCCE Community Participation Model describes four modes of member engagement that can occur within a community and one that can occur outside of it. This guidebook is intended to help you use the model to inform your community member engagement strategy.
by Lou Woodley and Katie Pratt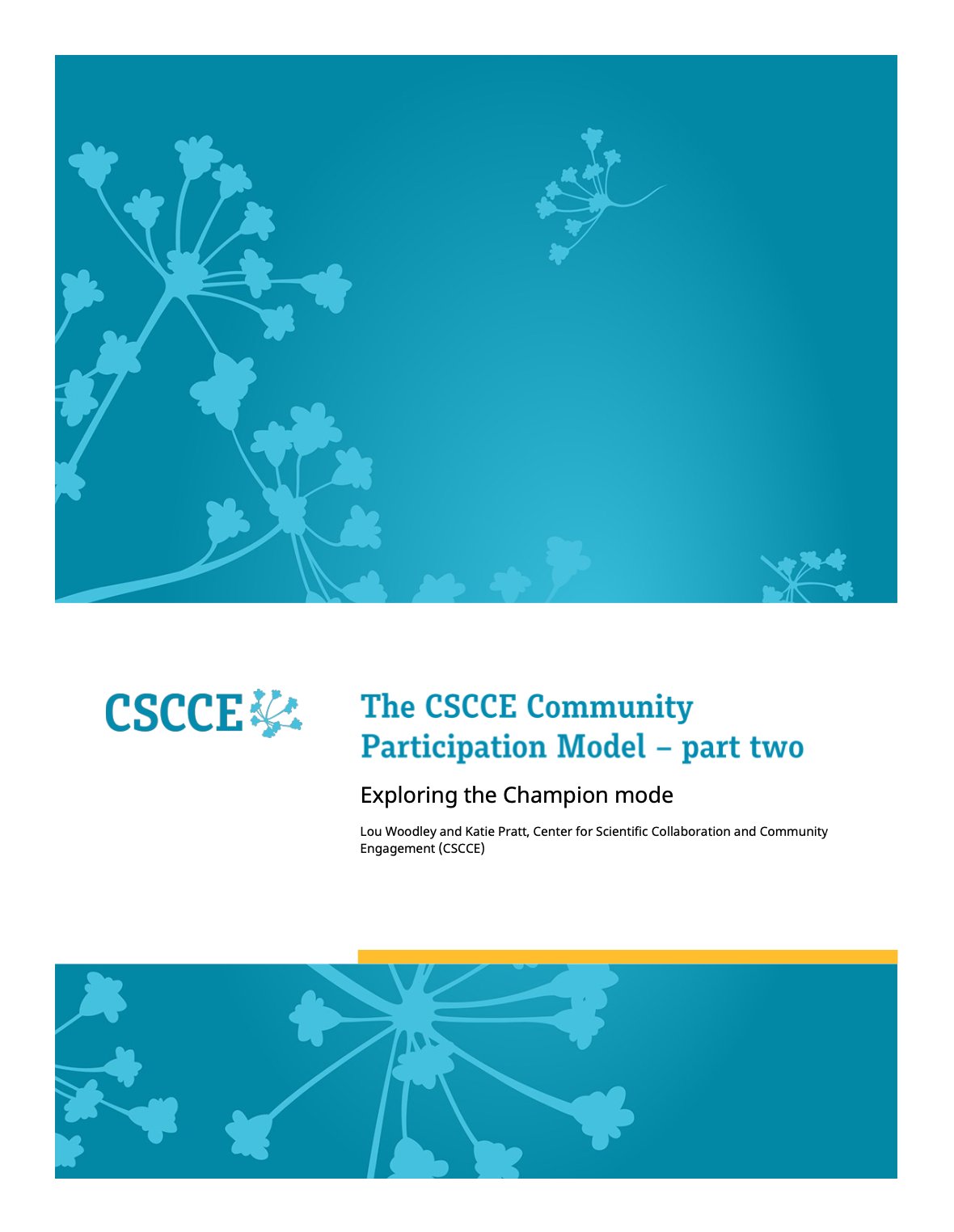 In this companion guidebook, part two, we focus in on the CHAMPION mode, in which emerging leaders within a community act in either informal or formal capacity to MAINTAIN, GROW, or EVOLVE the community.
by Lou Woodley, Katie Pratt, and Camille Santistevan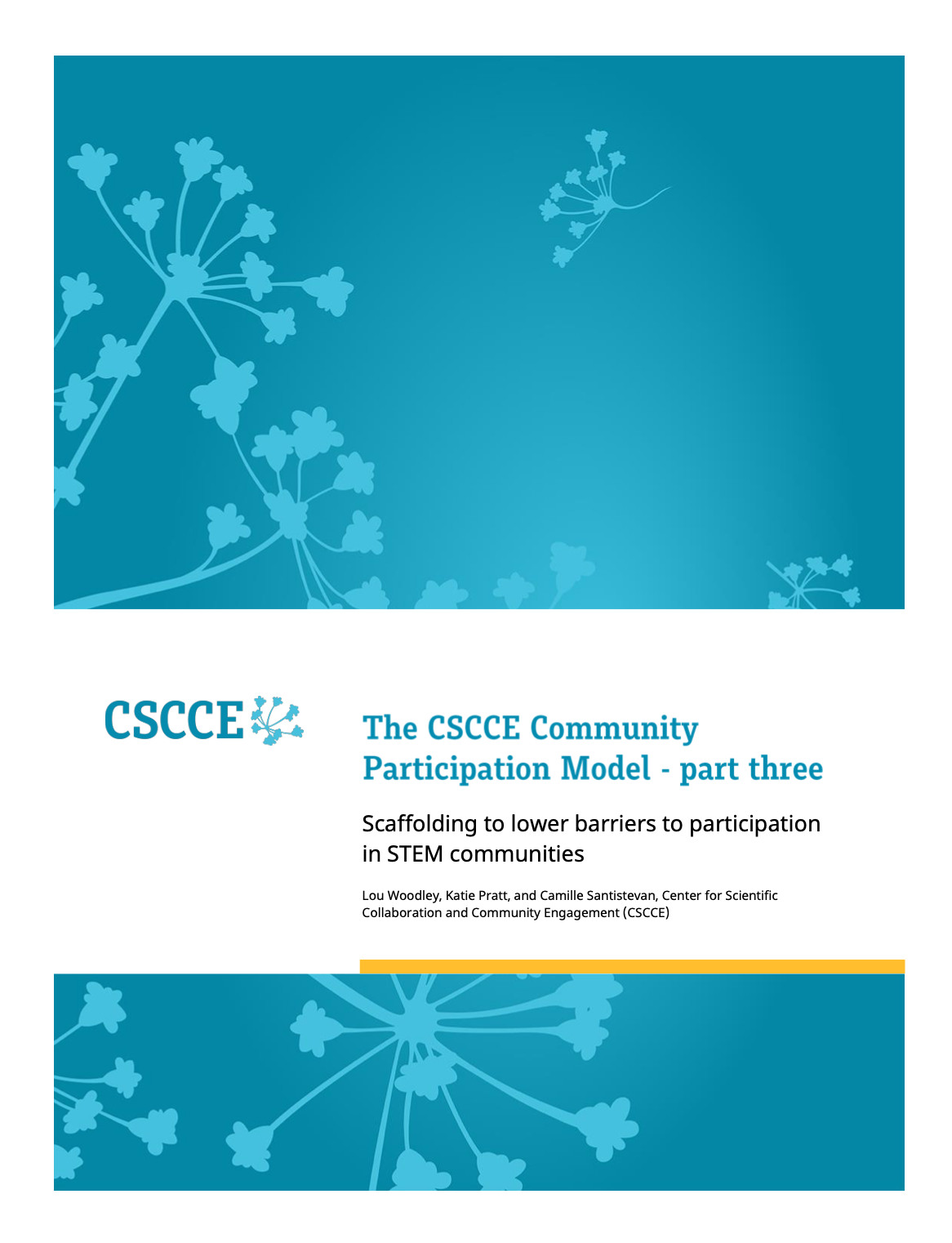 In this third part of our CSCCE Community Participation Model series, we focus on the role of scaffolding to support and grow inclusive communities in STEM.
CSCCE consultation and training
CSCCE can also help you use this model in your own organization, either through one-on-one consultations or by delivering a bespoke training module. To learn more about these options, visit our trainings webpage or email us at info@cscce.org.