Playbooks are written hubs that keep your community members, community champions or community team on the same page by making visible the who, what, why, when, where, and how of your shared work together. In this workshop-style, multi-week course, we'll talk about the different contexts in which playbooks are useful and the different strategies for creating and maintaining them. Then, you'll use CSCCE's playbook framework and custom templates to create a "lite" playbook of your own.
Where PBK fits in CSCCE's community manager training catalog
PBK is a required course in the CSCCE Community Manager Certification Program. Depending on participation by certification candidates, remaining places in the course will be made available for general registration. See below for pricing and registration details when general registration becomes available.
Even if you already have a playbook or existing documentation about your community, this course will help you to identify gaps, make updates, or improve the adoption and reuse of existing content. We've found that previous learners in similar trainings that we've offered appreciated the opportunity to audit and update documentation and processes to enhance existing communication norms.
Prerequisites
Creating Community Playbooks (PBK) is for anyone who wants to create or update a playbook but needs some guidance and/or accountability to get it made. All learners must first complete Scientific Community Engagement Fundamentals and be actively managing a community, collaboration, or team. This course is also appropriate for community managers interested in creating a playbook for a community champions program.
Course overview
We'll cover the different types of playbooks, privacy vs. transparency, platforms for creating and sharing playbooks, different ways of creating (or co-creating) a playbook, and how to socialize your playbook to ensure it's used.
Each week of this course will involve two 90 minute sessions. The first two sessions will be lecture-based with some interactive activities, and then the remaining sessions will be a combination of introducing templates, all hands discussion, and breakout co-working. You'll receive personalized guidance from the instructors throughout, however certification program learners are encouraged to sign up for an additional office hours session if they would like more individualized feedback on their playbooks.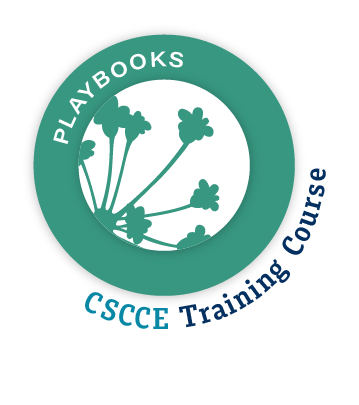 To graduate from PBK, you will need to have made significant progress towards completing your playbook, and attend a majority of sessions (up to two absences is ok). The amount of time you spend on your playbook outside of class is up to you, but we recommend scheduling co-writing sessions with your teammates while the course is running or shortly after so that the material is fresh in your mind.
Course syllabus and learning objectives
Please note, all course syllabi are currently in draft form. Please check back in September for additional details.
Week one: Introduction to playbooks
What is a playbook? Why does a community need a playbook (or multiple playbooks)? What goes into a playbook? Where does a playbook live? We'll explore these questions and more in our first two sessions, ending by sharing our template for community playbooks that you can then adapt and populate to create your own.
We'll also guide you through doing an audit of existing materials that you may have that could live in a playbook, as well as making a plan outlining who else you need to contact about your playbook – to provide materials, give sign off, or contribute in some other way.
Week two onwards: Guided workshops
Our meetings from here on out will be structured as a weekly class where we'll present templates for a specific section of the playbook and hear from guest speakers who will demo sections of their own playbooks. The weekly co-Lab will be time for small group co-working as you work to create a playbook and get feedback from the course instructors, as you need it. Our final meeting will include an opportunity to share how you plan on sharing your playbook with your community and how you will evaluate its impact. 
Course outputs
This course, like all CSCCE trainings, is designed to be highly practical and respect learners' busy lives. Worksheets, templates, and scaffolded activities, plus facilitated debriefs will minimize the time required from learners outside of the two weekly classes.
By the end of the course you will have:
Created a "lite" community playbook for your community team, community members or community champions program addressing each of the six core elements of a playbook in the CSCCE playbook framework.
Created a plan for socializing your playbook to ensure it's used and maintained.
Expanded your professional network to include STEM community managers who have already created and used playbooks in their own community-building work
CSCCE resources related to this course
Center for Scientific Collaboration and Community Engagement. (2021) CSCCE Tip Sheet: Collaboration guides. Woodley, Pratt, and Bertipaglia doi: 10.5281/zenodo.4792731
A forthcoming CSCCE guide to community playbooks – expected to be published in 2023.
Instructors
This course is led by two members of the CSCCE training team and will also include invited speakers who will demo their own playbooks:
Lou Woodley, CSCCE Director
Camille Santistevan, Director of Learning
Adrienne Gauthier, Trainer and Learning Program Manager
Alice Martinic, Training and Curriculum Assistant
Pricing
Currently, PBK is only open to participants in the CSCCE Community Manager Certification Program. We will share more information about individual pricing options if spots on the course become available.
We intend to make CODE available for general registration in 2024. If this is of interest to you please email training@cscce.org.
Included in the course fee
The benefits of taking PBK include:
Expert guidance through the process of creating a playbook that your members, team or community champions will actually use
Accountability through peer co-working to ensure that you complete your community playbook
Access to worksheets, activities and assignments via CSCCE's LMS
Access to CSCCE's playbook template to reuse in your community
Access to one Quarterly Skills Share Session (normally only accessible to Certification Program participants and learning members)
A dedicated cohort channel in CSCCE's Slack community of practice where you can share ideas and resources with your classmates and facilitators
Participants in the CSCCE Community Manager Certification Program will also receive:
Assessment and feedback on select course assignments
Access to office hours to discuss their playbook progress
A digital badge to confirm your graduation from the course (dependent on completion of all course requirements)
Upcoming session
PBK24W will run between 16 January and 8 March 2024. More information coming soon.
Related consultancy offerings
While we've not run this online course before, CSCCE staff have extensive experience supporting clients and learners in the creation of playbooks. To date, we've supported the creation of over 50 playbooks or collaboration guidelines – in contexts that include:
Program teams within scientific societies who are building cohorts of participants over multiple years
Grantees of specific funding programs who are being connected via a series of grantee events
Community leaders who serve annual terms to support the annual meeting of a professional association
Internal community teams who wish to align their content and engagement strategies with other staff from different departments within their organizations
Interdisciplinary research collaborations led by a university-based team
If you or your organization is interested in working with us more closely on a playbook or collaboration guide, please let us know by emailing training@cscce.org. You can find out more about our consultancy services here.