The Center for Scientific Collaboration and Community Engagement (CSCCE) is a research and training center to support and study the emerging field of scientific community engagement.
CSCCE is a fiscally sponsored project of Community Initiatives, a registered 501(c)3 non-profit organization based in California, USA.
How CSCCE is funded
In 2017 and 2019, CSCCE received grants from the Alfred P. Sloan Foundation, which enabled us to establish the Community Engagement Fellows Program (CEFP) and develop our initial curriculum for scientific community managers. This funding also supported us as we developed our consulting and research services.
CSCCE currently has a grant from the Sloan Foundation, which was awarded in 2021 to test a prototype financial sustainability model. While we already bring in significant revenue from consulting (including grant subcontracts) and training courses, this 2.5-year Sloan grant is bridging the gap to sustainability while we launch an institutional membership program, shore up our technical infrastructure, and develop and launch additional training options.
Our goal is to be financially self-sustaining by the end of 2023 / early 2024 through a mixed revenue model consisting of institutional memberships, consultancy and training revenue, and project-specific grants.
You can find more information about CSCCE's current consultancy and training offerings here and some of the plans for our courses here (with more announcements coming in late Q1/early Q2 of 2022). We also strive to be transparent about who we are working with on grant-funded projects. We are currently included in grants from the Chan Zuckerberg Initiative (CZI), the US National Science Foundation (NSF), and the Alfred P. Sloan Foundation (see these recent blog posts).
You can support CSCCE's work as an individual by making a one-time or recurring donation via our donate page.
Please contact info@cscce.org with any questions and to discuss additional ways to support our work.
How CSCCE is managed
The Center is directed by Lou Woodley, who has been with CSCCE since its inception. Lou reports to an advisory board that governs CSCCE's overall activities. Our current org chart is shown below and you can read the bios of each team member here.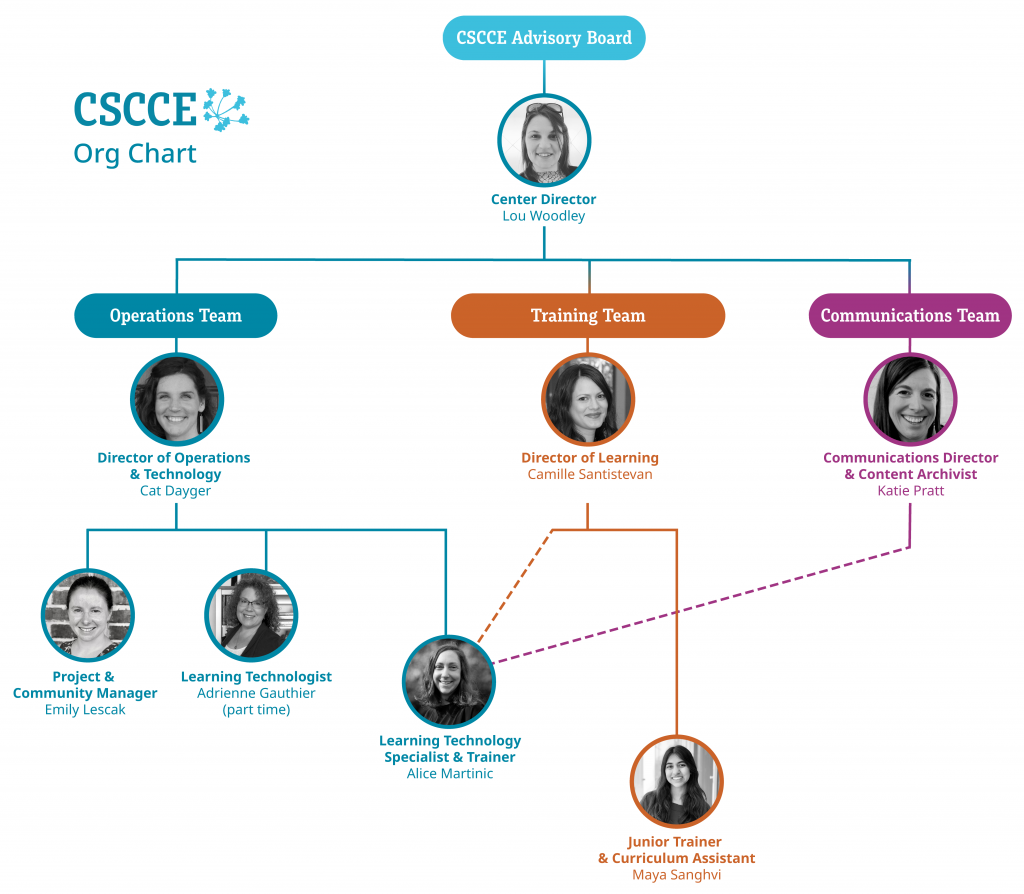 The work of the Center is guided by our core values. These were co-created by CSCCE staff and community members and underpin our Community Participation Guidelines, which all CSCCE staff (as well as community members) are expected to adhere to.
CSCCE's advisory board
Our advisory board is composed of three core members who bring a range of perspectives to CSCCE – including academic research, social sciences theory, technical infrastructure implementation, facilitation, academic publishing, and business management. Thanks to their deep expertise, they span organizational contexts from academia to non-profits, business to startups. They have each been involved with scientific community-building for several years – managing, supporting and/or studying communities.
In the coming months we plan to create additional leadership roles in the CSCCE community to further represent the diverse range of members that CSCCE serves. More details will be forthcoming.
Amber Budden
Amber is an inaugural fellow of the AAAS Community Engagement Fellowship Program (CEFP) and a current CEFP mentor.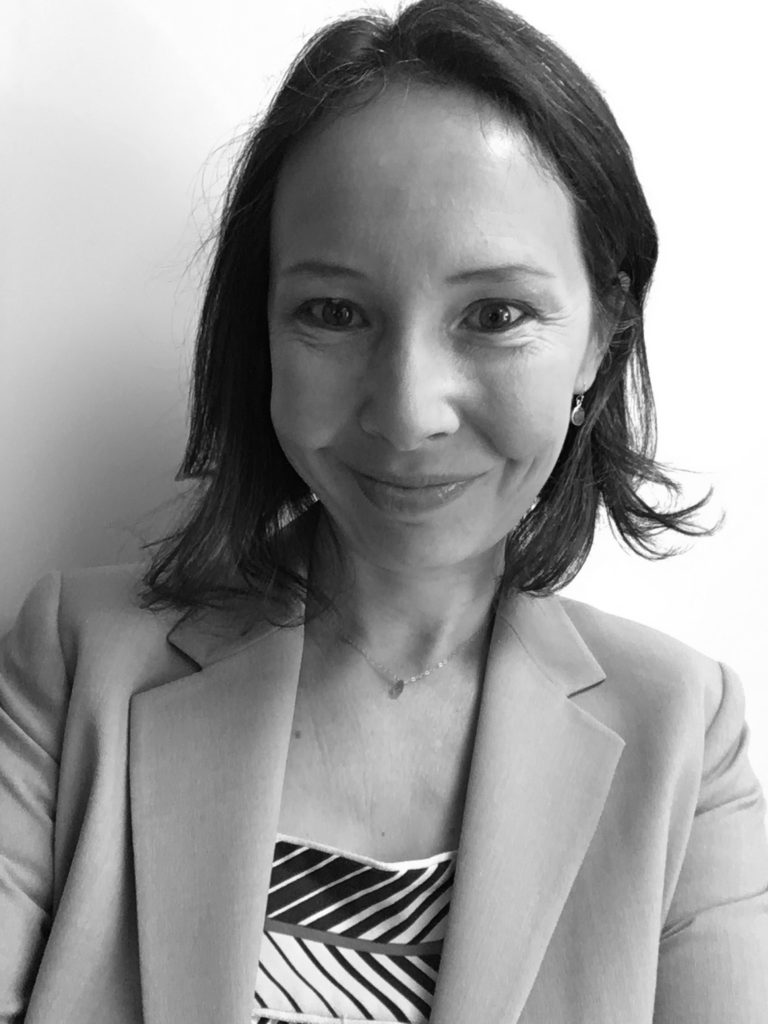 Amber Budden is an open science facilitator, community manager and data literacy trainer based at the National Center for Ecological Analysis and Synthesis. Co-lead of DataONE and the Arctic Data Center, her focus is on data science infrastructure and in supporting community development and adoption of open science learning and best practices.
Amber's previous research activity includes bibliometrics, publication practices and behavioral ecology. She served as a member of the Board of Directors for the National Postdoctoral Association during its inception, chairing the strategic planning and publications committees.
She has a PhD in behavioral ecology from the University of Wales, a joint BSc in Psychology and Zoology from the University of Bristol and is qualified as a youth and community worker. Her postdoctoral research was conducted through the University of California, Berkeley and the University of California, Santa Barbara.
---
Josh Freeman
Josh has been involved with CSCCE since its inception – including participating in strategic planning meetings and attending the CEFP2017 fellowship trainings.
Josh Freeman was the Founding General Manager of Trellis, the online collaboration platform for the scientific community built and operated by AAAS, and also was the co-Principal Investigator on the initial grants from the Sloan Foundation that created and funded CSCCE. In addition, Josh has been Chief Digital Media Officer for Science, led several start-ups, and served in a variety of roles at the Discovery Networks, AOL, and Bain & Co.
---
Cameron Neylon
Cameron served as a CEFP curriculum advisory committee member and CEFP2017 mentor.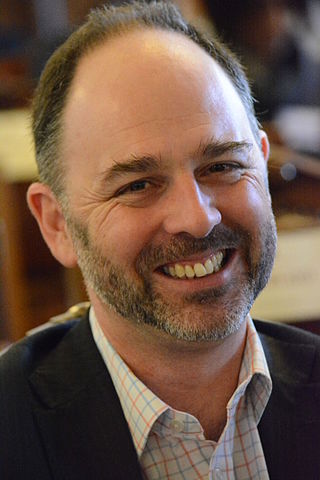 Cameron Neylon is Professor of Research Communication at the Centre for Culture and Technology at Curtin University, Director of KU Research, and an advocate of open research practice who has worked in research and support areas including chemistry, advocacy, policy, technology, publishing, political economy and cultural studies.
He was a contributor to the Panton Principles for Open Data, the Principles for Open Scholarly Infrastructure, the altmetrics manifesto, a founding board member of FORCE11 and served on the boards and advisory boards of organisations including Impact Story, Crossref, altmetric.com, the LSE Impact Blog and various editorial boards. His previous positions include Advocacy Director at PLOS, Senior Scientist (Biological Sciences) at the STFC and tenured faculty at the University of Southampton.
Along with his earlier work in structural biology and biophysics his research and writing focuses on the culture of researchers, the political economy of research institutions and how these interact, and collide with, the changing technology environment.
---