This eight-week course is designed to offer new and existing community managers a core set of actionable skills and strategies. Participants meet twice a week, with lecture-style content interspersed with discussion and project work. This course is a prerequisite for all other courses in our catalog (although some exceptions exist, contact us for details).
Scientific Community Engagement Fundamentals (CEF) is generally offered on a quarterly basis. We will be offering it again in the first half of 2024.
You can pre-register for future sessions of CEF (as well as other CSCCE courses) here and email us at training@cscce.org with any questions.
Course overview
Scientific Community Engagement Fundamentals is an eight-week course designed to offer new or existing community managers core frameworks and vocabulary to describe their community's purpose, refine or create strategic programming to engage community members around their shared goals, and identify ways to lower barriers to member participation. While the content is designed for any level of learner, it should not be thought of as a "beginner" course. Rather, it is intended to create common ground so that scientific community managers can converse across disciplines, more efficiently learn from one another, and build successful engagement strategies that are grounded in theory.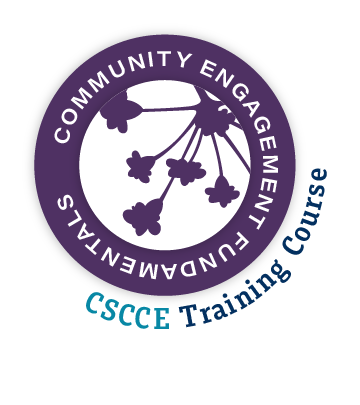 Each week, participants will meet virtually (using Zoom) for a 90 minute lesson and a 90 minute Co-Lab. While lessons will involve structured presentations and activities, Co-Lab time is for discussion, reporting out, and seeking feedback from instructors and fellow learners.
Each week will also include approximately 90 minutes of homework, for a total time commitment of 4.5 hours per week.
Graduation from the course requires completion of a final assignment. We expect all participants to attend social hour, graduation, and at least 11 of the 12 lessons / Co-Labs.
Successful completion of the course will result in the award of a digital badge which can be shared online via social media platforms (including LinkedIn and Twitter) and on your personal website. You will also have the option to be included on an alumni page on the CSCCE website.
Please note that graduation from CEF is a prerequisite for participation in CSCCE's Community Manager Certification Program, unless you have a valid exemption.
Course syllabus and learning objectives
Week ONE: GET TO KNOW YOUR COHORT
Before the course begins, we host a virtual social hour for all participants to find out about their instructors and fellow learners.
Week two: What is community?
Participants will gain an understanding of the key elements of a community as well as how to define their own community. Through the creation of a community overview statement, participants will explore the reach and purpose of their community.
Week three: Exploring community engagement roles
Learners will consider the skills needed to excel in the role of a community manager, and use CSCCE's skills wheel to explore the skills that they currently use. We'll also explore the challenges of less visible leadership roles and how community managers represent a distinct kind of network-centric leadership.
Week four: Purpose and people
With a stronger understanding of the nature of community, participants will work to identify the different stakeholder and member relationships for their community and the desired goals for each type. Discussion will include the challenges of distributing power and how to identify barriers to participation.
Week five: COMMUNITY PROGRAMMING and scaffolded participation
Via a series of worksheets, we'll explore current and planned content and programming in our communities and whether it aligns with member needs. We'll introduce the concept of scaffolding and its importance in providing supportive, responsive and multi-modal programming that empowers members to participate.
Week six: READING WEEK
Course participants can attend two optional sessions at the same time as the regular lessons and Co-Labs to share out progress so far, work through structured examples, and catch up on completing their course worksheets.
WEEK SEVEN: Community member participation
Using the CSCCE Community Participation Model, participants will analyze the current programming in their own communities – identifying gaps and how to better align programming with desired outcomes. They'll also acquire core vocabulary for describing different aspects of their community programming.
Week EIGHT: Community lifecycle models AND GRADUATION
Community lifecycle models can inform the type of programming appropriate for a community, as well as how the role of a community manager changes. Learners explore several models and discuss the implications of a community lifecycle stages – for programming, team planning and evaluation.
Instructors
This course is led by two members of the CSCCE training team:
Lou Woodley, Director
Camille Santistevan, Director of Learning
Alice Martinic, Trainer and Learner Liaison
Maya Sanghvi, Junior Trainer and Curriculum Assistant
Pricing
Our pricing structure for CEF reflects the different organizations that community managers work for and the range of available budgets.
General rate: $1275 (for non-profits)
Supporting rate: $1575 (aimed at for profits and those who would like to support the participation of others. Find out more about our accessibility fund.)
Discounted rate: Depending on participants paying the supporting rate, we may be able offer a limited number of discounted tickets for this cohort. If you would like to participate but your organization is unable to cover the whole cost, please complete this course discount request form.
Please email training@cscce.org with any questions.
Included in the course fee
A pre-course social hour to get to know members of your cohort.
Group activities that intentionally match you with other community managers who are working in similar contexts.
Custom worksheets and exercises that help you apply key community management frameworks to your specific context.
A mid-course reading week with optional sessions for asking questions, seeking instructor feedback, co-working with classmates and catching up on course activities.
A dedicated cohort channel in CSCCE's Slack community of practice where you can share ideas and resources with your classmates and facilitators.
Access to one Quarterly Skills Share Session (normally only accessible to Certification Program participants).
A template to create a final graduation poster summarizing what you learned during the course that you can share with your team and/or supervisor.
A digital badge to confirm your graduation from the course (dependent on completion of all course requirements).
Office hours
For an additional fee, we can also provide individualized office hours during the course. These six, hour-long one-to-one sessions with a member of the CSCCE training team include:
Review of your homework / worksheets.
An opportunity to explore your questions about the course materials and your answers to the activities.
A weekly tip-sheet for your supervisor to help to bridge the gap between what you're learning during the course and implementation within your organization. This includes a short summary of the topics covered and suggested questions for discussion together.
We strongly recommend this option for learners who appreciate detailed feedback or who are in the early stages of building a community. Places for office hours are limited so please contact us early if you'd like to add this to your course participation: training@cscce.org.
Training format and learning tools
In 2023, we transitioned to coordinating all of our course offerings through the learning management system (LMS) Canvas. Learners now access course materials (e.g., lesson slide decks and worksheets), complete homework assignments and assessments, and access additional activities through a single portal.
Synchronous CSCCE training sessions take place primarily in Zoom. Various activities during lessons and Co-Labs model the use of additional tools, including: Google Workspace, Gather, Wonder, Padlet, and Mural.
CSCCE resources related to this course
You can also find a glossary of terms used in this course within the CSCCE STEM Community Management Glossary.
Testimonials
The large majority of our learners (74% very likely, 21% likely) would recommend our courses to their colleagues. Here's what some of them have to say about Scientific Community Engagement Fundamentals:
The content is and facilitation was excellent, the activities to think about my community [were] directly useful to my work, and honestly feeling validated in what felt right to me was hugely helpful at rebuilding my confidence in this approach.

CEF23Sp participant
The course was delivered in such a professional manner – thoughtful structure, meaningful sequence, supportive environment. It was a real pleasure to turn up each week.

CEF23Aus participant
I have learnt so much in the course. It has reshaped the way I view my career. I hadn't previously considered myself to be a leader but now see that the quiet leadership of community managers is perhaps even more valuable.

CEF23Aus participant
I would recommend this for someone looking for tools to support their role and a space for intentional learning and strategizing, particularly if they are looking for an ongoing community and support. I think this is helpful at multiple stages of development within a scientific community.

CEF23W participant
I really appreciated how application-based the activities were. None of it felt like busy work, and it allowed me to take the time to strategize in ways I may not have planned for on my own.

CEF23W participant
---
Upcoming session
The fall offering of Community Engagement Fundamentals (CEF23F) will run on Tuesdays and Fridays beginning Friday, 8 September until Friday, 27 October.
The key dates are:
Social hour: Friday, 8 September from 12pm – 1pm US EDT/ 4pm – 5pm UTC
Tuesday Lessons: 12, 19, 26 September; 3, 10, 17, 24 October from 12pm – 1:30pm US EDT / 4pm – 5:30pm UTC
Friday Co-Labs: 15, 22, 29 September; 6, 13, 20, October from 12pm – 1:30pm US EDT / 4pm – 5:30pm UTC
Graduation: Friday, 27 October from 12pm – 2pm US EDT / 4pm – 6pm UTC
---
Past sessions
More than 200 community managers have successfully completed CEF. Check out some of our past learners on the CEF graduates page.
CEF23Sp
#CEF23Sp, our eleventh Scientific Community Engagement Fundamentals cohort, ran on Tuesdays and Fridays at 12pm Eastern from Friday, 12 May until Friday, 30 June 2023.
CEF23W
#CEF23W, our tenth Scientific Community Engagement Fundamentals cohort, ran on Tuesdays and Fridays at 12pm Eastern from Friday, 13 January until Friday, 3 March 2023.
CEF22F
#CEF22F, our ninth Scientific Community Engagement Fundamentals cohort, ran on Mondays and Thursdays at 12pm Eastern from 22 September until 10 November 2022.
CEF22S
#CEF22S, our eighth Scientific Community Engagement Fundamentals cohort, ran on Tuesdays and Fridays at 12pm Eastern from 8 July until 26 August 2022.
CEF22Sp
#CEF22Sp, our seventh Scientific Community Engagement Fundamentals cohort, ran on Mondays and Thursdays at 12pm Eastern from 28 April until 16 June 2022.
CEF22W
#CEF22W, our sixth Scientific Community Engagement Fundamentals cohort, ran on Mondays and Thursdays at 12pm Eastern from 25 January until 11 March 2022.
CEF21F
#CEF21F, our fifth Scientific Community Engagement Fundamentals cohort, ran on Tuesdays and Fridays at 12pm Eastern from 27 September until 4 November 2021.
CEF21S
#CEF21S, our fourth Scientific Community Engagement Fundamentals cohort, ran on Tuesdays and Fridays at 12pm Eastern from 1 June until 16 July 2021.
CEF21W2
#CEF21W2, our third Scientific Community Engagement Fundamentals cohort, ran on Mondays and Thursdays at 2pm Eastern from 19 February until 1 April 2021.
CEF21W
#CEF21W, our second Scientific Community Engagement Fundamentals cohort, ran on Tuesdays and Fridays at 12pm Eastern from 8 January until 19 February 2021.
CEF20F
Our Fall pilot of Scientific Community Engagement Fundamentals (#CEF20F) ran on Mondays and Thursdays at 2pm Eastern from 26 October until 3 December 2020.