Course overview
Scientific Community Engagement Fundamentals is an eight-week course designed to offer new or existing community managers core frameworks and vocabulary to describe their community's purpose, refine or create strategic programming to engage community members around their shared goals, and identify ways to lower barriers to member participation. While the content is designed for any level of learner, it should not be thought of as a "beginner" course. Rather, it is intended to create common ground so that scientific community managers can converse across disciplines, more efficiently learn from one another, and build successful engagement strategies that are grounded in theory.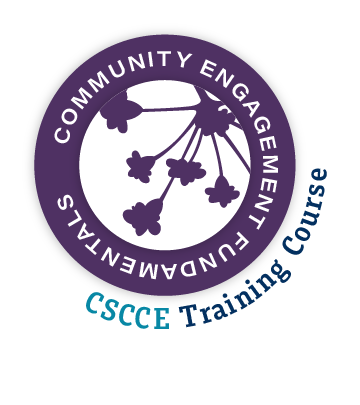 Each week, participants will meet virtually (using Zoom) for a 90 minute lesson and a 90 minute Co-Lab. While lessons will involve structured presentations and activities, Co-Lab time is for discussion, reporting out, and seeking feedback from instructors and fellow learners.
Each week will also include approximately 90 minutes of homework, for a total time commitment of 4.5 hours per week.
Graduation from the course requires completion of a final assignment. Attendance at social hour, graduation and at least 11 of the 12 lessons / Co-Labs is strongly encouraged.
Successful completion of the course will result in the award of a digital badge which can be shared online via social media platforms (including LinkedIn and Twitter) and on your personal website. You will also have the option to be included on a new alumni page on the CSCCE website.
Please note that graduation from CEF is a prerequisite for participation in CSCCE's forthcoming Community Manager Certification Program, unless you have a valid exemption.
Course syllabus and learning objectives
Week ONE: GET TO KNOW YOUR COHORT
Before the course begins, we host a virtual social hour for all participants to find out about their instructors and fellow learners.
Week two: What is community?
Participants will gain an understanding of the key elements of a community as well as how to define their own community. Through the creation of a community overview statement, participants will explore the reach and purpose of their community.
Week three: Exploring community engagement roles
Learners will consider the skills needed to excel in the role of a community manager, and use CSCCE's skills wheel to explore the skills that they currently use. We'll also explore the challenges of less visible leadership roles and how community managers represent a distinct kind of network-centric leadership.
Week four: Purpose and people
With a stronger understanding of the nature of community, participants will work to identify the different stakeholder and member relationships for their community and the desired goals for each type. Discussion will include the challenges of distributing power and how to identify barriers to participation.
Week five: COMMUNITY PROGRAMMING and scaffolded participation
Via a series of worksheets, we'll explore current and planned content and programming in our communities and whether it aligns with member needs. We'll introduce the concept of scaffolding and its importance in providing supportive, responsive and multi-modal programming that empowers members to participate.
Week six: READING WEEK
Course participants can attend two optional sessions at the same time as the regular lessons and Co-Labs to share out progress so far, work through structured examples, and catch up on completing their course worksheets.
WEEK SEVEN: Community member participation
Using the CSCCE Community Participation Model, participants will analyze the current programming in their own communities – identifying gaps and how to better align programming with desired outcomes. They'll also acquire core vocabulary for describing different aspects of their community programming.
Week EIGHT: Community lifecycle models AND GRADUATION
Community lifecycle models can inform the type of programming appropriate for a community, as well as how the role of a community manager changes. Learners explore several models and discuss the implications of a community lifecycle stages – for programming, team planning and evaluation.
Instructors
This course is led by two members of the CSCCE training team:
Lou Woodley, Director
Camille Santistevan, Director of Learning
Alice Martinic, Trainer and Curriculum Assistant
Pricing
In 2022, we are trialing a new pricing structure for CEF to reflect the different organizations that community managers work for and the range of available budgets.
General rate: $995 (for non-profits)
Supporting rate: $1295 (aimed at for profits and those who would like to support the participation of others. Find out more about our accessibility fund.)
Discounted rate: Thanks to the generous support of prior learners who've paid the supporting rate, we are offering a limited number of discounted tickets for this cohort. If you would like to participate but your organization is unable to cover the whole cost, please complete this course discount request form.
Please email training@cscce.org with any questions.
Included in the course fee
A pre-course social hour to get to know members of your cohort.
Group activities that intentionally match you with other community managers who are working in similar contexts.
Custom worksheets and exercises that help you apply key community management frameworks to your specific context.
A mid-course reading week with optional sessions for asking questions, seeking instructor feedback, co-working with classmates and catching up on course activities.
A dedicated cohort channel in CSCCE's Slack community of practice where you can share ideas and resources with your classmates and facilitators.
A template to create a final graduation poster summarizing what you learned during the course that you can share with your team and/or supervisor.
A digital badge to confirm your graduation from the course (dependent on completion of all course requirements).
Office hours
For an additional fee, we can also provide individualized office hours during the course. These six, hour-long one-to-one sessions with a member of the CSCCE training team include:
Review of your homework / worksheets.
An opportunity to explore your questions about the course materials and your answers to the activities.
A weekly tip-sheet for your supervisor to help to bridge the gap between what you're learning during the course and implementation within your organization. This includes a short summary of the topics covered and suggested questions for discussion together.
Places for office hours are limited so please contact us early if you'd like to add this to your course participation: training@cscce.org.
CSCCE resources related to this course
You can also find a glossary of terms used in this course within the CSCCE STEM Community Management Glossary.
Testimonials
100% of course participants say they are extremely likely (91%) or likely (9%) to recommend our courses to their colleagues. Here's what some of them have to say about Scientific Community Engagement Fundamentals:
THANK YOU! This course has been extremely valuable for me. Now I feel more empowered to call myself Community Manager and I have the right tools and frameworks to bring my community closer to their goals. Moreover, I would love to keep in touch with CSCCE community of practice and start to contribute as well.

CEF21F Participant
It was a very enjoyable, interesting and inspiring course! It also helps to fill a gap in training opportunities in scientific community management (which, I now realise, is a part of many different roles!). Thank you Lou, Camille, and the CSCCE team for organising such a great course.

CEF21F Participant
Incredibly professional in every aspect; I couldn't think of one detail in structure or facilitation that wasn't perfect!

CEF20F Participant
Amazing effort by the course leaders to create such an IRL feeling in an online course!

CEF20F Participant
---
Current session
#CEF23W runs on Tuesdays and Fridays from Friday, 13 January until Friday, 3 March 2023.
The key dates are:
Social hour: Friday, 13 January from 12pm – 1pm US Eastern / 5pm – 6pm UTC
Tuesday Lessons: 17, 24, 31 January; 7, 14, 21, 28 February from 12pm – 1:30pm US Eastern / 5pm – 6:30pm UTC
Friday Co-Labs: 20, 27 January; 3, 10, 17, 24 February from 12pm – 1:30pm US Eastern / 5pm – 6:30pm UTC
Graduation: Friday, 3 March from 12pm – 2pm US Eastern / 5pm – 7pm UTC
---
Past sessions
Check out some of our past learners on the CEF graduates page.
CEF22F
#CEF22F, our eighth Scientific Community Engagement Fundamentals cohort, ran on Mondays and Thursdays at 12pm Eastern from 22 September until 10 November 2022.
CEF22Sp
#CEF22Sp, our seventh Scientific Community Engagement Fundamentals cohort, ran on Mondays and Thursdays at 12pm Eastern from 28 April until 16 June 2022.
CEF22W
#CEF22W, our sixth Scientific Community Engagement Fundamentals cohort, ran on Mondays and Thursdays at 12pm Eastern from 25 January until 11 March 2022.
CEF21F
#CEF21F, our fifth Scientific Community Engagement Fundamentals cohort, ran on Tuesdays and Fridays at 12pm Eastern from 27 September until 4 November 2021.
CEF21S
#CEF21S, our fourth Scientific Community Engagement Fundamentals cohort, ran on Tuesdays and Fridays at 12pm Eastern from 1 June until 16 July 2021.
CEF21W2
#CEF21W2, our third Scientific Community Engagement Fundamentals cohort, ran on Mondays and Thursdays at 2pm Eastern from 19 February until 1 April 2021.
CEF21W
#CEF21W, our second Scientific Community Engagement Fundamentals cohort, ran on Tuesdays and Fridays at 12pm Eastern from 8 January until 19 February 2021.
CEF20F
Our Fall pilot of Scientific Community Engagement Fundamentals (#CEF20F) ran on Mondays and Thursdays at 2pm Eastern from 26 October until 3 December 2020.