We host a community of practice of almost 400 scientific community professionals from around the world. Scroll down to find out more about our community programming.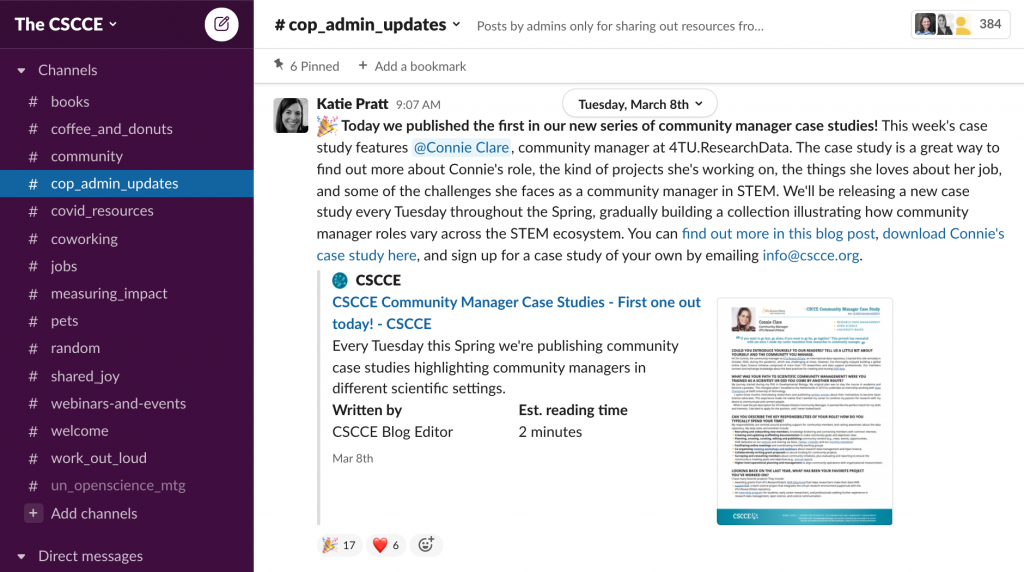 Slack workspace
Our community uses Slack to stay connected, with more than 15 channels for sharing resources, jobs, coworking, working out loud, biweekly networking, and more. You can request to join the workspace here. Once you've sent us your request, you can expect to hear from us with more information about the onboarding process within a week.
Monthly newsletter
We send a monthly newsletter that recaps new activities and resources from the Center, plus occasional ad hoc announcements.
Members of the community of practice also receive a weekly roundup of goings-on in the Slack workspace. (Note: You can sign up for the monthly newsletter without joining the community of practice.)
Monthly community calls
We host monthly Zoom calls about scientific community engagement. Formats vary from month to month. You can expect to hear from members of our community of practice about their experiences with different tools and tactics, breakout sessions to brainstorm with others, and opportunities to explore how current topics relate to your own work. We also host bi-annual structured networking sessions and celebrations of community member successes.
Join the mailing list to be kept up to date about the schedule (and check out our events calendar) or email us if you'd like to volunteer as a speaker.
Working groups and special interest groups
We also host staff-led working groups and member-led special interest groups which are open to all community members. Working groups typically focus on a specific project deliverable whereas special interest groups have more informal programming.
Questions or feedback
If you have any questions about joining the community of practice, email us at: info@cscce.org. We also appreciate hearing from existing members about ways our programming is working, or things we could do better.
---
Our core programming is free and we welcome donations to support our work via our fundraising page. You can make a one-off or recurring donation. Thank you.