Our May community call, scheduled for Monday, 18 May 2020 at noon US Eastern Time, will focus on CSCCE's core values and how we are working with members of our community of practice to co-create a code of conduct.
This call will include a discussion with the CSCCE Code of Conduct working group, and provide opportunity for all members of our community to comment on our draft core values statement.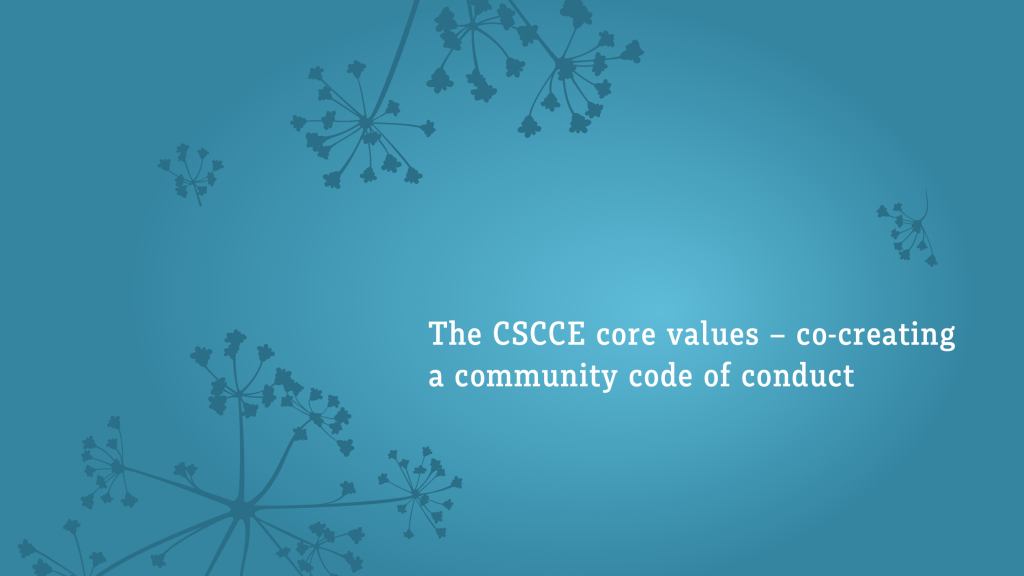 About the code of conduct working group
This working group is focused on creating a draft code of conduct (CoC) for the CSCCE community – to cover our Slack group, website, blog and in-person events. As the first step in considering CSCCE's code of conduct, the working group has identified a list of core values that we believe articulate how we would like to engage with one another in our community.
Those core values will be shared with the CSCCE community on Slack the week of May 11th so that members can consider and comment on them. We'll be using May's call to have a community-oriented discussion about the values so that we can create a final version that will be published on the CSCCE website.
Members
Arne Bakker
Arielle Bennett-Lovell
Chiara Bertipaglia
Alycia Crall
Emily Lescak
Katie Pratt
Tracy Teal
Steve van Tuyl
Lou Woodley (chair)
May's call
Abstract
Join May's Community Call to:
Find out more about how we are working with CSCCE members to co-create a code of conduct.
Offer comment on our initial core values statement.
Be the first to know how we will proceed from here and when a code of conduct draft will be available for review.
How to join
May's call will take place on Monday, 18 May at noon US Eastern Time.
Our calls are hosted in Zoom – simply click here and we'll see you in the webinar!
Video or not? You're welcome to turn on your webcam if you like but fine if you prefer just to use audio.
As we piloted in March, the call will last 90 minutes. In the first hour we'll hear from our presenters and run a breakout group activity, and then for the remaining 30 minutes we'll have more general discussion of considerations related to diversity, equity and inclusion, and running inclusive online events in particular, where we'd love to hear your perspectives. Come for the hour – or for the full 90 mins, as your schedule permits!
Please note: We'll be recording the calls so that others who couldn't make it can catch up later.
Additional info about our community calls
Our community calls usually take place on the third Wednesday of every month at 2pm Eastern, but this month is a little different to accommodate speaker schedules.
Can't make this call? Check out the outline schedule of future calls here.
Wonder what we've talked about in previous calls? The archive listings can be found here with recordings shared via our Slack group.
Not yet in our Slack group? Request to join here.