On this month's community call we discussed and refined a set of core values prepared by the CSSCE Code of Conduct Working Group. Through breakout sessions and open discussion, members of the community considered the values and how they translate into personal and collective behaviors.
As a result, today we published our core values on the CSSCE website here. They will inform our code of conduct (coming soon), how staff and members interact in our community of practice on Slack (request to join here), and all of the programming and trainings offered by the center.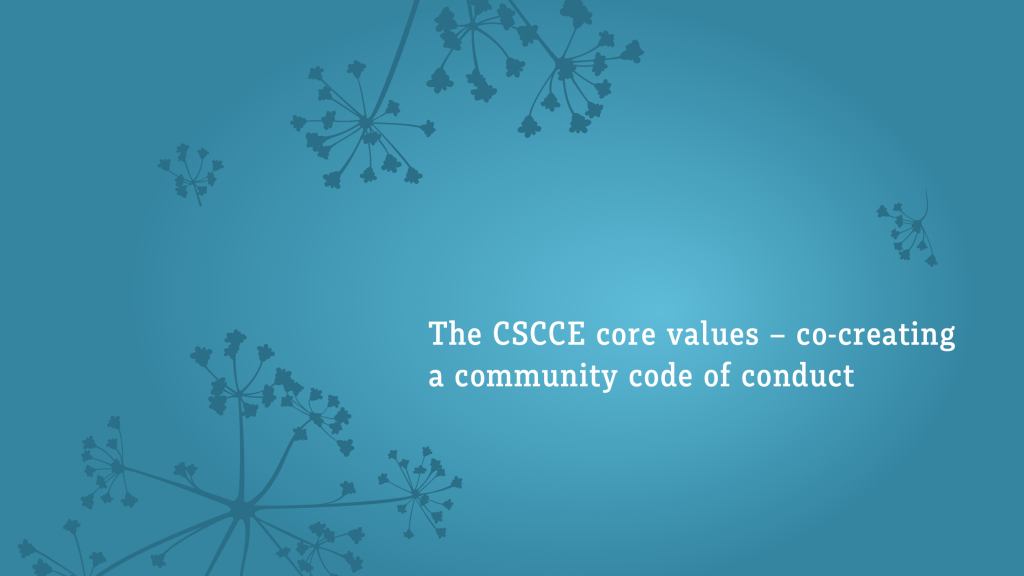 Drafting the core values
The Code of Conduct Working Group began their work in March, and soon realized that the first step in creating a useful and authentic code of conduct for the CSCCE would be defining our core values. The members of this working group are:
Arne Bakker
Arielle Bennett-Lovell
Chiara Bertipaglia
Alycia Crall
Emily Lescak
Katie Pratt
Tracy Teal
Steve van Tuyl
Lou Woodley
Using a workflow first implemented as part of CSCCE's Community Engagement Fellowship Program in 2019, we began by listing examples of positive behaviors we hope to see from members of our community. Then, we dug in a little deeper to figure out the reasons why we identified these behaviors. This helped us cluster various similar behaviors and settle on a single value word to describe each cluster (not an easy task!). From there we developed descriptions of each value, combining them when appropriate.
In working through these steps we had numerous thoughtful discussions about word choice and the implicit values that certain words can convey. This also came up on our community call, and we really appreciate the shared learning process that shaped our language in describing the core values and behaviors.
Our core values
The result was five core values which we are central to CSCCE's ethos:
We continuously strive to be inclusive
We empower one another
We learn and share
We trust – and hold space for – one another
We express gratitude and recognition
*Find the full descriptions here.
Our values are interconnected, with each supporting the other to describe our shared commitment to creating an inclusive, supportive, and engaging environment for learning and growing together. For example, all four of the other values are necessary so that the vulnerability expressed in the "we learn and share" value is not used to harm the member who is showing vulnerability. Similarly, in order to handle power differentials or an over-dominant voice we need to empower one another, hold space for each other, and foster inclusivity.
Co-creation and transparency
While the working group and CSCCE staff worked together to create the core values, it was important to us to embody our first core value and include as many members of our community as possible in creating the final iteration. The week before the community call we shared a draft of the values in our Slack group and invited comments, and then devoted the entire community call to garnering feedback and input.
After an initial introduction and overview of the process, we asked participants to split into breakout rooms. Each room, moderated by a member of the Code of Conduct Working Group, first took some time to consider the wording of the value statement. Then, using a shared Google doc to take notes, they brainstormed examples of both positive behaviors that exemplify the value and negative actions that would go against it. After breakout reports, we spent the remainder of our 90 minute call in frank discussion, further refining language and meaning.
Thank you and next steps
In the spirit of gratitude and recognition, a heartfelt thank you to everyone who helped in the creation of our core values. The working group will meet again next week to begin the next steps of their work to draft a code of conduct for the CSCCE.
If you have any feedback on this process or the core values we created, please feel free to reach out to info@cscce.org. We can facilitate our core values activity for your organization as part of the training that we offer.