The past few weeks have marked an important next phase for CSCCE as we started releasing some of the materials that CSCCE staff and community members have created over the past months and years.
We're delighted to announce the first of a growing number of Resources pages on the CSCCE website – starting with pages for "Being a Scientific Community Manager," "Diversity, equity and inclusion," and "Online communities and communication tools."
A CSCCE Community Page on Zenodo
We now have a community collection of materials on Zenodo – an open source repository that enables us to add metadata about the materials and to obtain a digital object identifier (DOI) for each of them. For those unfamiliar with DOIs, these are the permanent URLs that enable readers to cite materials accurately – and to navigate back to the "master" version of a particular resource.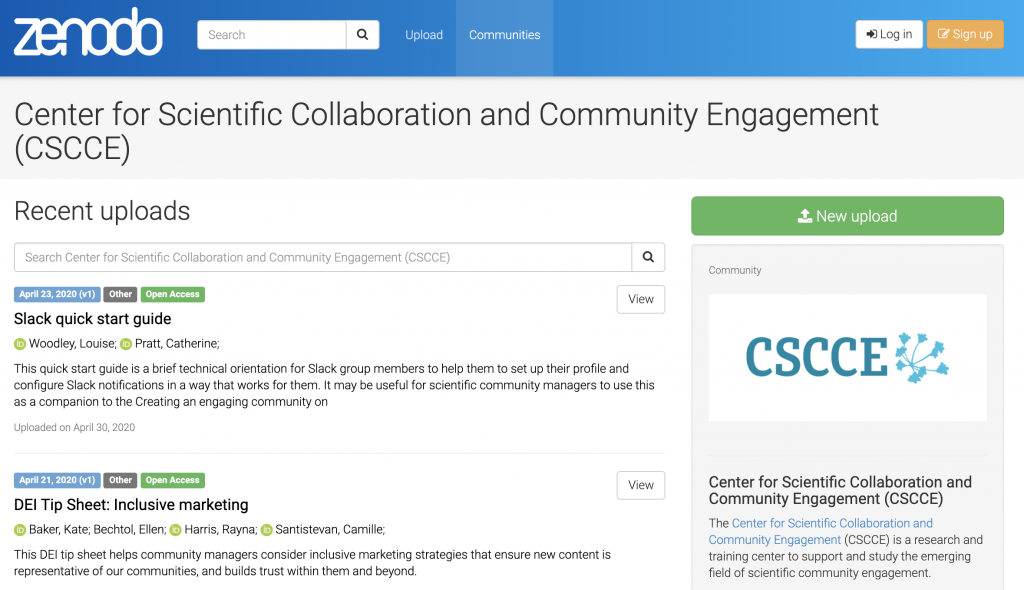 Resources pages on the CSCCE website
But if you're wondering how to get quickly to resources on a particular theme or topic – including ones that aren't included in Zenodo – that's where the CSCCE website comes in. Over the coming months we'll be rolling out around a dozen pages under our main resources page – providing high quality, practical materials about scientific community engagement.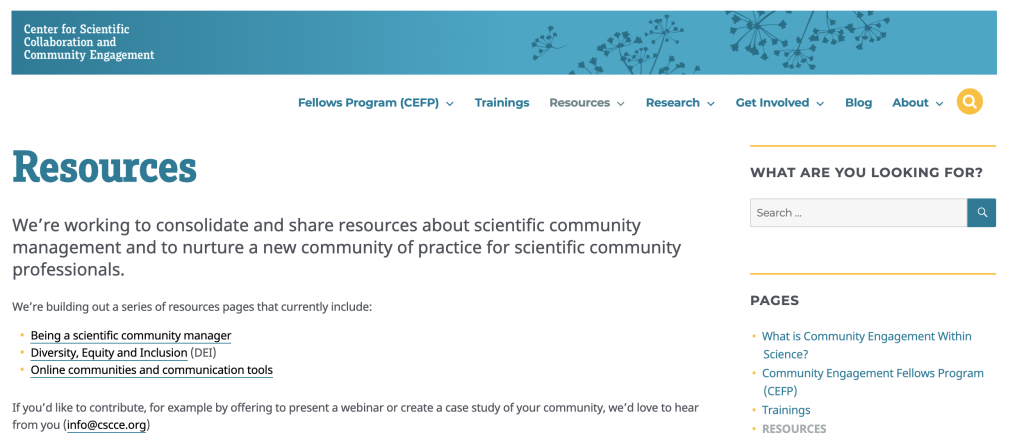 We're starting with the first version of pages for:
Being a Scientific Community Manager
Diversity, Equity and Inclusion (DEI)
Online communities and communication tools
You can expect future pages to include "In-person community events" "Hiring / becoming a scientific community manager" "Communities in science," and more. We'll also keep adding to pages after they're published where new materials become available.
Being a Scientific Community Manager
Whether you're a first time scientific community manager or have been supporting communities for some time, resources on this page will help you to address some common challenges – from time management and making the most of networking to maintaining strong relationships with stakeholders. We've curated a selection of blog posts to share the wisdom from within our community.
Diversity, equity, and inclusion
We've included DEI in our initial materials because we believe it's central to creating inclusive communities where all members feel empowered to contribute. Resources here include blog posts and tip sheets authored by CEFP fellows. In the coming months, we'll also be adding code of conduct resources as our code of conduct working group produces them.
Online communities and communication tools
In the current climate, where most of us are now working from home with remote colleagues or collaborators, we've started curating materials around online communities and communication tools. Check out our new guidebook and appendix of resources for creating an engaged community on Slack. Coming soon: A guidebook covering how to use Zoom to host engaging and inclusive online events.
An ecosystem of resources – including trainings
Where a resource is available for download on Zenodo you'll be able to click through directly from its listing on the CSCCE resources pages to where it's hosted.
Where the resources are elsewhere on the CSCCE website, such as the blog, we'll have curated it by topic for you directly on the resource pages.
And if you want to discuss a topic in more detail you can take it back to our community of practice on Slack, join a monthly community call on the topic (or rewatch materials from the archives – coming soon!) – or hire us to run online or in-person trainings for you and your team.