The last few years have seen a shift in how people behave online. More and more, we see individuals announcing that they will leave this platform or that, either for new websites or for a life lived less online. Relatedly, spaces that are more private are increasingly replacing public ones for conference back channels and subject-specific discussions. While these changes may be understandable, as community managers, this shift away from sharing and connecting in public forums presents very real challenges.
During this month's salon-style community call, we will investigate how the upheavals in social media platforms (and how people engage with them) are impacting community-building activities online. Please come ready to share your experiences and opinions, as well as any ideas you have for what's next. This month's call will not be recorded, but a recap blog post will be made available shortly after.
Date: Wednesday, 19 April 2023
Time: 11am EDT / 3pm UTC
Zoom link to join: click here
Add to calendar: click here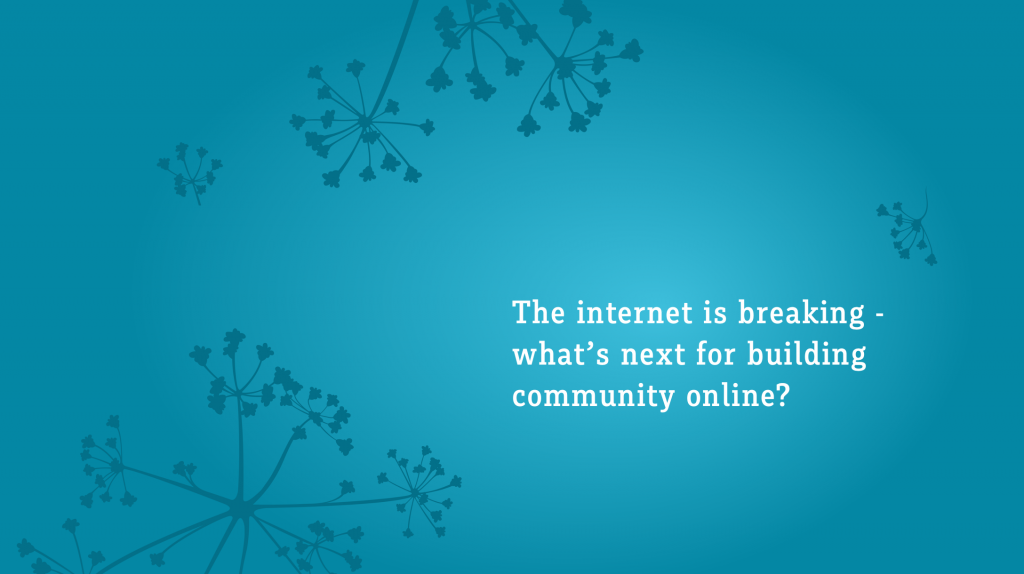 Social media is dead, long live social media?
For those who work and socialize online, which is a large percentage of the population, social media platforms have long been a part of our lives. From their inception at the turn of the 21st century, through their evolution and expansion, to the current status of disarray and disillusionment, they have offered many opportunities for connecting with new people and building community. Blog networks, Facebook groups, and Twitter hashtags, to name a few, have all significantly impacted the world of STEM engagement.
But, in the last few years, people have started to disengage with, or even leave, their online spaces – or those spaces have been dissolved. Perhaps the most striking expression of this is the recent exodus of users from Twitter to alternatives like Mastodon, but before that came privacy concerns about Facebook's sharing of user data, and the sunsetting of useful tools such as Storify (which had been used to support the archiving of materials about events and which left a trail of broken links after it disappeared).
For many individuals and organizations, leaving a platform means saying goodbye to a decade or more of network-building and access to useful information. Moreover, there's no guarantee that a new platform will be widely adopted, technically supported over the long-term, or be immune to the problems that plagued its predecessors.
So, what now? What can STEM community managers do to connect members who are increasingly exhausted by online engagement? What does the future of community engagement online look like – is it private spaces in third party tools, custom solutions, or the adoption of a more collaboratively owned tool? We hope you'll join the conversation on 19 April to explore this with us!
April's call
ABSTRACT
Join April's community call to:
Share your perspective on the future of community building online
Learn from others who are experimenting with new platforms or moderation techniques
Brainstorm a future for your social media engagement strategy
How to join
April's call will take place on 19 April 2023, at 11am EDT / 3pm UTC
Our calls are hosted in Zoom – click here and we'll see you in the webinar!
Video or not? You're welcome to turn on your webcam if you like but fine if you prefer just to use audio.
Our community calls generally last 90 minutes to allow time for discussion, but we try to keep all of the presentations within the first 60 minutes. We understand that virtual meetings have a tendency to overrun and overlap, so please don't feel sheepish about arriving late or leaving early. We'd love to see you either way!
Please note: We won't be recording this month's call to allow for open and frank conversation. A recap blog post will be available within 5 days of the call taking place.
ADDITIONAL INFO ABOUT OUR COMMUNITY CALLS
Our community calls usually take place on the third Wednesday of every month at 11am Eastern, but occasionally times and dates vary depending on speaker availability so please check our calendar of events.
Wonder what we've talked about in previous calls? The archive listings can be found here, with select recordings available on YouTube.
Not yet in our Slack group? Request to join here.
Further resources
We curate a growing collection of resources for community managers on our website. If you have any questions about our work, or are interested in partnering with us on a future project or call, please contact info@cscce.org.