We have another new staff member to tell you about! Maya Sanghvi joined CSCCE's training team earlier this month, having recently graduated with a BS in cognitive science from Yale University. We're so excited to welcome Maya to the team, and can't want to see how she contributes to our expanding training offerings. Read on for a little more about Maya!
About Maya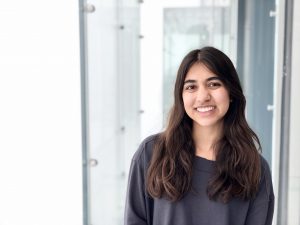 Just like several other members of the CSCCE staff team, Maya has a scientific background, and conducted research on decision-making while she completed her undergraduate training. And, like our entire staff team, she sees the need for a more human-centric approach to research culture.
"I was struck by how CSCCE really meets a specific need in science, where collaboration is so important and yet not always prioritized. I'm excited to continue contributing to the scientific process by supporting community managers in STEM."
As an undergraduate, Maya worked as a Communication and Consent Educator, convening workshops and facilitating often challenging conversations between her peers. She will be applying what she learned in that context to her work with us, while also learning how we deliver trainings from Director of Learning Camille Santistevan and Trainer and Learner Liaison Alice Martinic. As part of her onboarding, she is currently taking part in Scientific Community Engagement Fundamentals (CEF23W). Maya will also be working with Center Director Lou Woodley on a new project for the Michael J. Fox Foundation.
Maya joining the team coincides with an exciting expansion of CSCCE's professional development training offerings as we roll out our new Community Manager Certification Program, which includes four new multi-week courses among other components. In her role, she'll be responsible for creating supporting materials, coordinating learner onboarding, and supporting the technical implementation of these courses in our new learning management system.