Today we published four tip sheets intended to help you plan and launch a community champions program. They were co-created by CSCCE staff and members of our champions programs working group, and complement the champions guidebook that we released last year.
Ultimately, these four tip sheets will be joined by five more, each one illustrating one of the nine stages of community champions programs described in the guidebook (and shown below). Read on to find out more about champions, champions programs, and how they maintain, grow, and evolve communities in STEM.

Community champions and champions programs
Community champions are emergent leaders within communities who take on additional responsibilities in service of shared goals. In our Community Participation Model, we conceptualize community champions as a "meta-mode," engaging with the community in any one for the four core modes (convey/consume, contribute, collaborate, and co-create). Champions sometimes self-identify, sharing the work of the community with their networks or volunteering to serve on committees. Importantly, effective community champions can positively impact the growth or sustainability of a community, and enhance the ability of a community manager to do their job.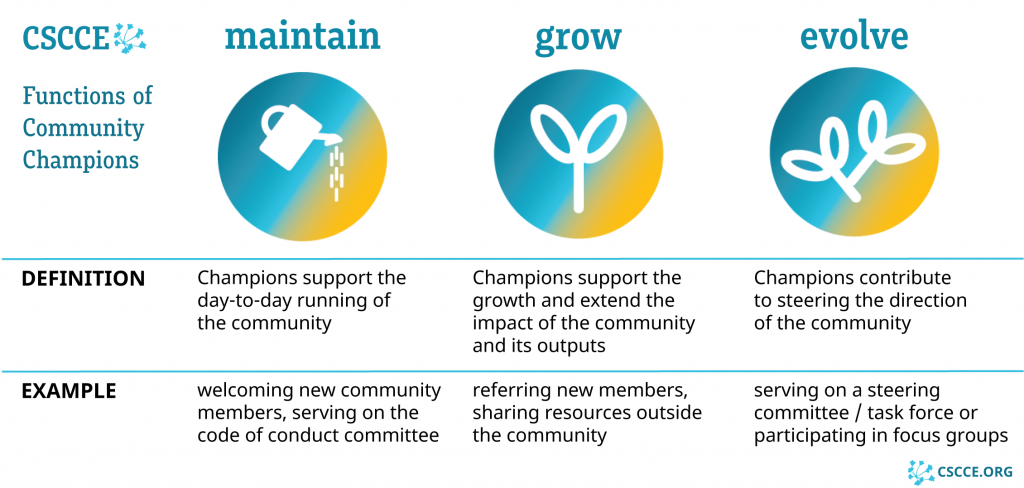 Champions programs are a way of empowering existing champions and also engaging more members of the community in championing activities. Champions programs come in many different forms, and can go by different names (think ambassadors, fellows, or advocates), but ultimately they have in common the desire to support members who want to get more involved in community activities.
The CSCCE Champions Programs working group
At the end of 2020, we formed a working group for members of our community of practice who are running champions programs, or who were interested in starting one. The goals was to share knowledge and hold space for troubleshooting. As a group, we decided to create tip sheets to share knowledge beyond the working group, and hopefully inspire other community managers to investigate whether a champions program might help them meet their goals.
The members of the working group were:
Alycia Crall
Vanessa Fairhurst
Emma Ganley
Cass Gould van Praag
Lena Karvovskaya
Logan Kilpatrick
Anne Kornahrens
Zoë Leanza
Emily Lescak
Erin McLean
Vid Nukala
Esther Plomp
Iratxe Puebla
Brigitte Portner
Malin Sandström
Elissa Schuett
Lindsay Starke
Tracy Teal
Elisha Wood-Charlson
Claire Wyatt
Pajau Vangay
Anna Volkova
New tip sheets
The first four tip sheets we're releasing are:
You can download each for free under a CC BY-NC-ND license from our Zenodo page.
Coming soon…
The remaining five tip sheets will be released in early June, so watch this space! To be the first to know when they come out, follow us on Twitter and LinkedIn, and sign up for our monthly newsletter.
You can also find more resources related to champions programs on our resources page.
Work with CSCCE to build or nurture your champions program
As part of our consultancy work, we have partnered with several STEM organizations to help build champions programs. You can find out more about what these collaborations look like by clicking on the images below:
To inquire about consultancy, please email training@cscce.org. You can also find out more about our range of consultancy offerings here.