This week we released the first CSCCE Community Manager Case Study! Every Tuesday this Spring you can expect a new case study to drop; browse the collection and download your own copy of each one from our dedicated resource page. 
What is a Community Manager Case Study?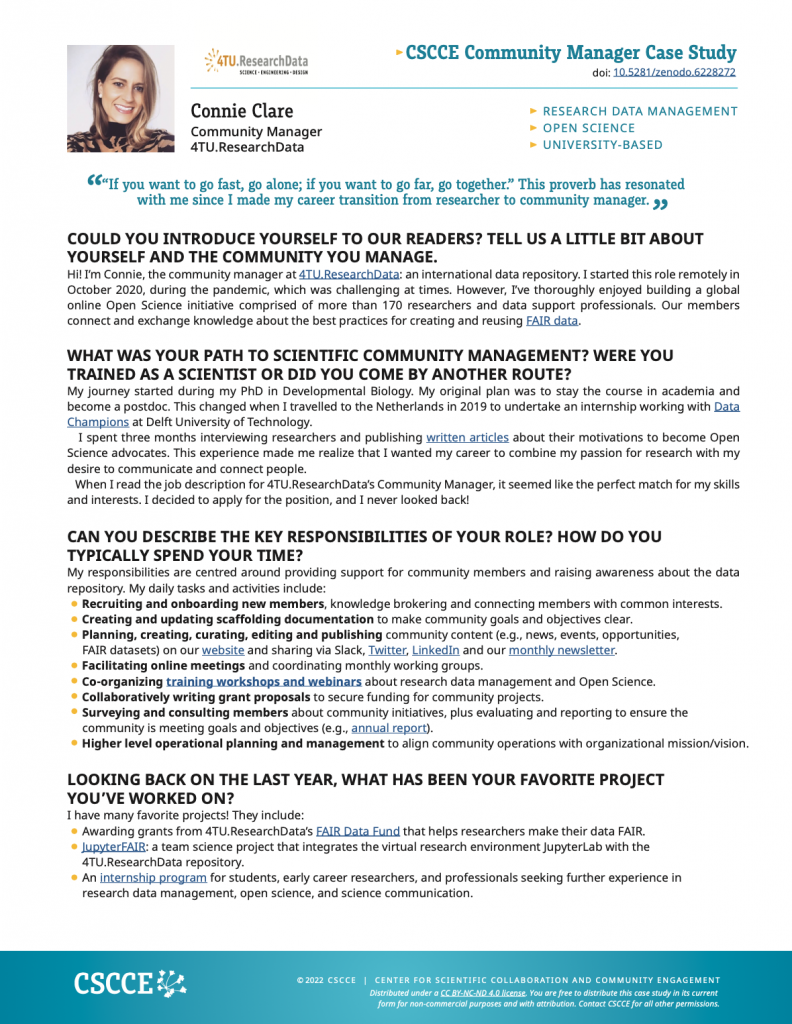 These 2-page interviews ask scientific community managers a series of questions about their role, including day-to-day tasks, highlights and challenges, and how they view the importance of community building in STEM. They are very similar in structure to a series of interviews we conducted in 2016, when STEM community managers were relatively unknown, and are intended to showcase what it means to convene communities in a variety of scientific settings.
On each case study you'll also find a unique skills wheel signature for the community manager featured, which assesses how frequently they used 45 skills in 5 core competencies over the last 12 months. You can find out more about the CSCCE Skills Wheel, created by the C3 project team of the CEFP 2017 cohort in our 2021 guidebook.
Who are you featuring in these case studies?
All of the community managers featured in the case studies are members of our community of practice (request to join here) who either volunteered or were invited to take part in the project. We have tried to interview community managers in a range of contexts, with people working at professional societies, within research collaborations, or at infrastructure organizations.
If you would like to be featured, please let us know by emailing info@cscce.org.
How many are you making?
Who knows?! We currently have more than 20 people answering our survey and filling in skills wheel worksheets, so we expect to be rolling out case studies every week through the end of May. The collection could grow beyond that, depending on interest. 
How does this project fit into CSCCE's research portfolio?
We see this project as part of our ongoing research into understanding the landscape of STEM communities. Combined with our community profiles project and our 2016 state of scientific community management survey, we're developing deeper insight into the scope and complexity of the ecosystem. But, we're not done! This March we're launching a new working group, which will include several members of the C3 team, to dig into some of our existing data. Watch this space for more soon!
Can I get involved?
Yes! As well as signing up to be featured in a case study, if you're interested in joining the new working group you can let us know by emailing info@cscce.org. (Please note: CSCCE working groups involve active participation, including regular meetings and asynchronous assignments.)
You can also join the conversation by participating in our next community call, which will take place on 16 March at 11am EDT / 3pm UTC and focus entirely on scientific community manager roles. Add to your calendar.