This week we welcomed a new full time staff member to the CSCCE team: Alice Martinic. Alice joins our growing training team, headed up by Director of Learning, Camille Santistevan, and will be involved in administering and delivering our professional development courses.
She'll work with Camille, and Founder and Director Lou Woodley, as we build out several new courses coming later this year. Read on to find out more about Alice's background in learning management and connection to the STEM ecosystem. 
About Alice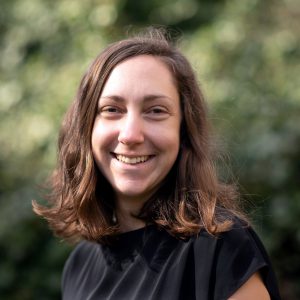 Before joining the CSCCE team, Alice was Associate Director of New Mexico State University's Teaching Academy. In that role, she oversaw university-wide programming to support instructors as they developed engaging and inclusive lessons and labs. Initially, her work focused on in-person classes, but with the pandemic-induced pivot to online learning, Alice created trainings tailored to the virtual space.
Alice is a scientist by training, and holds a PhD in nutritional biology and biotechnology from the University of California, Davis. As a graduate teaching fellow she began offering professional development workshops for other graduate students, and went on to become a program lead at the university's Center for Educational Effectiveness (CEE). During her time at UC Davis, Alice co-developed the Women in STEM initiative at American River College and, as a leader of the science communication group Science Says, she planned outreach projects and coordinated volunteers for outreach events.
"Throughout my own journey, I have seen how scientific community managers are critical for team progress and cohesion. I am excited by the opportunity to apply my unique expertise to expand professional development in this growing field."

Alice Martinic, CSCCE Trainer and Curriculum Assistant
Alice's extensive teaching experience in higher education, both online and in person, her background in STEM, and her ongoing commitment to making scientific communities more inclusive, make her a great fit for the CSCCE training team. We're excited to have her onboard, and look forward to introducing her to you at our next community call!