February's community call focused on how scaffolding influences engagement and inclusion in communities. The call coincided with the release of the third installment of The CSCCE Community Participation Model guidebook, which described what scaffolding is and why it matters. And, as a gesture of gratitude and love to our community members in Valentine's week, we also updated a number of our CC BY licensed scaffolding PDFs and created easily-adapted Google doc versions to support the creation of scaffolding across the STEM ecosystem.
We spent time on the call discussing and exploring these resources and the challenges community managers face when trying to create and/or socialize scaffolding in their communities, as well as coworking to create, adapt, and update materials. In this post, we recap some of the key points that came up during our community conversation.
CSCCE's approach to scaffolding
To kick off the call, CSCCE's Director Lou Woodley offered this definition of community scaffolding, as described in the new guidebook:
"The supportive information, activities, and processes that address barriers to member participation and ensure that all members can access and engage in community programming."

Woodley, Pratt, and Santistevan, doi: 10.5281/zenodo.6078934
At CSCCE, we often use the metaphor of a house party to think about key community concepts. We lay out a more detailed version of this in the guidebook, but in a nutshell, the community manager is the host and it is their job to ensure all guests have an enjoyable time. In terms of scaffolding, this might mean making sure the catering options don't exclude anyone with allergies, introducing people who don't know each other, and signposting the location of things like the restroom or the kitchen.
In this scenario, the goal is for the guests to be able to relax, mingle, and be themselves because nobody gets lost, feels uncomfortable asking where the restrooms are, or suffers an allergic reaction.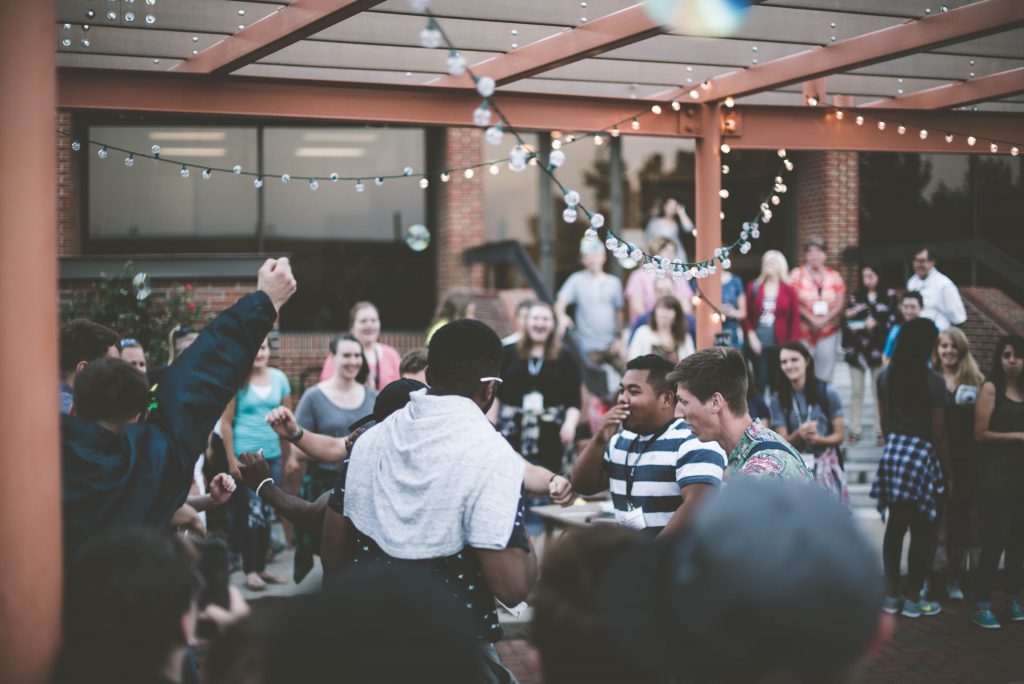 Community scaffolding serves similar purposes. A welcome email or tip sheet explains how members engage on the platform and where to find key resources. A one-on-one chat with a new member holds space for questions and networking. And community participation guidelines explain the kinds of behavior that is acceptable and that which is not tolerated. Scaffolding removes participation barriers, and ensures that members know about the many different ways they can participate.
In the spirit of Valentine's Day, we've made a few of our scaffolding documents available to you under CC BY licenses, meaning that you're welcome to use and adapt them as long as you credit CSCCE and link to the original documents. You can find these resources curated on our newest resource page.
So what does scaffolding look like and how do you know if it's working?
To kick off the discussion, we did a poll in Zoom that asked participants to rate the state of their community's scaffolding from great, to "in need of some attention." Most people admitted that their scaffolding was either in need of updating or has yet to be created.
But, we did hear some great examples of scaffolding doing what it's meant to do: helping members engage, and freeing up community manager time by addressing common needs or questions. From monthly open office hours to curations of community resources, from explainer videos to hefty community playbooks, there is lots of great scaffolding being created and used.
Measuring the impact of scaffolding is tough, partly because the best feedback is often silence. When community members have all the resources they need at their fingertips, they're unlikely to ask the community manager for help! So don't be discouraged if you're not getting a lot of feedback from your community about the scaffolding you've created. And remember: even if only a small percentage of your community is using the scaffolding, it's still doing its job.
The challenges of creating, maintaining, and socializing scaffolding
It's not always easy, though, to produce scaffolding that is useful and that hits the right balance between supportive and overwhelming. We discussed three main challenges on the call:
How do you find the time to create (and update) all the scaffolding you need?
Community managers, in fact most people everywhere, are busy. There is always a pull on their time towards something urgent. Creating scaffolding requires both an initial investment of time, and an ongoing commitment to keeping it up to date. It is also often a reflective and/or responsive process, requiring (or greatly improved by) community involvement.
How do you ensure both new and existing users can access it?
While it might seem obvious to share scaffolding with new members during the onboarding process, how do you socialize scaffolding (e.g., a new code of conduct) among a community that is already established? And even new members might not read the email you send or watch that video all the way to the end.
When does too much scaffolding become a problem/burden for your members?
Creating hefty user manuals or community playbooks can feel like an act of generosity, but there comes a point where members may feel overwhelmed or bossed around. How do you decide what's really necessary – or when to break up higher order scaffolding into more manageable pieces?
While there's no easy, one-size-fits-all, answer to these questions, a couple of suggestions that came up included inviting community members to help make scaffolding (to take the load off you as community manager and help with adoption/buy-in), don't try to do everything all at once (scaffolding can be modular), and don't let the perfect be the enemy of the good: some scaffolding is almost always better than none at all.
Resources
If you missed today's call, you can find all the information Lou covered in the introduction to our latest guidebook (download a free copy here). All of the CC BY templates mentioned above are available on this resource page, along with related blog posts and guides.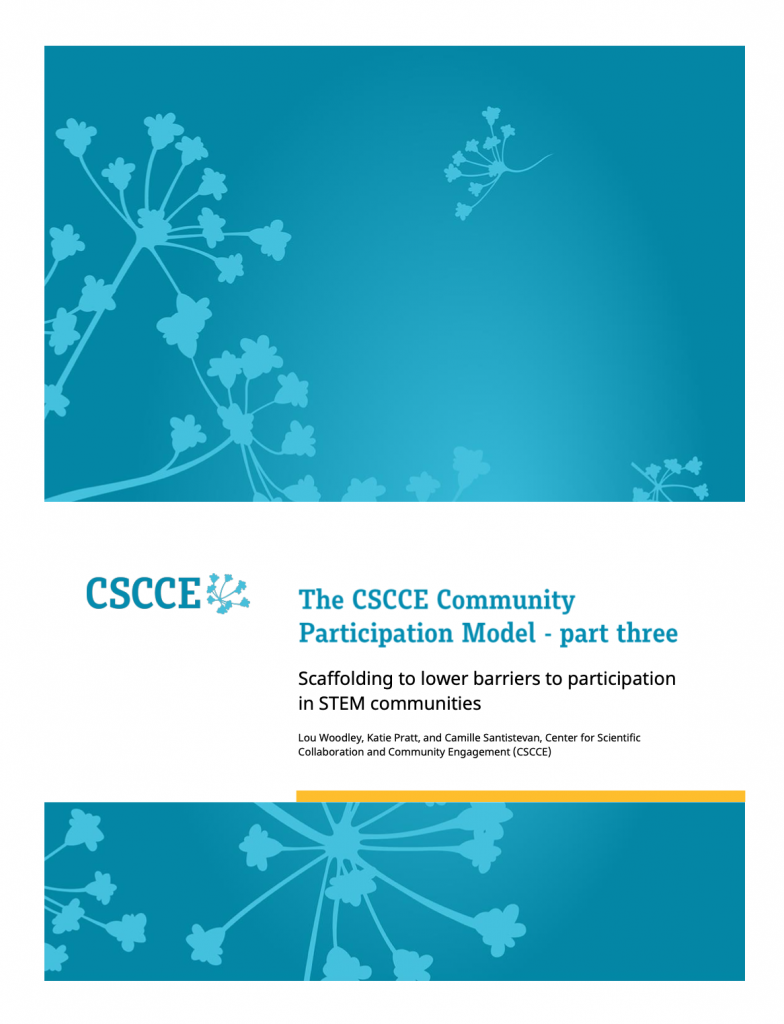 Coming up in March and April
Next month's call (16 March 2022, add to calendar) will focus on community manager roles and how they vary in different settings across the STEM ecosystem. We'll also be launching a new working group to conduct some more research in this area.

And then in April, we're tentatively planning on a call focused on Customer/Community Relationship Management (CRM) tools. We've had several conversations on this topic in our Slack workspace over the last couple of weeks (not a member? Request an invite!).
If you have ideas for future call topics please email info@cscce.org.