September's community call will take place on Wednesday, 23 September at 6pm UTC (2pm US Eastern Time) and will center around the release of CSCCE's Community Profiles. After an overview of the project, we'll also hear from some of the community managers who participated in this pilot research study.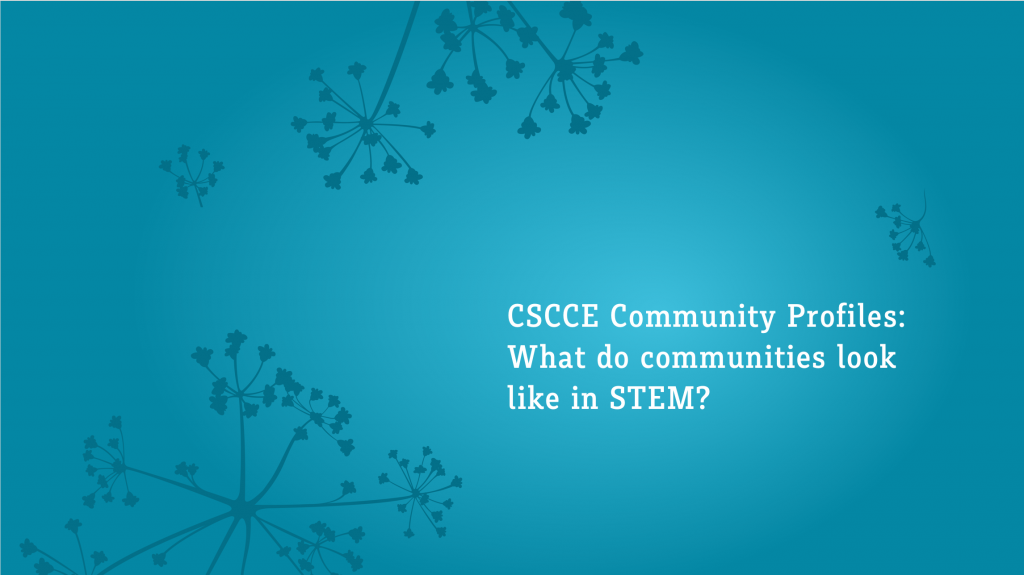 What are the CSCCE Community Profiles?
In conjunction with this month's community call we'll be releasing a first round of 13 community profiles. Each profile is a two-page infographic-style document, which will be free to download from our community resource library on Zenodo, as well as listed on the resource pages of the CSCCE website. In each profile you'll be able to read more about the community, discover key statistics at a glance, and delve a little deeper into community programming, funding, and outputs and evaluation. We've also designed the profiles with comparison in mind, making it easy to look at several communities of interest and assess commonalities and contrasts.
We'll also be releasing a couple of new blog posts next week that describe the project in more detail, including how we developed and implemented our survey and how we incorporated key feedback from our Community Profiles working group. So, watch this space!
In this call…
We're going to give an overview of the project: The why, the how, and the who. And then we'll hear from a couple of the community managers who participated in this project, showcasing their final profiles.
We'll also share some of the big-picture findings from a comparison of the profiles, and talk about where these findings are leading us in terms of future research and programming.
September's call
ABSTRACT
Join September's Community Call to:
Learn more about CSCCE's community profiles project
Hear from community members who took part in the project and learn about their communities
Find out how you can get involved in future CSCCE research projects and programming
SPEAKERS
Lou Woodley, CSCCE
Sara Kobilka, Renaissance Woman Consulting
Leslie Hsu, USGS Community for Data Integration
Mate Palfy, preLights
Steve Van Tuyl, the Academic Data Science Alliance
How to join
September's call will take place on Wednesday 23 September at 6pm UTC / 2pm US Eastern Time.
Our calls are hosted in Zoom – simply click here and we'll see you in the webinar!
Video or not? You're welcome to turn on your webcam if you like but fine if you prefer just to use audio.
Our community calls last 90 minutes, but all the presentations will take place in the first hour in case you have to leave early. The last 30 minutes is reserved for open discussion and Q&A with the presenters. Come for the hour – or for the full 90 mins, as your schedule permits!
Please note: We'll be recording the first 60 minutes call so that others who couldn't make it can catch up later. The discussion section is not recorded.
ADDITIONAL INFO ABOUT OUR COMMUNITY CALLS
Our community calls usually take place on the third Wednesday of every month at 2pm Eastern, but occasionally times and dates vary depending on speaker availability so please keep an eye on our calendar of events.
Wonder what we've talked about in previous calls? The archive listings can be found here, with select recordings available on YouTube.
Not yet in our Slack group? Request to join here.