In the third in our ongoing series of virtual tools trials, several members of the CSCCE community of practice (request to join here) met to try out Gather. You can catch up on previous tools trials here and here, and get the details for our next trial, Etherpad +Video, here).
The goal of these tools trials is to get to know virtual events software, figure out what platforms work best for what types of events, and provide an opportunity for members of our community to give their feedback or share previous experiences with the platform. We are trying out a variety of platforms, from virtual conferences and workshops (e.g., Qiqochat), to ideation and brainstorming (e.g., Mural/Jamboard/Padlet), to workplace productivity (watch this space!). Have an idea for a tool you'd like to trial? Contact us: info@cscce.org.
What is Gather?
With a variety of location templates, Gather provides a virtual space to host a range of multimedia activities. Users create a tiny avatar of themselves, which can then "walk around" the virtual park or office or conference center and interact with their surroundings; this includes fellow users, who become available for video chat within a certain proximity. Multimedia options include the ability to join Zoom talks, to view posters and discuss them with presenters, as well as options to screenshare directly or work together on a virtual whiteboard.
From the Gather website:
Hang out with friends: Throw a virtual gathering where your friends can drift in and out of groups as easily as reality. Sit by the campfire, take a walk in the park, or watch your favorite movies together.
Host a conference: Host your conference in a virtual event center. Bring back the serendipity of running into friends and meeting strangers.
Work in the office: Create a virtual office for your remote team. Walk up to someone's desk to ask a question, talk casually at the water cooler, or host happy hours.
Virtualize your university: Virtualize your campus, with rooms for lectures, events, and common areas to work together. Bring back the social aspect of school!
…and much more: Gather has also been used to host weddings, arcades, immersive theaters, and hackathons!
For our trial, we used the conference center template: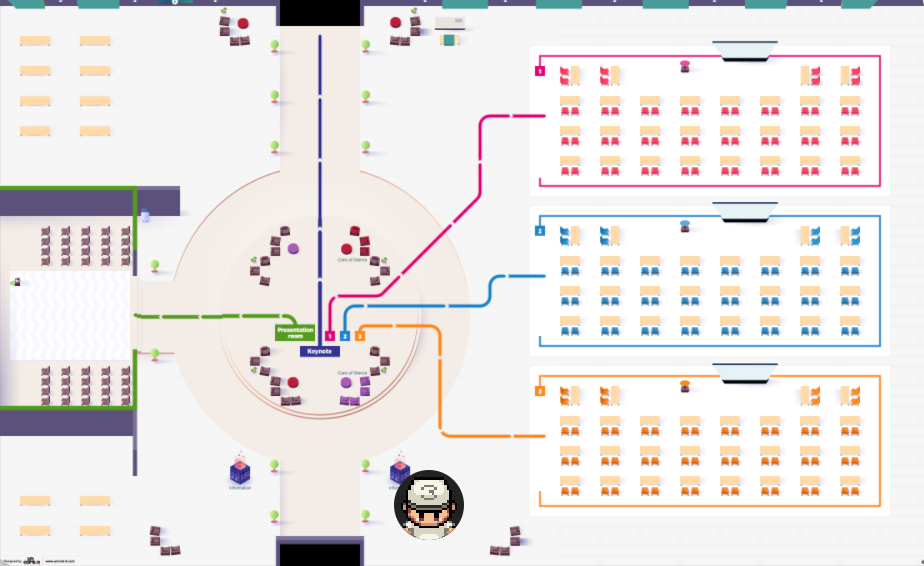 A couple of notes:
The free version of Gather is limited to 25 participants, the paid plan 2000.
Without a paid plan, you cannot really make the most of some of Gather's features (e.g., hosting Zoom meetings in each conference room for presentations). But, you can use Gather's mapmaker took to customize your space.
We are not sure whether this platform works internationally.
The good
For our trial, the platform worked seamlessly. It was easy to log in, and to create an avatar ( of which there are a variety of options pre-loaded, and with the paid plan you can also create your own). It was easy to move around the space using the arrow keys on your keyboard, and to interact with anything in the space (e.g., poster boards, exhibit booth, and video walls) you simply click the "x" key.
There are some really nice touches in Gather, including virtual whiteboard spaces, information booths (where you can post agendas and other useful info), and cones of silence (places in the common area in which other participants can't join you on video chat). You can also set your status, so if you're attending the event but have to step away for another meeting you can indicate that you will be back soon.
We found that, in comparison to Qiqochat, it was much easier to grasp "where" in the conference you were. It felt more intuitive to "walk" into a room and then click to join the relevant Zoom link than to navigate a web-based agenda or menu. This sense of place helped to recreate the discoverability of a large conference, where you're able to meet others in the hallways between sessions or jump easily from one session to another to find something of interest.
Gather also has a good deal of resources available, including a Welcome doc to share with your participants, a comprehensive FAQ section, and a guide for DIY map-making.
The bad
One of the defining characteristics of Gather is the "walk close to someone and join the conversation" feature: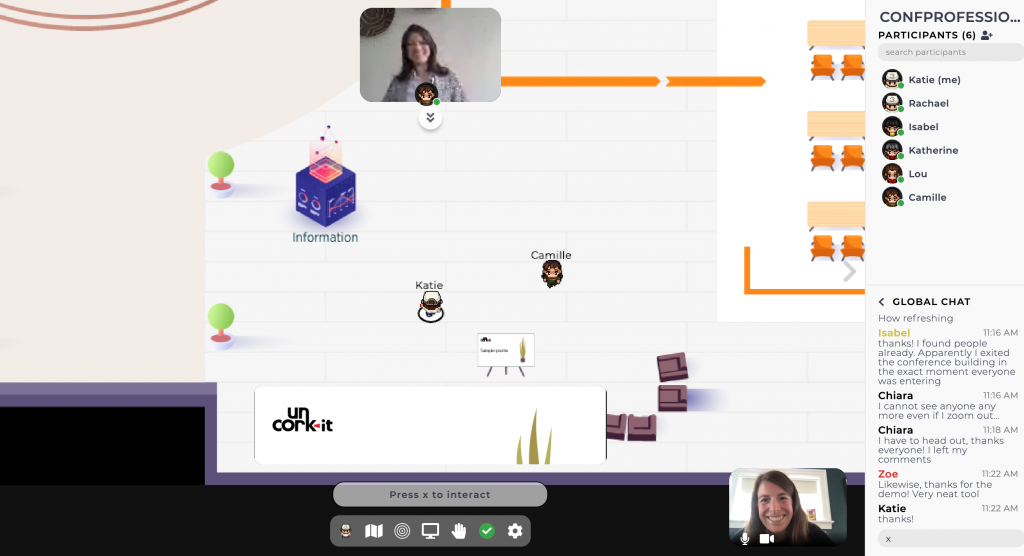 But, this can require a little willingness to adapt to make the most of it. For example, if you join a group conversation you may only hear part of it if you are too far from some of the people in the group. Fortunately, Gather has also thought through some privacy measures too – making it possible to block users if you don't wish to be available to talk with them.
We also noted some potential problems that were hard to fully test with a small group (we had eight people in our test). For example, in a crowded conference it might be hard to locate folks. There is a locate feature that creates a line on the ground for you to follow to a participant, but that first requires you to find the person you are looking for in the attendee list – which could be challenging in a large meeting.
We also gave the "campus" layout a try, and found it to be a little basic. But, it might work for a networking event or other less-structured activities.
And the graphics
Gather's presentation, in the vein of an 8-bit video game, could have a bit of a Marmite effect (love it or hate it!) on participants. Our group generally liked it, and found it inspired playfulness and even joy as you navigate the space. However, for other users it may be off-putting to present yourself as a miniature video game character at a professional event.
I want to know more…can I access the notes from this call?
Yes! eight members of the CSCCE community of practice joined this tools trial, and, along with CSCCE staff, contributed comments to a shared Google doc. A big thank you to everyone who attended!
The next CSCCE tools trial: Etherpad plus Video
This week we will be trialling virtual note-taking tool, Etherpad's new in-app video capability (at 4pm UTC / noon US EDT on Thursday, 24 September). Community member Malika Ihle will be leading this week's trial.
Disclaimer
Please note that neither CSCCE nor any of the participants (or their organizations) who attend these trials are endorsing the platforms. We will, where possible, ensure that participants have the option to enter the event as a guest and we will not provide any identifying information to the platform.