This month, we're hosting an impromptu Tools Trial for our community call. In response to significant interest from the members of our community of practice (find out more about our community), we'll be getting together in Zoom on Friday, 26 May 2023 at 10am EDT / 2pm UTC to share expertise and explore the functionality of Discourse.
Date: Friday, 26 May 2023
Time: 10am EDT / 2pm UTC
Zoom link to join: click here
Add to calendar: click here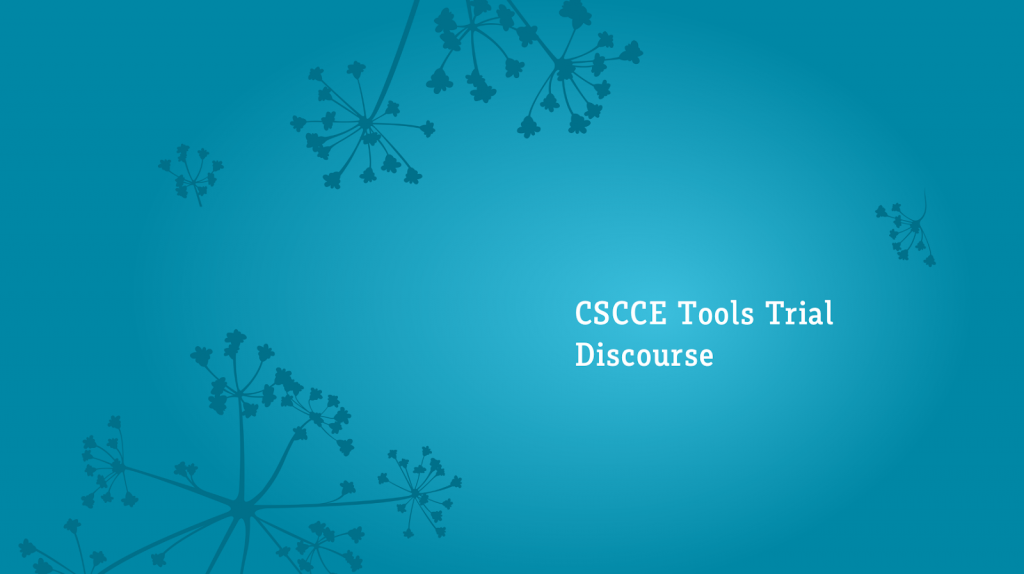 About CSCCE Tools Trials
We've run several Tools Trials over the last couple of years, particularly in the earlier days of the COVID-19 pandemic when many new tools were launching and community managers were tasked with using them to hold virtual events. One of the difficulties when deciding whether to use a new tool is having enough people to understand how they work, or discovering if limitations exist (e.g., browser support or international access). By convening Tools Trials, we were able to take a look at a tool with a group of 10-15 community managers and get a better understanding of a tool's usability, applicability, and accessibility.
If you decide to join our May trial, you can expect a short overview of what Discourse is, a look at how other community managers are using the platform, and a general discussion of tips for getting started and challenges to be aware of.
We have scheduled 90 minutes for this month's call, but please feel welcome to leave after 60 minutes if your schedule demands.
About Discourse
Discourse is an open-source platform that supports discussions and chat rooms. It is customizable to fit your community's brand identity, and can be configured as a private or public forum.
You can find out more about Discourse here, and view its privacy policy here.
May's call
ABSTRACT
Join May's community call to:
Learn about the community platform Discourse
Share your expertise in running a community on Discourse
Participate and get to know other community managers in STEM
How to join
May's call will take place on 26 May 2023, at 10am EDT / 2pm UTC
Our calls are hosted in Zoom – click here and we'll see you in the webinar!
Video or not? You're welcome to turn on your webcam if you like but fine if you prefer just to use audio.
Our community calls generally last 90 minutes to allow time for discussion, but we try to keep all of the presentations within the first 60 minutes. Since this month's call is a Tools Trial, most of the call will be participatory. We understand that virtual meetings have a tendency to overrun and overlap, so please don't feel sheepish about arriving late or leaving early. We'd love to see you either way!
Please note: We won't be recording this month's call. A recap blog post will be available within 5 days of the call taking place, and we will also make the shared notes available for anyone interested in digging deeper.
ADDITIONAL INFO ABOUT OUR COMMUNITY CALLS
Our community calls usually take place on the third Wednesday of every month at 11am Eastern, but occasionally times and dates vary depending on speaker availability so please check our calendar of events.
Wonder what we've talked about in previous calls? The archive listings can be found here, with select recordings available on YouTube.
Not yet in our Slack group? Request to join here.
Further resources
We curate a growing collection of resources for community managers on our website. If you have any questions about our work, or are interested in partnering with us on a future project or call, please contact info@cscce.org.