In July we announced that in 2023 we'll be launching a new certification program for STEM Community Managers, building on our foundational training Scientific Community Engagement Fundamentals. Since we made that announcement, we've been listening to feedback and working on some details.
In this blog post, we share some updates, including when the first cohort will begin their course of study and how you can let us know that you plan on enrolling. We also share when we'll be hosting info sessions so that you can get quick answers to any questions you might have, and how your organization can sponsor the program if you'd like to support the participation of others.
Brief overview of the program
CSCCE's Community Manager Certification Program is designed as a multi-component, cohort-based learning experience that can be tailored to some degree to meet the needs of each individual community manager. With two intakes planned for 2023 (April and September), we'll be able to welcome 50 learners into the program during our pilot year, with 25 in each cohort.
We've carefully designed the program to cover topics that we believe are essential to the majority of community managers – and that are not currently covered by trainings that are available elsewhere. Learners will participate in two required multi-week courses (Content Design and Creating Community Playbooks), which will focus on strategic communications and programming and the documentation to support collaboration. They will additionally take one elective course (either Communities of Practice or Nurturing Online Communities) that will bring a social science lens to their engagement tactics, helping them to understand why certain approaches are appropriate in specific contexts. Additional topics will be covered by six mini-workshops (from a growing selection listed here). There will also be opportunities for peer-to-peer mentorship in quarterly skills share sessions.
Supporting technology
In typical CSCCE style, we'll be deploying various technical tools to support your learning. These will include:
Access to Canvas LMS so you can easily find and refer back to course materials, slides and worksheets during the program
A private channel in our shared Slack workspace for connection and conversation with fellow learners.
Modeling the use of a range of online tools such as Mural, Padlet, and Gather to support interactive learning that may also inspire your own community management practices.
More information about the program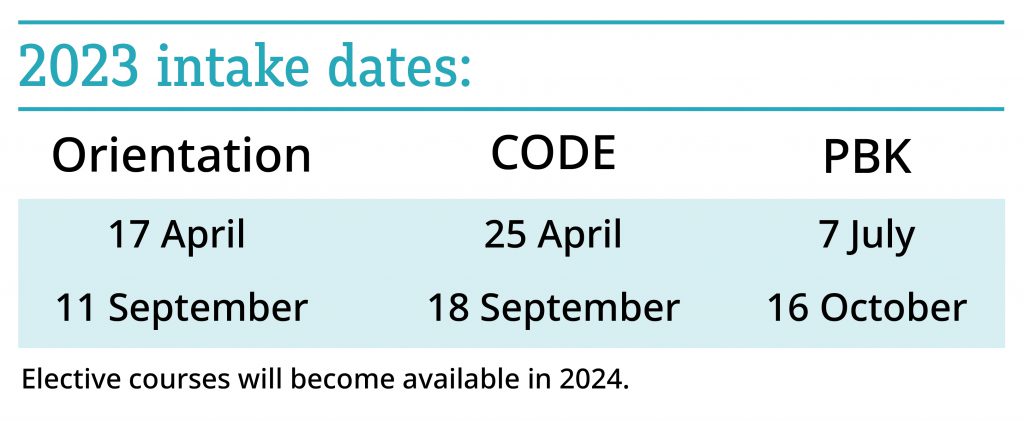 Inaugural cohort
The first participants of the CSCCE Community Manager Certification Program will begin their initial orientation on 17 April 2023. During that first week, they'll take part in two 90 minute webinars, get situated in our new online learning management system, and get to know their fellow learners. Their first multi-week course will then start the week of 25 April and run through mid-June.
There will also be a second enrollment in 2023, with orientation the week of 18 September and course work beginning 25 September.
If you have any questions about these dates, we encourage you to attend the information session on Thursday, 12 January at 11am EST / 4pm UTC.
Zoom link to join | Add to calendar
Digital badges
We recently announced that everyone who completes a CSCCE multi-week course will receive a digital badge that they can share with their professional and social networks. Participants in the certification program will receive badges as they progress through the individual components of the program, as well as a distinct, rosette-style badge upon completion of the program, that signifies they are a certified community manager.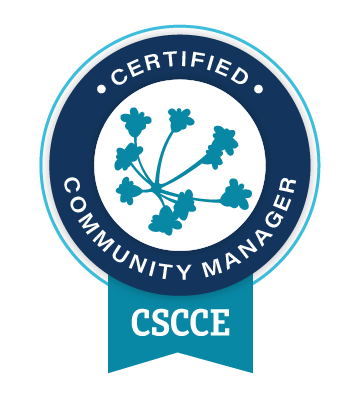 Pricing
Registration fees for the full course of study are:
$5000 for participants from non-profit organizations or academic institutions
$7500 for participants from for-profit organizations or those who wish to contribute at a supporting rate
We are also working on a financial aid fund so that we can support a diverse group of learners. If you would like to contribute to that fund, please reach out to training@cscce.org. You can also use the intent-to-enroll form to let us know more about your financial needs.
How to enroll
In this pilot round we will be working closely with learners to shape the infrastructure around the program and so we are now accepting early enrollment using this intent-to-enroll form. This allows us to connect individually with learners about pricing and financial aid options, and ensure that the infrastructure we're building behind the scenes matches your needs (e.g., different installment options).
By signaling your intent-to-enroll now, you also secure your place in one of the 25-person cohorts. We will be operating on a first come, first served basis so if you are thinking about taking the program in 2022, don't delay signing up.
Informational drop-in session
We'll be hosting an informational session at 11am EST / 4pm UTC on Thursday, 12 January 2023 to talk through plans for the certification program and offer some more context around pricing and start dates. If you have any questions, we strongly suggest you try to attend.
Zoom link to join | Add to calendar
If you are unable to attend, we'll be posting a recording on the CSCCE website, and we're happy to either take questions via email (training@cscce.org) or to set up a one-on-one meeting on Zoom.
Sponsorship opportunities
We are working to establish an accessibility fund for the certification program so that we can lower the financial barrier to participation, especially for learners from low income countries or who are supporting their own professional development. If you or your organization are interested in sponsoring the program, please let us know!
Get in touch
We have created a list of FAQs about the program, so we encourage you to check those out first if you have any questions! If you'd like to talk more about payment and scheduling, please reach out to training@cscce.org.