For our first call of 2022 we're focusing on project management. It's a common time of year to be thinking about big picture planning and strategy development, both individually and for your organization or team. And, there are a number of online tools out there that can help you map out your month, quarter, and/or year and keep track of tasks as you go.
In response to several requests, this month's call will include a general introduction to some of the rationale behind project management as well as active demos of four different platforms that can help you with your project management; Trello, Asana, Mural, and Todoist. We'll share how we keep on top of things here at CSCCE, as well as hear from three members of the CSCCE community of practice who use one or more of these platforms in their own community management work. There'll also be an opportunity to try at least one of the tools in breakouts to help guide your own work.
Join us on Wednesday, 19 January at 4pm UTC / 11am EST for more. Click here to join the Zoom meeting.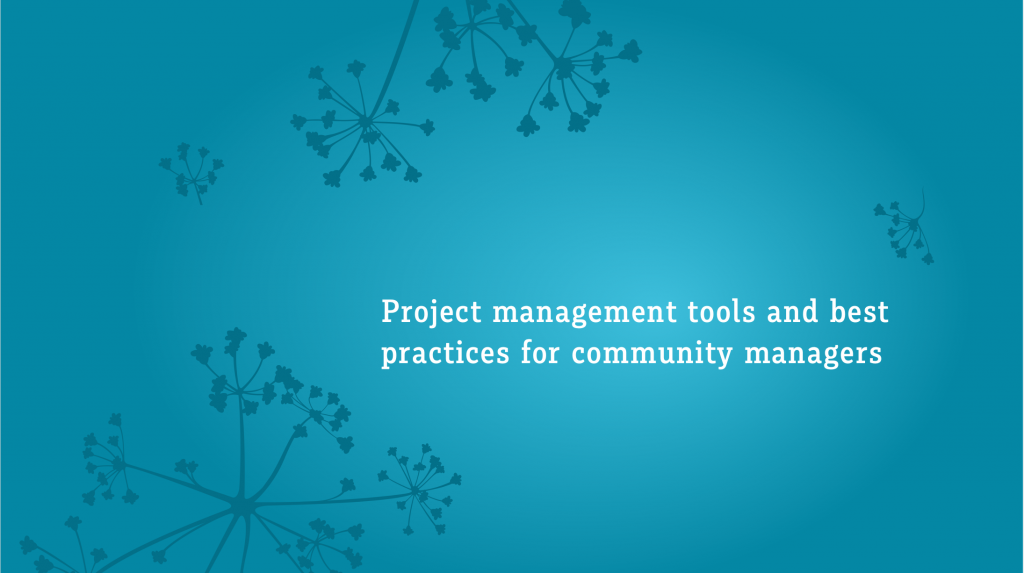 Why project management?
Many community managers in STEM have to do it all. They have to plan the engagement strategy for the year, write all the content, answer all the emails, you name it… and try not to drop any balls in the process. Even if you're part of a team, chances are you're taking on multiple different roles and contributing to a variety of projects.
Shifting from big picture thinking to detailed tasks is hard, as is getting a realistic idea of what you and your team can accomplish in a given window of time. This is where good project management comes in. It can help you manage your time and expectations as well as keep you grounded when it comes to getting things done on an everyday basis.
This month, we're going to share a little bit about how we use Trello to keep the CSCCE team on track, including what features we find particularly useful. We've also invited three members of our community of practice to share their wisdom on other platforms: Alycia Crall from the Carpentries, who uses Asana, Ellen Dow from KBase at Lawrence Berkeley National Laboratory, who uses Todoist, and Anne Heberger Marino of Lean-To Collaborations, who has created a Mural template for annual planning as well as a corresponding kanban board. 
This month's call is for anyone interested in getting started on a project management platform. We're also excited to hear how you're using these or other platforms in your work, and we'll be devoting as much time as possible to group discussion and Q&A. See you on the 19th!
January's call
ABSTRACT
Join January's Community Call to:
Learn about project management tools and how to deploy them for your needs (we'll be covering Trello, Asana, Todoist, and Mural)
See how other community managers in STEM are using these platforms for their own strategic planning
If you're considering implementing a platform in your own organization, this is also a great opportunity to ask any burning questions you might have.
SPEAKERS
Alycia Crall, The Carpentries
Ellen Dow, KBase / Lawrence Berkeley National Laboratory
Anne Heberger Marino, Lean-To Collaborations
Lou Woodley, The CSCCE
How to join
January's call will take place on Wednesday, 19 January at 4pm UTC / 11am US Eastern Time.
Our calls are hosted in Zoom – simply click here and we'll see you in the webinar!
Video or not? You're welcome to turn on your webcam if you like but fine if you prefer just to use audio.
Our community calls last 90 minutes, but we will do our best to ensure that all of the presentations take place in the first hour, in case you have to leave early. The last 30 minutes is generally reserved for open discussion and Q&A with the presenters. Come for the hour – or for the full 90 mins, as your schedule permits!
Please note: We'll be recording the presentations so that others who couldn't make it can catch up later. The discussion section and any Q&A are not recorded.
ADDITIONAL INFO ABOUT OUR COMMUNITY CALLS
Our community calls usually take place on the third Wednesday of every month at 11am Eastern, but occasionally times and dates vary depending on speaker availability so please keep an eye on our calendar of events.
Wonder what we've talked about in previous calls? The archive listings can be found here, with select recordings available on YouTube.
Not yet in our Slack group? Request to join here.
Further resources
We curate a growing collection of resources for community managers on our website. If you have any questions about our work, or are interested in partnering with us on a future project, please contact info@cscce.org.