The Japan SciCom Forum took place online 26-27 October 2021. The event was hosted by the Earth-Life Science Institute (ELSI) in Tokyo, and focused on giving participants practical tools for communicating about science in English.
CSCCE's Lou Woodley and Camille Santistevan facilitated a workshop at the forum, sharing our PACT framework for virtual event planning, and staying up way past their bedtime to participate on Tokyo time! In this post, we share a little bit more about the event, our workshop, and how you can request a similar workshop for your organization or event. 
About the Japan SciCom Forum
Since 2018, the Japan SciCom Forum has offered both focused gatherings and an ongoing community of practice to support science communication practitioners in Japan. The goal of this effort is to create a space for skill-sharing among the science communication community in Japan as well as elevate and professionalize their work on the world stage. The community now reaches around 250 practitioners, and this was the third conference since its inception.
We were grateful to be invited to participate in the program and to share what we've learned from facilitating – and supporting others in facilitating – virtual events.
The PACT framework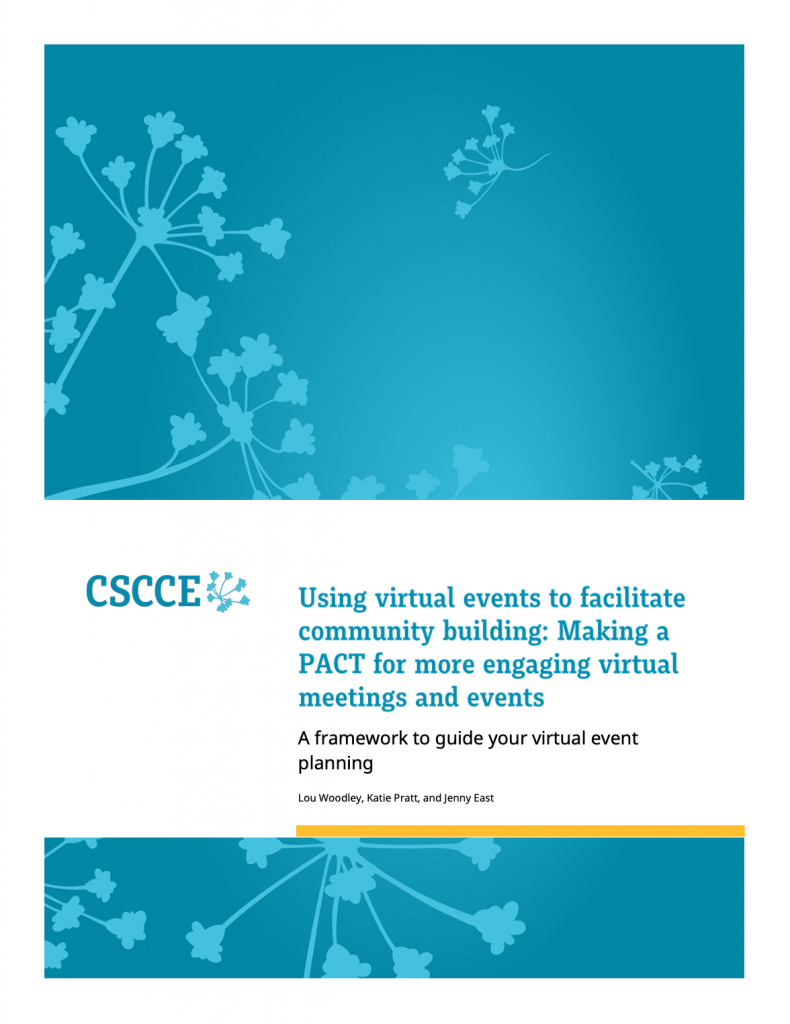 CSCCE's PACT framework is intended to help anyone plan a more engaging and accessible virtual event. The four facets of the model, Purpose, Attendees, Community management, and Tech tools offer a step-by-step guide for event planners to follow, and intentionally focus on people first, tech last.
We developed the framework as part of a four-part guidebook to virtual events following the global pivot to more online convening during the COVID-19 pandemic. You can download a free copy of this section here, or find all four sections here.
More about the workshop
Our workshop at the Forum involved an overview of the PACT framework and an activity to practice applying the framework using a case study and guiding questions, which we made available in both English and Japanese. We enjoyed reviewing the responses shared in the virtual notes doc, and guiding participants through the range of options that you can be faced with when thinking about your online event.
It was also a milestone for us to create our first bi-lingual virtual notes doc – and we're grateful to the forum organizing team for reviewing our translations and prompting us to think through the nuance of some of our terms so that they were as culturally relevant as possible for the attendees. This helped us lead a highly-engaged session with a notes doc full of participant contributions at the end!
Interested in hosting a workshop for your team?
This is not the first time we have hosted a workshop like this, to guide a group through the process of designing engaging and accessible online events, and we also offer additional related sessions on tool selection and decision-making. If this is something you are interested in providing for your team, or at your next event, please let us know (info@cscce.org).