Today we're releasing the first few CSCCE Community Profiles in a new collection we've created in collaboration with the Science and Technology Innovation Program (STIP) at the Wilson Center. The collection was initiated to understand more about how communities involved in the hardware and open science ecosystem operate, as well as the ways in which they are connected. In this blog post, we share the goals of the project, what to expect over the next few weeks, and how you can work with us to create community profiles for your own domain or project.
CSCCE x Wilson Center Community Profiles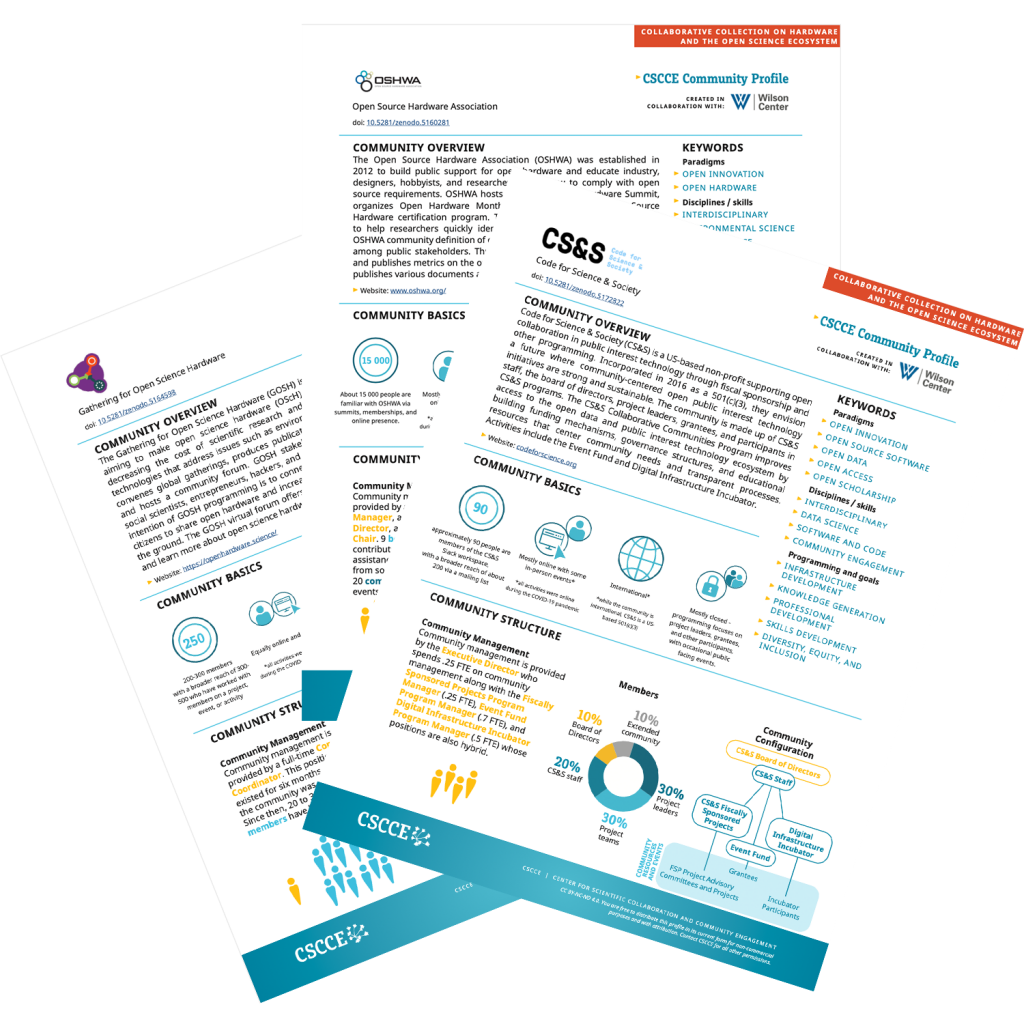 Our collaboration with the STIP at the Wilson Center began with a central mission of getting a better understanding of the hardware and open science ecosystem. We worked with team lead Alison Parker to source potential communities to include and then brought in independent contractor Sara Kobilka to help administer our community profiles survey. We modified the survey slightly in order to gather information specific to the project, so as you read the profiles you might notice, for example, that the keywords section looks slightly different to previously published CSCCE Community Profiles. Wilson Center collaborators also include Alex Long and Alexandra Novak.
As with all of our profiles, Katie Pratt and Lou Woodley took the lead in creating the final versions, carefully ensuring that each profile offers a clear and insightful view of the community. We also created a new co-branded look for the profiles, so that you can clearly see that this is a special collaborative effort.
Today, we're sharing the first three profiles in the collection: Gathering for Open Science Hardware (GOSH), Open Science Hardware Association (OSHWA), and the Nation of Makers. The data in these profiles were provided by Brianna Johns, Eric Carlson, and Dorothy Jones-Davis, who serve as community manager (CM) for each community, respectively. You can download each of them for free, and find out more about these communities.
Coming soon…
Over the next few weeks, we'll be releasing more profiles. You'll be able to browse the CSCCE x Wilson Center collection on a dedicated topical page on the CSCCE website, and also see them included in our broader collection of almost 40 STEM communities.
We're also working with our collaborators at the Wilson Center on a manuscript to describe the work, as well as blog posts to share some insights about the communities profiled. Keep an eye on our Twitter accounts to stay up to date on this project: @TheCSCCE and @WilsonSTIP. You can also find posts from the Wilson Center team on their blog here.
Collaborating with CSCCE on a community profile, or a collaborative collection
We produce a round of approximately 10 – 15 community profiles roughly once a year for members of our community of practice, however we are also able to create custom profiles for clients, as we did here for the Wilson Center. If you are interested in exploring what that might look like for your organization, please do get in touch: info@cscce.org.