Our latest guidebook explores the importance of supporting and encouraging the work of community champions, emergent leaders who take on additional roles within a community to ensure its success. The guidebook builds on our Community Participation Model, which describes how community members engage with community programming and the ways community managers can design activities and events that meet members where they are. It forms part two in a growing series of foundational resources, with more to come later this year.
What is a community champion?
We define a community champion as:
​​​​An emergent leadership role within a community in which a community member takes on more responsibility for the success, sustainability, and/or running of the community.
You can think of a champion as a kind of "super-user," who goes above and beyond regular engagement to further the mission of the community. They might do this by serving on a steering committee or other named leadership role (what we term a "formal champion") or by voluntarily spreading the word about the community among their networks (an "informal champion").
Either way, as a community manager, it's important to consider how best to support champions and ensure that they feel valued in their work.
Empowering community champions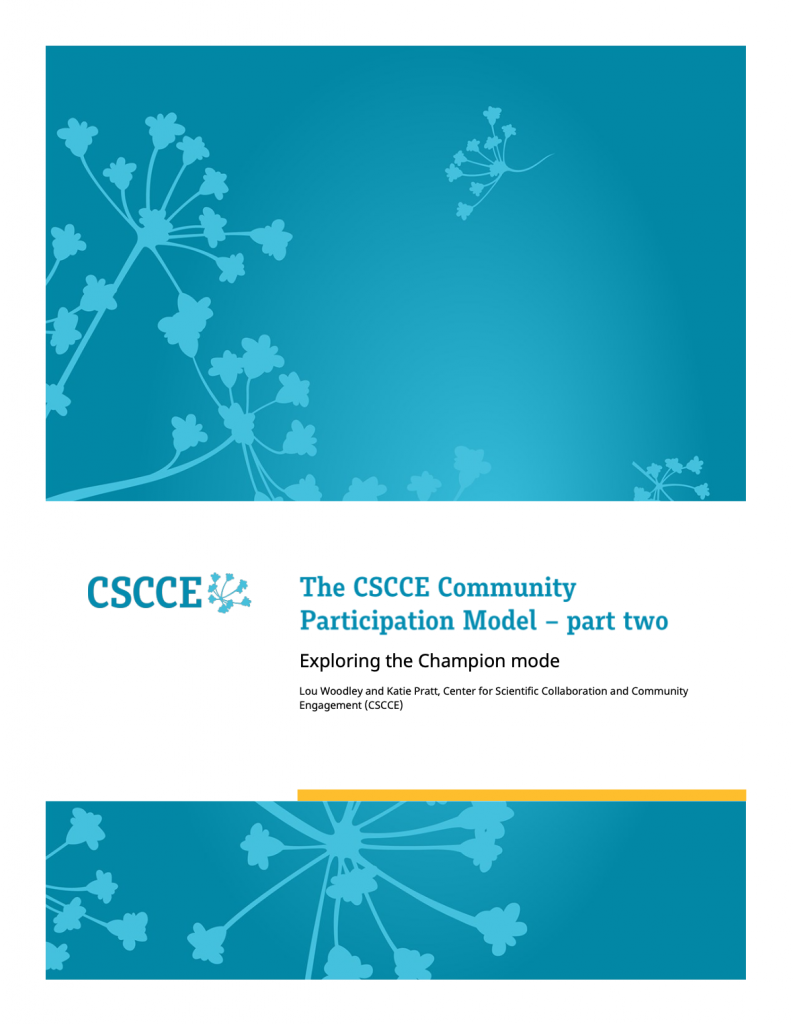 In the guidebook, we explore the functions (MAINTAIN, GROW, EVOLVE) and benefits (CAPACITY, LEGITIMACY, REACH) of champions in terms of their impact on a community. And, we detail the types of support and recognition community managers can provide to further empower these champions to continue their activities.
We also provide a more detailed look at how an intentionally created champions program can help a community reach its goals, and offer a nine-step plan for building out such a program.
Download and cite this work
Download a copy of the guidebook for free here, and let us know what you think. We're always open to feedback, and love hearing stories of how our resources help you in your community management work. If you do use the guidebook and would like to cite it, here's the langage to do so:
Center for Scientific Collaboration and Community Engagement. (2021) The CSCCE Community Participation Model – Exploring the Champion mode. Woodley and Pratt doi: 10.5281/zenodo.5275270
Get in touch about your champions programming
We also regularly support STEM organizations as they build out champions programs. Our collaborations include: advancing work in research data management, metadata standards, training local community coordinators, and supporting online community admins. If you are interested in learning more about this consultancy offering, please contact info@cscce.org.
Acknowledgements
A big thank you to Zoe Leanza, Emily Lescak, Brigitte Portner, and Elissa Schuett, who reviewed an earlier draft of the guidebook and gave helpful feedback. They are all members of the CSCCE community of practice and of our Champions Programs Working Group, which meets monthly to work through the 9 step process described in the guidebook. If you are interested in joining the working group, please contact info@cscce.org.