Community management in STEM is still an emerging profession, with community managers often finding themselves in the position of charting their own career path. Explaining to others what you do, why it's important, and the ways in which you excel doesn't always come naturally (especially the last part!) and it can help to have some strategies at your fingertips for different situations. So, for this month's community call we convened an off-the-record conversation about how to advocate for yourself, build your CV, and work with your supervisors to advance your career.
This month's call was a continuation of the conversation started back in August, so you might find it helpful to revisit the blog post recap of that call before diving into this one!
Why self advocacy?
While the long-term goal of self-advocacy is to lead a fulfilling career, this skill can also help alleviate several of the challenges that community managers often face on a day-to-day basis, as identified through our recent case studies project.
Under-appreciation: Self-advocacy can gradually establish your legitimacy and reduce the emotional burden of repeatedly justifying your role and the value of community management.
Overwhelm: Self-advocacy can help supervisors understand the role of a community manager and appreciate the amount of work that goes into these positions. Community managers can also advocate for accurate job descriptions and job titles to avoid becoming weighed down by tasks that fall outside the scope of their role.
Inexperience: Community managers can advocate for the value of professional development opportunities. These opportunities can then become stepping stones along a career path — completing them can give community managers leverage when they're advocating for their advancement within their organizations.
Note: self-advocacy is not intended to be a solution for working in a toxic workplace and we are not endorsing environments in which your mental or physical health are being adversely affected. Please consider the viable options available to you in your own context.
Four steps to effective self advocacy
Self advocacy can be thought of as the sum of four achievable actions:
Building your CV
Formalizing your role within your organization
Setting objectives and metrics for success
Helping your colleagues understand what you do and why it matters
On the call, we used breakout rooms to discuss strategies for each of these four actions. The take-home messages from these discussions are described below.
Building your CV
The first step in demonstrating the value of your position is to keep a detailed record of your accomplishments. Call participants had a variety of strategies for this:
Use the CSCCE skills wheel as a guide for the types of activities to document. Activities that draw on these skills are valuable to track.
Keep multiple formal lists of achievements, with different lists geared toward different types of jobs, or keep just one informal list that will remind you of your accomplishments when it comes time for your annual review, to apply for a new job, or to seek a promotion.
Keep a list of kind words from Twitter, emails, and other forms of communication that demonstrate the impact of your achievements.
If you're transitioning from a research environment into community management, remember to list leadership and service work that you've performed, such as building community in the lab and participating in student organizations. These activities can be just as relevant to community management as your research, if not more!
A number of tools were mentioned for tracking your accomplishments. In addition to Google Docs, there's ORCID, OSF, Notion, and the R package datadrivencv.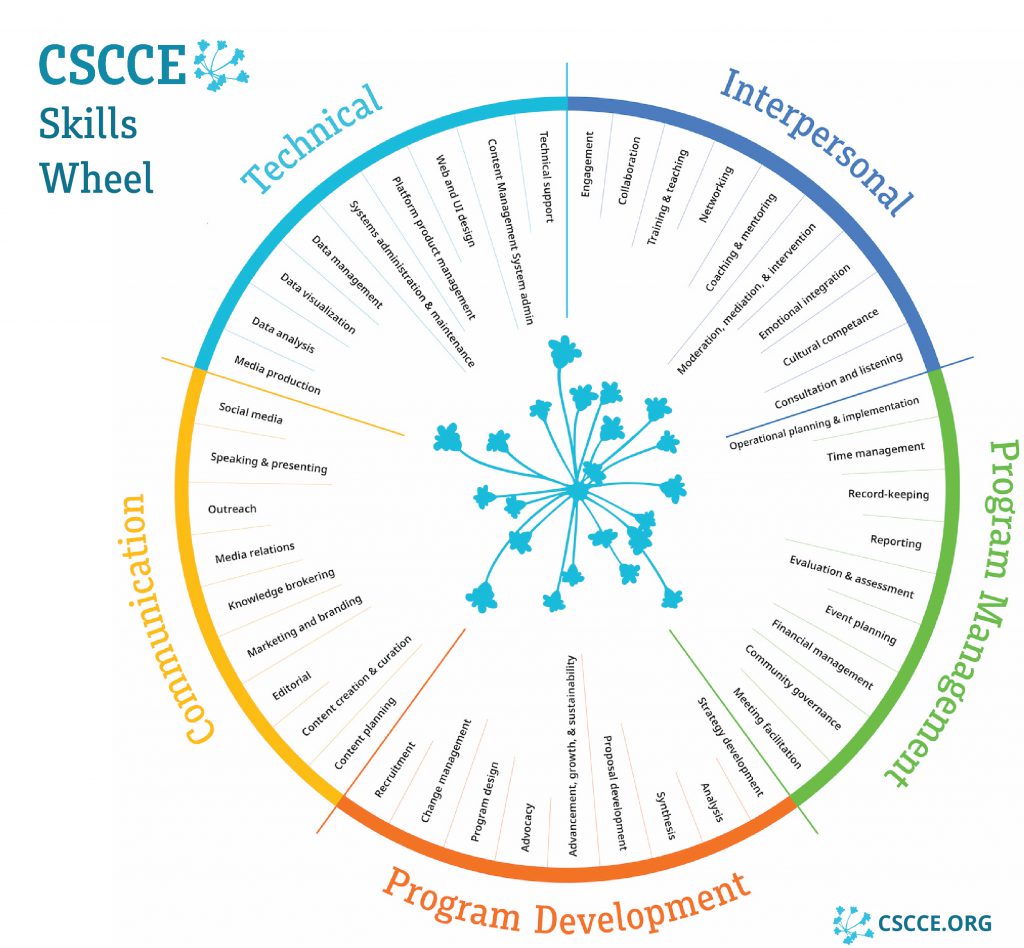 Formalizing your role
Advancing your career starts with making sure that your current position is accurately reflected in your job title and job description. If you're not quite hitting the mark, the following actions may help you remedy this.
Compare your CV to the CSCCE skills wheel, and use similarities to demonstrate to your supervisor that your work falls within the definition of a community manager.
If you have an annual review with your supervisor, use this opportunity to reflect on whether your job description reflects the work you do. If adjustments could bring it into line with the skills you use and tasks you accomplish, ask your supervisor if you can work together to revise it.
Depending on the structure of your organization, you may also find it helpful to identify and work with cheerleaders or advocates: people with authority who can work on your behalf to ensure you are recognized and rewarded for the work you do.
If your organization has a playbook, does it contain an accurate description of your position? Making sure this document communicates your position to your coworkers can go a long way toward making sure your role is understood.
Setting objectives and metrics for success
Having hard data is always helpful when it comes time to advocate for the importance of your position. Call participants had a number of suggestions for ways to track successes.
Tabulate quantitative metrics such as number of publications, number of conference presentations, and newsletter engagement.
Social media engagement can also demonstrate the reach of your activities.
Don't forget about qualitative metrics! Blog posts, media attention, and community member successes can very effectively demonstrate legitimacy.
Anecdotes about community member successes can be particularly valuable to new communities that haven't had time to build up their repertoires.
Helping your colleagues understand what you do and why it matters
Once you have an accurate description of your job and metrics to show how effective you are, the next step is making sure your colleagues are aware of what you do and its implications. The following actions may help achieve this.
If you've created resources that your community members love, ask if they can make their views known – tell a friend, share on social media, or promote it with their own networks!
Look for opportunities to apply for funding for community management. Grant applications are a great space to outline what you do in detail, and obtaining funding can help colleagues recognize your position's importance, as well.
Having an advocate, whether it's your supervisor or a colleague, can be invaluable. If you feel like some of your colleagues understand your role, encourage them to share that knowledge with others within your organization.
Share your successes at gatherings such as quarterly meetings and outreach events. Anniversaries – of project kick-offs, employee start dates, or major accomplishments – are natural times to celebrate successes. Make use of them!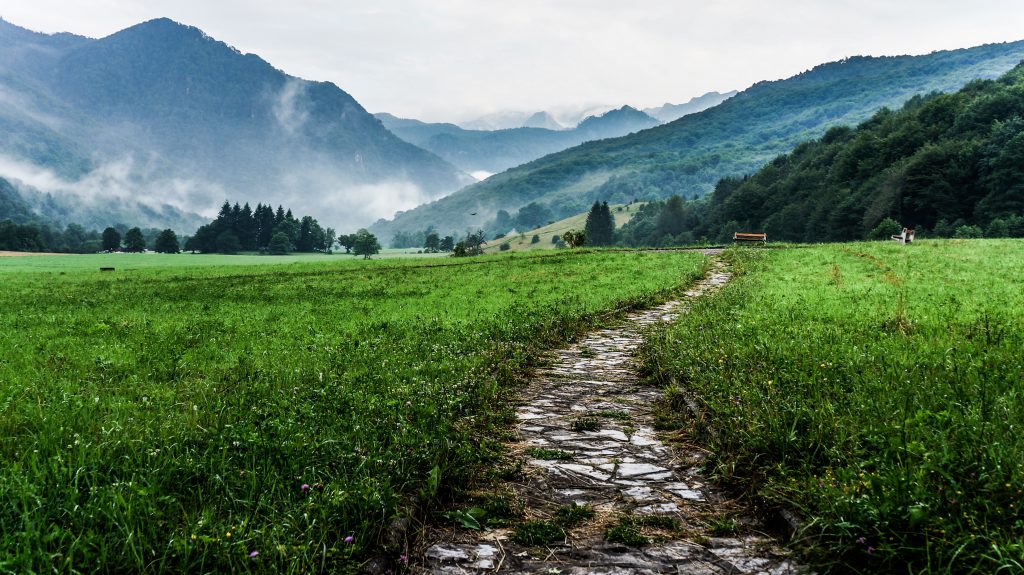 Putting it together
Charting a career path through a newly-formed field is hard, but we hope these four steps make the process feel feasible. By politely and consistently advocating for your position, we hope you'll be able to create a culture of respect around your role as a community manager, and that this will open up opportunities for career advancement.
A big thank you to everyone who joined this month's call, and especially to Connie Clare, Erin Conn, Elisha Wood-Charlson, and Marie Faust, who each moderated one of the breakout rooms.
Next month…
We're continuing our exploration of community manager roles in October with a conversation about how and why different organizations see community as crucial to their work – and what successful community projects look like to them. One of the common challenges community managers face is that the expectations leaders have about community-engaged work do not match a community managers' perception of success. We'll be hearing from funders and organizational leaders to learn more about why they value community in STEM.
Confirmed speakers:
Josh Greenberg, Alfred P. Sloan Foundation
John Ohab, Fannie and John Hertz Foundation
Karthik Ram, UC Berkeley
Join us on Thursday*, 20 October at 11am EDT / 3pm UTC!
*Note that our October call will be taking place on a Thursday instead of a Wednesday to accommodate speaker availability.