Our April call will focus on the pros and cons of various Community/Customer Relationship Management (CRM) platforms, and what a "perfect" community relationship management platform might look like.
We'll hear from three members of our community of practice who are using different tools, and spend some time brainstorming to create a requirements document of all the things we'd like to be able to do as community managers with a similar platform.
Join us via Zoom on Wednesday, 20 April at 11am US EDT / 3pm UTC.
Add to your calendar: iCal | Google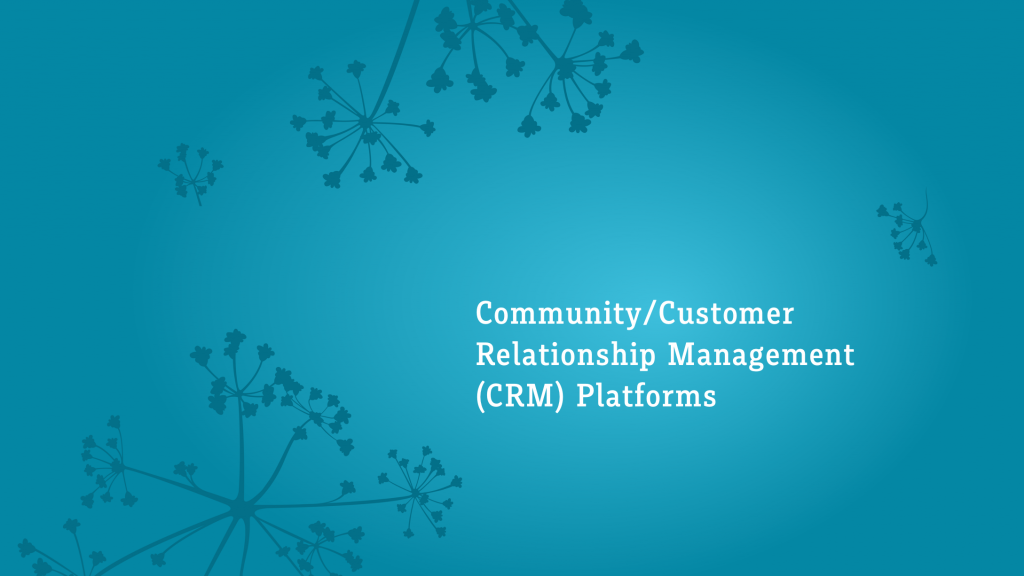 What is a CRM?
CRM's are generally database-driven tools that allow you to track various aspects of your community's membership. For example, you can manage contact details and mailing lists, track who interacts with your content, and whether people are attending your events. They also offer additional insights and metrics, producing automated reports on member activity. Most CRMs commonly in use today were built with sales in mind, making some of their functionality less relevant to community managers in STEM.
As a result, no one platform seems to solve for all the needs we've noticed community managers have, and often the cost of CRMs make them inaccessible for STEM communities operating on a shoestring budget. So, in this month's call, three of our members will share their insights from using different platforms: Chris Hartgerink will talk about Nutshell, Erin Conn will cover Salesforce, and Yamina Berchiche will highlight the pros and cons of Hubspot.
We'll also hold space for a general discussion about what community managers might like to be able to do with a CRM designed for community management, co-creating a requirements document to help guide conversations about platform selection or with developers.
April's call
ABSTRACT
Join April's Community Call to:
Learn about different CRMs and how you can use them to support community management
Share your experience with CRMs; what went well and what do you wish you could change?
Contribute to a co-created community resource to guide CRM selection and/or development
SPEAKERS
Yamina Berchiche, Institute for Protein Innovation
Erin Conn, AAAS
Chris Hartgerink, Liberate Science
How to join
April's call will take place on Wednesday, 20 April at 3pm UTC / 11am US Eastern Time.
Our calls are hosted in Zoom – simply click here and we'll see you in the webinar!
Video or not? You're welcome to turn on your webcam if you like but fine if you prefer just to use audio.
Our community calls last 90 minutes, but we will do our best to ensure that all of the presentations take place in the first hour, in case you have to leave early. The last 30 minutes is generally reserved for open discussion and Q&A with the presenters and other participants on the call. Come for the hour – or for the full 90 mins, as your schedule permits!
Please note: We'll be recording the presentations so that others who couldn't make it can catch up later. The discussion section and any Q&A are not recorded.
ADDITIONAL INFO ABOUT OUR COMMUNITY CALLS
Our community calls usually take place on the third Wednesday of every month at 11am Eastern, but occasionally times and dates vary depending on speaker availability so please keep an eye on our calendar of events.
Wonder what we've talked about in previous calls? The archive listings can be found here, with select recordings available on YouTube.
Not yet in our Slack group? Request to join here.
Further resources
We curate a growing collection of resources for community managers on our website. If you have any questions about our work, or are interested in partnering with us on a future project or call, please contact info@cscce.org.