Our February call will focus on scaffolding — onboarding documentation, how-to manuals, and tip sheets that keep everyone within an organization or community on the same page.
We're currently finalizing a guidebook that lays out the role of scaffolding in STEM communities, and we're excited to give you a sneak peak of the guidebook's core concepts. This month's call will also include time for participants to create or update their own scaffolding – either by adapting CSCCE's CC-BY-licensed scaffolding templates or building and/or sharing their own organization's documents.
Join us on Wednesday, 16 February at 4pm UTC / 11am EST for more. Click here to join the Zoom meeting.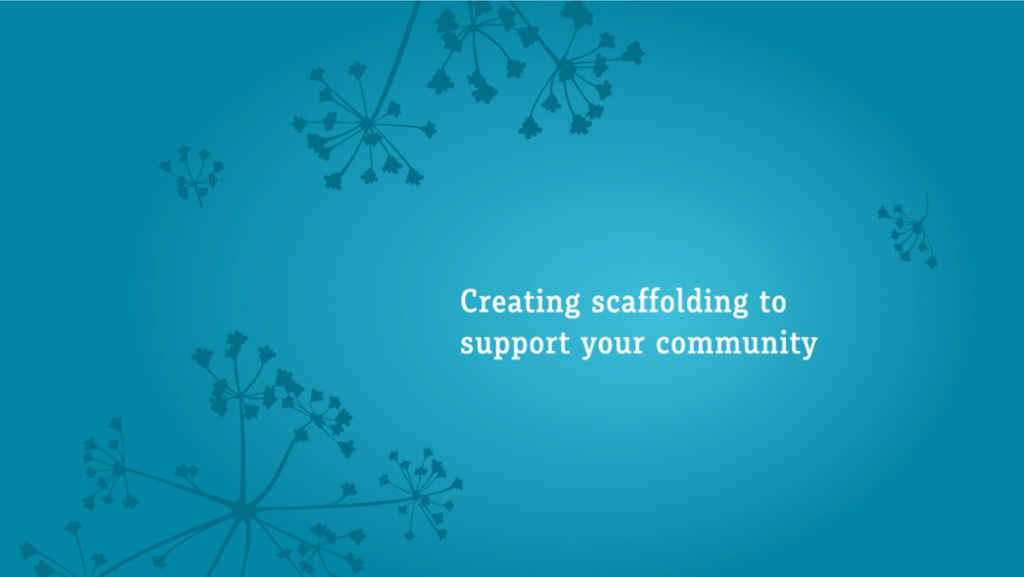 Why scaffolding?
Well constructed scaffolding can help newcomers integrate seamlessly into a community, facilitate working relationships between existing members, and aid knowledge transfer between segments of the community. While scaffolding may not be essential to create or grow a community, it is essential to the health of the community – communities without scaffolding are rarely inclusive, welcoming spaces.
For example, many of you will be familiar with CSCCE's Slack workspace. The Slack platform lets our community connect around shared goals, learn from each other, share our victories, and console each other over our losses. But it only works because our members have shared knowledge about how our community interacts with the tool. Some of this knowledge comes from the scaffolding we've created to guide new member onboarding, which includes a welcome guide and technical quick start guide.
During this month's call, we'll discuss how scaffolding we've created helps align our members around common practices to keep our community of practice running smoothly. We also know that it can be hard to prioritize making scaffolding! And so we'll also be hosting some co-working time for you to look over and reuse our templates, work on your own scaffolding, and learn with other members of the CSCCE community of practice.
ABSTRACT
Join February's community call to:
Learn about our new guidebook on the role of scaffolding in STEM communities
See examples of CSCCE's documents and templates
Work on your own organization's support structure, using CSCCE templates if you'd like
Share your experiences and learn from your peers
How to join
February's call will take place on Wednesday, 16 February at 4pm UTC / 11am EST.
Our calls are hosted in Zoom – simply click here and we'll see you in the webinar!
Video or not? You're welcome to turn on your webcam if you like but fine if you prefer just to use audio.
Our community calls last 90 minutes, but we will do our best to ensure that all of the presentations take place in the first hour, in case you have to leave early. The last 30 minutes is generally reserved for open discussion and Q&A with the presenters. Come for the hour – or for the full 90 mins, as your schedule permits!
Please note: We'll be recording the presentations so that others who couldn't make it can catch up later. The discussion section and any Q&A are not recorded.
ADDITIONAL INFO ABOUT OUR COMMUNITY CALLS
Our community calls usually take place on the third Wednesday of every month at 11am Eastern, but occasionally times and dates vary depending on speaker availability so please keep an eye on our calendar of events.
Wonder what we've talked about in previous calls? The archive listings can be found here, with select recordings available on YouTube.
Not yet in our Slack group? Request to join here.
Further resources
We curate a growing collection of resources for community managers on our website. If you have any questions about our work, or are interested in partnering with us on a future project, please contact info@cscce.org.