Over the course of the past 20 months, scientific communities have worked hard to pivot their member engagement strategy to support meaningful interactions in the digital space. Earlier this year, CSSCE worked with the Environmental Data Science Inclusion Network to reassess their members' needs and ensure that the content and programming provided is responsive to them.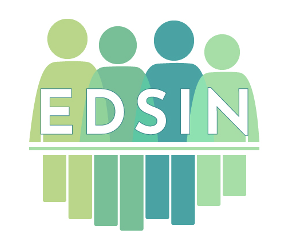 Launched in 2019, EDSIN's mission is to facilitate and support diversity, equity, and inclusion efforts within the environmental and data science fields. EDSIN was established during an in-person conference sponsored by the National Science Foundation (NSF), and its leadership was planning a second in-person workshop to develop long-term sustainability plans, which was cancelled due to the pandemic.
Despite this disruption, the network continued to grow, with new members joining a newly launched Slack workspace each month. Those involved with establishing the network were eager to build off this momentum, and so EDSIN's community manager (and CSCCE community of practice member) Dr. Alycia Crall reached out to CSCCE for support with determining EDSIN member needs as the network pivoted to exclusively virtual programming.
CSCCE held several interviews over the summer to understand member needs and how they had shifted during the pandemic. We carefully selected participants to gather a range of perspectives across career stages, organizational affiliations, and current engagement levels. We asked about their current roles and responsibilities, relationship with EDSIN, current needs, and the value they've obtained from EDSIN membership.
We used the information from our interviews, along with an audit of EDSIN programming and resources, to create a community playbook to help EDSIN leadership with day-to-day operations, communications, and program planning. We also created a welcome tip sheet to onboard new members, and shared the results of our analysis with the EDSIN community during its November community call. On the call, EDSIN members shared additional ideas for how to strengthen the network and ensure it's long-term sustainability – something that has resulted in further conversation topics for their next call!
Can we support you with member research?
CSCCE has deep experience working with scientific communities to research member needs and develop community engagement strategies. We can help with:
Member research (interviews, focus groups) and strategic planning related to community-building initiatives including developing community engagement strategies
Community program design and delivery – including champions programs to support more diverse member participation and adoption of new practices Reviewing existing community programs and providing reports and recommendations
Adaptation of CSCCE core frameworks (such as the CSCCE Community Participation Model and CSCCE Community Profiles) to specific research questions or practical applications
Manuscript preparation related to shared interests
To get started, send us an email at info@cscce.org and we'll set up a time to discuss your specific needs.