Our October call focused on the role of community champions in creating engaged, welcoming, and productive communities. This post includes a summary of the call, as well as video clips of presentations from Vanessa Fairhurst (Crossref Ambassadors program), Iratxe Puebla (ASAPbio Fellows program), and Ailís O'Carroll (eLife Community Ambassadors program).
Our next call will take place on 17 November 2021 at 4pm UTC / 11am EST (note: upcoming daylight savings time changes may affect the time of this call in your region). We'll be focusing on community governance models. iCal | Google Calendar
Community champions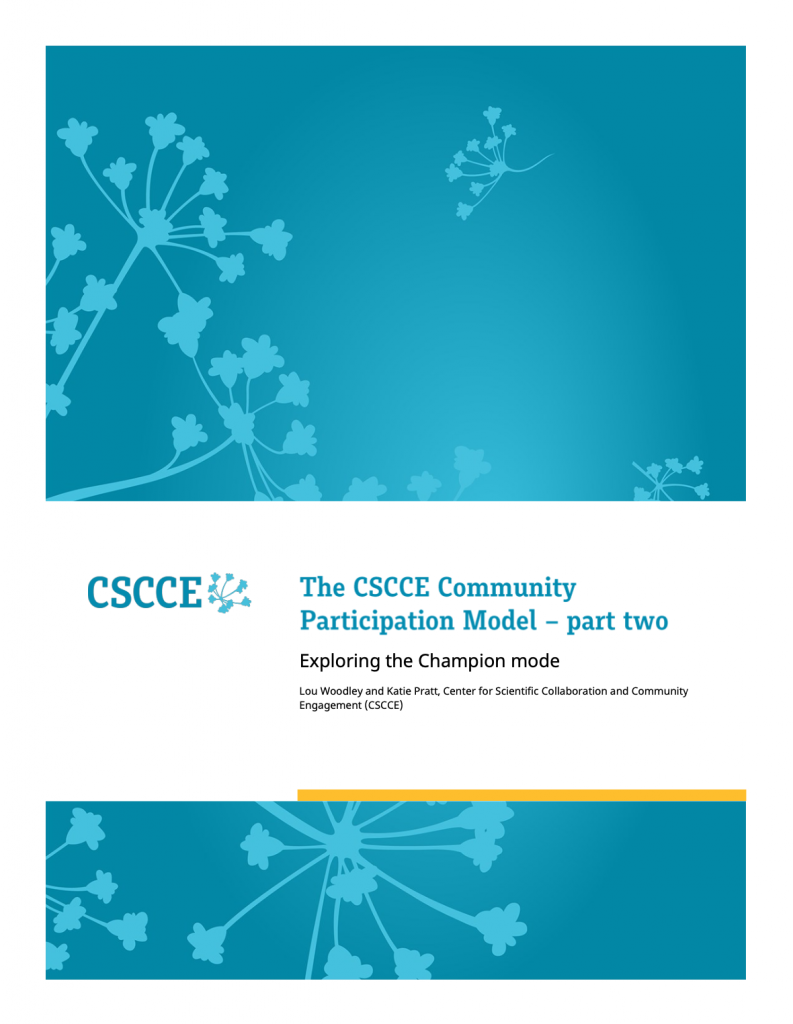 We began the call by offering an overview of our recent guidebook; a sequel to our Community Participation Model guidebook focusing on the "champion" mode of community member engagement. In our model, community champions (aka Fellows, Ambassadors, Advocates, etc.) act as emergent leaders, taking on additional responsibilities or activities to further the mission of the community.
We describe both informal and formal champions, recognizing that community members might take on these roles with or without an invitation or a named role. And we also talk about how creating champions programs can be one way for community managers to intentionally support community champions, offering professional development opportunities or specific training programs to help champions take on a challenge or goal within or beyond the community.
You can find out more about our thinking around champions by downloading a copy of our guidebook for free. You can also check out some of the other resources we're curated about community champions, including videos, blog posts, and more. Lastly, if you're a member of our community of practice (or request to join here) you are welcome to join our champions programs working group, which meets once a month to discuss various topics related to running champions programs. Let us know you're interested by emailing us at info@cscce.org.
Reflecting on champions across STEM organizations
We also invited everyone on the call to take a few minutes in our shared notes doc to reflect on how champions are having an impact on their communities. Incredibly, everyone who contributed to the doc recognized that they had informal champions working within their community, and about half had an ongoing champions program already. A couple of participants are in the planning stages, and looking to launch programs soon.
Our model for community champions outlines their three main functions (shown in the figure above) relative to the success of the community: They can help MAINTAIN the everyday activity, productivity, or welcoming nature of a community; they might help GROW the community by encouraging others to join the community or resharing community resources to amplify impact; or they might work to EVOLVE the community by proposing new efforts or expanding the community into a new discipline or domain. No one function is "better" than another, and it's possible that champions do more than one thing in their work. Within this framework, most participants in the call mentioned the role of their champions in growing their community. In a couple of interesting examples of EVOLVE, champions were working as translators, in one case to translate data science concepts into other scientific disciplines and the other to translate materials into languages other than english.
We also asked participants what they'd learned from working with champions in champions programs. A common theme was maintaining an engaged cohort, with some champions losing interest part way through the program or experiencing a change in circumstance that meant they no longer had time to participate fully. Ways of mitigating this might be term-limiting champions, setting expectations clearly, and offering rolling enrollment or offboarding.
The Crossref Ambassadors Program
Vanessa Fairhurst kicked off the presentation portion of the call, describing how she works with the Crossref Ambassadors to MAINTAIN the 20 000 + member Crossref community. With a relatively small staff based in the US and Europe, the Crossref Ambassador program was set up to offer community members in a wide range of countries a local point of contact, as well as help staff get a better understanding of the needs of their community. The program has been running for about three years now, with 28 Ambassadors around the world.
The ASAPbio Fellows Program
Iratxe Puebla then shared a presentation about the ASAPbio Fellows Program. This program was set up with the intention to EVOLVE STEM community culture around the use of preprints in the life sciences. Now in its second cohort (with Fellows from the first cohort remaining heavily involved), this program offers training to Fellows so that they can go back to their institutions or disciplinary communities and talk about how using preprints advances science. Echoing a point Vanessa made, as well as a topic during our closing discussion, Iratxe talked about some of the challenges of coordinating and connecting champions in multiple time zones.
The eLife Community Ambassador Program
Our final presentation was from Ailís O'Carroll, who recently took over running the eLife Community Ambassador program. The call for applicants for a third cohort of this program just opened, so Ailís noted how she has been using feedback from the first two cohorts to inform programming this time around. She also pointed out the importance of taking a few months to focus on building a strong sense of community among the Ambassadors themselves before moving into the activism (also an EVOLVE-centric program) section of their programming.
Want to get involved in CSCCE programming?
There are lots of ways you can get involved in CSCCE programming. If you're not yet a member of our community of practice, request to join here. We host a 350-member Slack workspace where you can share your expertise, learn from others, and be the first to find out about opportunities like early registration for our training courses. You can also connect with us by email, info@cscce.org, to propose future topics for community calls. And we are currently hosting an ongoing series of writing sprints to build out a glossary for community managers in STEM. You can find out more about the early stages of that project here, or again, reach out to us by email to let us know you're interested in taking part.