On 26 May 2021, CSCCE Director Lou Woodley took part in the Zuckerman Institute's Neuroscience Symposium, joining a session on team science and collaborative research. As part of the session she facilitated a workshop for attendees to explore how and why collaboration guides are so important, and shared a brand new CSCCE tip sheet on creating them. Read on to find out more.
Collaboration guides as scaffolding for research collaborations
In STEM, collaboration is increasingly a hallmark of leading edge research, with researchers coming together both within and across disciplines, institutions, and geographic regions to answer challenging questions. This is great for science, but logistically it can create problems or pain points, such as misunderstandings about authorship, roles and responsibilities, data management, and more.
One way to solve for this is to create a collaboration guide, a type of community playbook (see below), to orient all members of a research team as to what the project is all about. This document contains visions and goals, collaborator contact information, data management policies, etc., and is maintained in a sharable form throughout the course of the collaboration. One way to think of it is that it's much of the information the PI of a project pulled together for a proposal, but curated and contextualized to ensure that all collaborators are on the same page for day-to-day operations. The resulting document supplements a technical approach, considering the human elements that will support collaborators in their interactions.
Creating collaboration guides
In the workshop, Lou asked the participants to reflect on past or existing collaborations and assess what they wished they'd discussed upfront and what they wish had been shared more transparently. Was there too much email traffic? At the end of the project were they left with a mish-mash of data in a variety of formats? Did the project veer away from its original intention? Then, she shared the core components of what goes into a collaboration guide, with participants noting the ways in which a guide might have mitigated their prior issues.
While it may seem like a lot of work to pull together a collaboration guide, it can pre-empt problems that down the road would take up far more of your bandwidth as a project lead. It is also foundational to creating a culture of transparency and mutual respect by clearly communicating expected norms.
CSCCE tip sheet (and more resources on community playbooks in the pipeline!)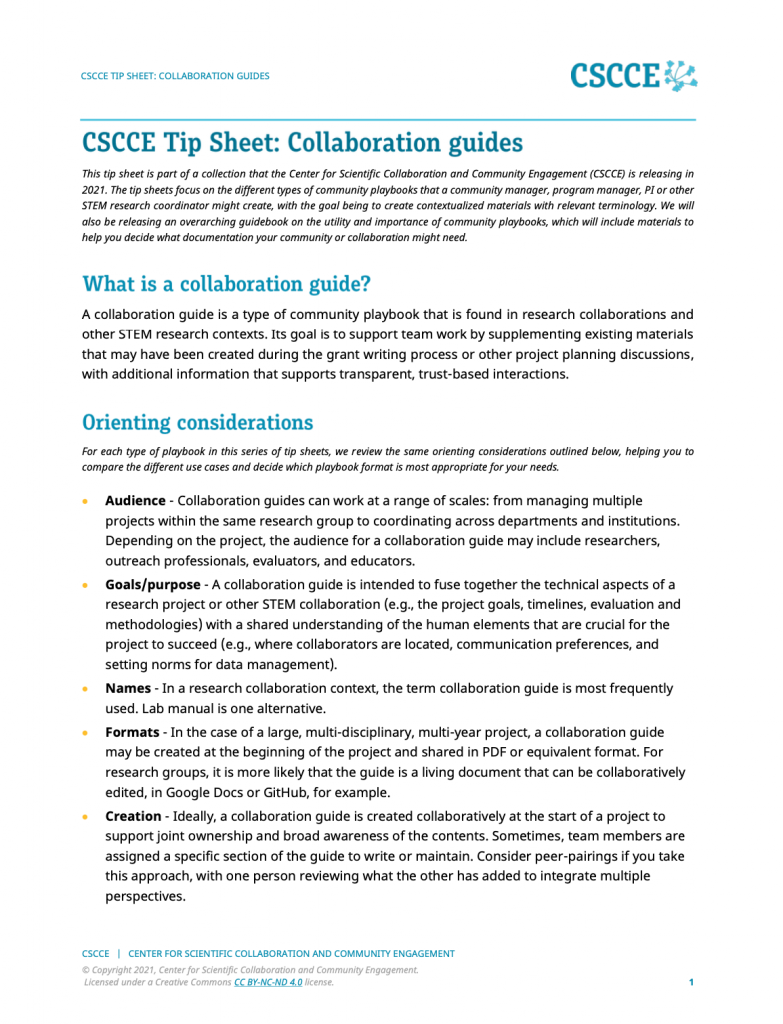 The framework Lou shared is detailed in our newest resource, a tip sheet available for free download from our Zenodo repository (licenced CC BY-NC-ND, so please feel free to share it with your colleagues). This tip sheet is the first in a series we are planning, and will complement a new guidebook on community playbooks. Thank you to Chiara Bertipaglia, co-author with Lou and CSCCE's Katie Pratt, who helped shape the contents of this tip sheet.
Community playbooks, which you may be familiar with from our trainings, are crucial to building successful communities and collaborations. Collaboration guides are one kind of playbook, and future tip sheets we are planning will cover additional flavors, including for champions programs and communities of practice.
CSCCE collaboration guide consultancy
Having read the guide, if you're interested in creating a collaboration guide but need some additional support, let us know! Since 2017, we've supported over 60 community managers, program managers, and PIs in developing playbooks or collaboration guides for their collaborative work. Just send us an email to set up an initial consultation: info@cscce.org.