This month we spent our community call brainstorming ideas for CSCCE programming that meets the needs of scientific community managers who are facilitating online meetings, events, and conferences. We used Padlet boards to collect ideas, and these boards will remain open for a couple more weeks for any community members who were unable to join the call (read on for more information).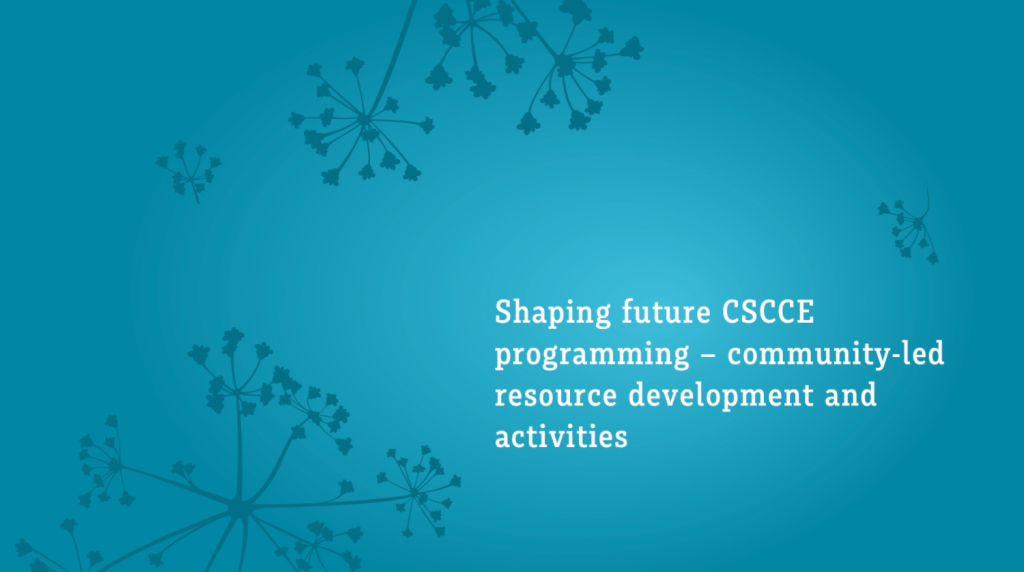 Creating relevant programming and resources to support the transition online
Earlier this month, we announced that CSCCE has received a grant from the Alfred P. Sloan Foundation to continue creating resources and providing programming that help community managers (and others in similar or related roles) navigate the nuances of working and convening communities online rather than in person. In order to take the temperature of our community members, and find out what resources and/or programming you most need, we decided to devote our November community call to finding out.
After a brief introduction from center director Lou Woodley, participants on the call went into breakout rooms focused on three areas: Online communities, virtual events, and virtual tools. Each room spent some time getting to know each other, and then discussed the challenges facing them and their communities. To facilitate this brainstorming activity, we created Padlet boards to which participants could add their ideas and questions.
These boards have been shared within our community of practice so that any members who couldn't attend can add their own thoughts and ideas, and volunteer to help co-create resources or co-host future activities. If you're not yet in our community and would like to join, request an invite here.
[And, if you're wondering "what is Padlet?", check out the blog post recap of our Community Tools Trial focused on ideation tools.]
What do community managers need?
After the breakout rooms closed, we reconvened the whole group to report out and discuss potential projects for the new year. A few areas jumped out as potentially impactful to a broad swath of the community:
Metrics and evaluation – how do you know if your event is meeting its goals? What measurable qualities can you use to gauge impact?
Engagement tactics – how do community managers successfully nurture engagement between community members in an online community?
Navigating timezones – for hybrid and/or online-only conferences, how do you create an inclusive, accessible, and engaging program?
Tool selection and optimization – how do you decide what virtual platform to use? And once you've chosen that platform, how do you make sure participants and hosts get the most out of the event?
Moving forward
Over the next few weeks, CSCCE staff will take the feedback provided on this call (and any additional thoughts added to the Padlet boards) to develop programming for the new year. We'll also be reaching out to those who volunteered to help with co-creation to plan next steps.
If you have any further ideas, or want to work with us on something on this topic, but you're not quite sure what, please don't hesitate to get in touch by emailing info@cscce.org.