Our October community call focused on the role of community in instigating culture change in scholarly communications. We heard from three members of our community of practice, each with a unique perspective and community to manage.
And, we celebrated the first birthday of CSCCE's community of practice! Exactly one year ago, on 21 October 2019, Lou invited the first members to join our Slack workspace. It's been a productive and exciting year, if somewhat unpredictable, and if you'd like to review our first year "by the numbers," check out the first in a series of birthday blog posts.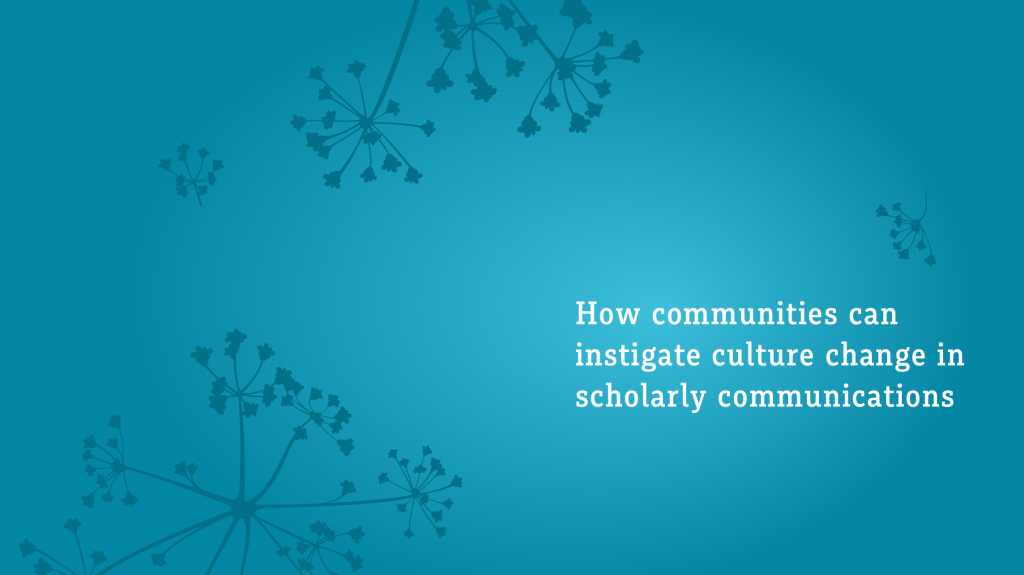 Changing the way scientists share their methods
At protocols.io, Emma Ganley and her colleagues are working to shift publishing norms around methods sharing, and in the process have built an online community where scientists connect, collaborate, and troubleshoot. At protocols.io, members can upload their detailed protocols, much like you might view a recipe online, and then share them publicly (e.g., as a link in a manuscript) or privately (e.g., within a lab group or collaboration).
In her presentation, Emma shares some of the highlights of how this platform is making a difference in terms of changing the narrative around reproducibility, and forging connections across sub-disciplines where methods are a common ground.
Persistent identifier infrastructure for research and researchers
Now at Crossref, Laura Wilkinson previously worked at ORCID, and so in her presentation – put together with input from ORCID's Ana Cardoso – she shared some of the commonalities between the two organizations in terms of their goals, governance and the communities they have grown around them. Both ORCID and Crossref are  infrastructure organizations that focus on creating persistent identifiers. In ORCID's case, in the form of unique identifiers for researchers, and in Crossref's case via digital object identifiers (DOIs) to support making research outputs persistently discoverable. While infrastructure can often be taken for granted, community is key in its implementation, evolution, and even funding. 
Laura also shared some overarching principles that apply to both communities, including establishing core values (ORCID's "principles" and Crossref's "truths") and being transparent and open in everything they do, such as sharing roadmaps for the future with the entire community.
Making preprints the norm for biologists
Iratxe Puebla and her ASAPbio team are working to improve access to research findings for biologists by making preprints a normal part of the publishing lifecycle. In biology, publishing a manuscript can take anywhere from a few months to a year or more, while it navigates peer review, revision, and even multiple rounds of rejection. By sharing preprints online before submitting to a journal, researchers can make their findings known much earlier, speeding the rate of discovery. Preprints are also open access, making research that may end up published behind a paywall accessible to all.
Iratxe also shared details of ASAPbio's fellowship program, which empowers early career researchers to spend six months working together on a project to change their sub-community's perspective on preprints.
Slides and further resources
You can find speaker slides at the following links:
Acknowledgements
A big thank you to our presenters this week, and to everyone who participated in the call and added to the discussion. If you have ideas for future calls please let us know at info@cscce.org.