On Wednesday, 22 July 2020 at 2pm we're hosting our next monthly community call. This month's call will focus on virtual events, a topic that is likely on the minds of many scientific community managers at the moment.
We'll cover three key aspects of organizing virtual events: planning and preparation, access and accessibility, and evaluation, both before and after your event. With three experts from our community of practice presenting, and ample time for discussion and Q&A, this month's call promises to provide actionable information for you and your colleagues, so we hope to see you there!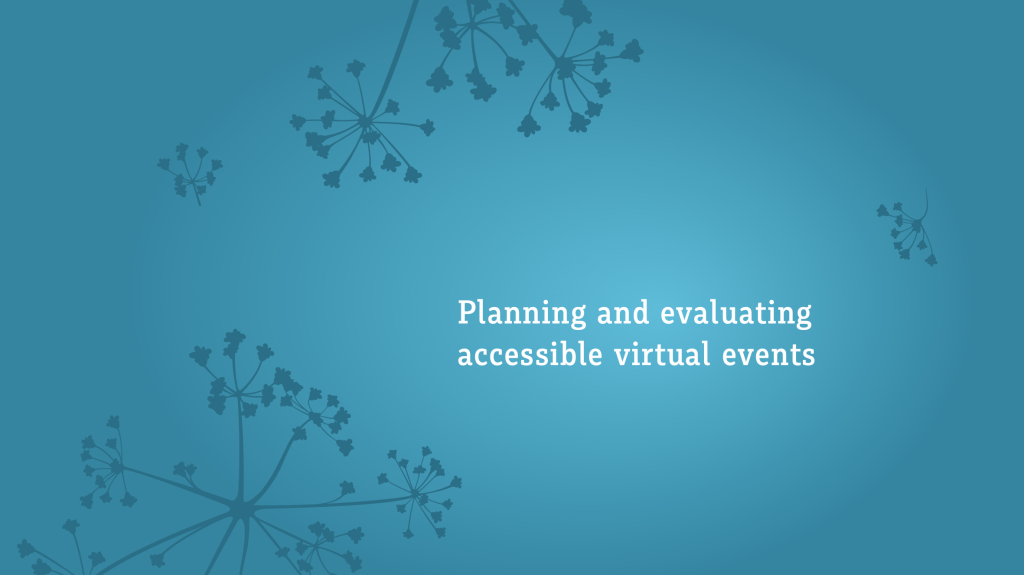 Virtual events
With the COVID-19 pandemic came a major shift in how we gather for events: No longer in person but online, from our homes. Over the past few months, we as community managers have had to plan, implement, and evaluate virtual activities – often on a rapid turnaround and tight budget. But, despite the challenges, many conveners are finding that virtual events can not only meet, but also exceed expectations in terms of what can be accomplished with this new way of working.
Hosting an event online is not just a case of taking what you would have done in person and dropping it into an online platform. It takes planning and care, and in this month's community call we'll take stock of some of the best practices that have emerged.
New resource: a guide to using virtual events to facilitate community-building
This call also coincides with the release of our new "Guide to using virtual events to facilitate community-building: event formats." This guide, which we co-created with members of the CSCCE community of practice, is a bumper collection of virtual events formats designed to help you implement effective events that build and sustain communities. We're currently putting the finishing touches on the guide, but check back soon to download your copy!
July's call
Abstract
Join July's Community Call to:
Learn more about planning and testing your virtual event ahead of time
Consider access and accessibility when hosting a virtual event
Find new ways of evaluating whether your event will (or has) accomplish(ed) your goals
SPEAKERS
Tom Quigley – "It's Dangerous To Go Alone, Take This – Non-Player Characters & Prepping For Your Virtual Event"
Rebecca Carpenter – "It's All About Access: Planning Meetings for Wider Audiences"
Emily Lescak – "Evaluating Virtual Events"
How to join
July's call will take place on Wednesday 22 July at 2pm US Eastern Time.
Our calls are hosted in Zoom – simply click here and we'll see you in the webinar!
Video or not? You're welcome to turn on your webcam if you like but fine if you prefer just to use audio.
Our community calls will last 90 minutes, but all three presentations will take place in the first hour in case you have to leave early. The last 30 minutes is reserved for open discussion and Q&A with the presenters. Come for the hour – or for the full 90 mins, as your schedule permits!
Please note: We'll be recording the call so that others who couldn't make it can catch up later.
Additional info about our community calls
Our community calls usually take place on the third Wednesday of every month at 2pm Eastern, but occasionally times and dates vary so please keep an eye on our calendar of events here.
Wonder what we've talked about in previous calls? The archive listings can be found here with recordings shared via our Slack group.
Not yet in our Slack group? Request to join here.