Our next CSCCE Community Call is on Wednesday 22nd April at 2pm Eastern. Join us to discuss running inclusive online events and find out more about the CEFP 2019 Diversity, Equity and Inclusion Project Team's work.
This month we'll include a breakout style activity as well as presentations during the first hour of the call, and then a 30 minute open discussion for anyone to share their thoughts and experiences.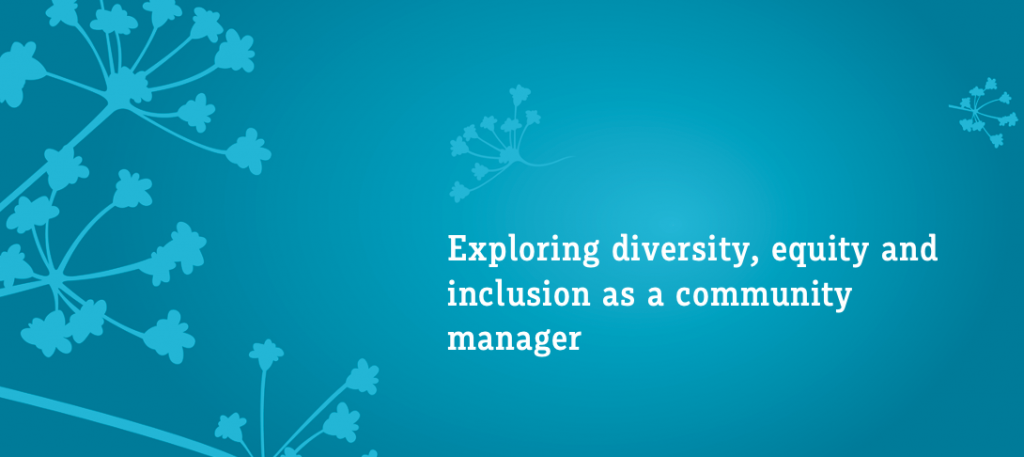 Call overview
Building and maintaining an inclusive community, either online or in person, depends on individual and institutional awareness of issues pertaining to diversity and equity in participation. In our April call, the CEFP 2019 diversity, equity and inclusion (DEI) project team will lead us through a group exercise to consider four examples of areas where we as community managers can act to promote community awareness and ensure our programming is inclusive.
In light of the current global pivot to online events, in this month's call we will also take part in an activity where we work in small groups and then come together for a final group discussion. We will meet for 90 minutes again this month, but we will cover the major topics of the call in the first 60 minutes for those who cannot stay longer.
About the DEI Project Team
The team worked together to create a series of tip sheets with practical considerations for how to incorporate the principles of diversity, equity, and inclusion in scientific community-building and the community manager role.The tip sheets they created focus on inclusive marketing and communications, decolonizing international research programs, childcare at scientific meetings, and recruiting new members to your community. The tip sheets include stories that demonstrate why viewing each topic through a DEI lens is important, best-practices, reflection questions, and links to other resources.
In preparing their tip sheets, the team members spent a lot of time in thoughtful discussion, considering each topic from different perspectives. To recreate this experience, at the CEFP2019 wrap-up meeting in January they led a small group activity with the entire cohort of community engagement fellows.
"We really wanted people to explore discomfort and get to grips with why certain behaviors common in science are problematic," says Kate Baker, a member of the DEI Project Team. "It was a fantastic exercise, because everyone in the room had a lot of experience with these topics and were ready to share their insights."

Katie Baker, CEFP 2019
In this month's community call we'll reprise this activity, making use of the breakout room function in Zoom. We hope this will in turn be a useful exercise in running inclusive online events, where small group activities (often the most valuable in terms of networking at in person events) can be a valuable way of engaging participants online too.
April's call
Topic: Exploring diversity, equity and inclusion as a community manager
Abstract
Join April's Community Call to:
Find out more about running online events designed to be engaging for participants.
Hear from the CEFP 2019 Diversity, Equity and Inclusion Project Team.
Explore the ideas highlighted in their DEI tip sheets, which will be available soon as part of our new resources section.
Discuss and share your own thoughts and experiences with the CSCCE community of practice.
Speakers
CEFP2019 project team: Diversity, Equity, and Inclusion
Kate Baker (presenting)
Ellen Bechtol
Rayna Harris (presenting)
Camille Santistevan (presenting)
How to join
April's call will take place on Wednesday 22nd at 2pm Eastern.
Our calls are hosted in Zoom – simply click here and we'll see you in the webinar!
Video or not? You're welcome to turn on your webcam if you like but fine if you prefer just to use audio.
As we piloted in March, the call will last 90 minutes. In the first hour we'll hear from our presenters and run a breakout group activity, and then for the remaining 30 minutes we'll have more general discussion of considerations related to diversity, equity and inclusion, and running inclusive online events in particular, where we'd love to hear your perspectives. Come for the hour – or for the full 90 mins, as your schedule permits!
Please note: We'll be recording the calls so that others who couldn't make it can catch up later.
Additional info about our community calls
Our community calls usually take place on the third Wednesday of every month at 2pm Eastern.
Can't make this call? Check out the outline schedule of future calls here.
Wonder what we've talked about in previous calls? The archive listings can be found here with recordings shared via our Slack group.
Not yet in our Slack group? Request to join here.