This month's call challenged us all to think hard about creating and supporting inclusive communities, particularly virtually. Led by the CEFP 2019 DEI Project Team, we explored four topics related to this and used Zoom's breakout room capability to give participants the opportunity to have small group discussions.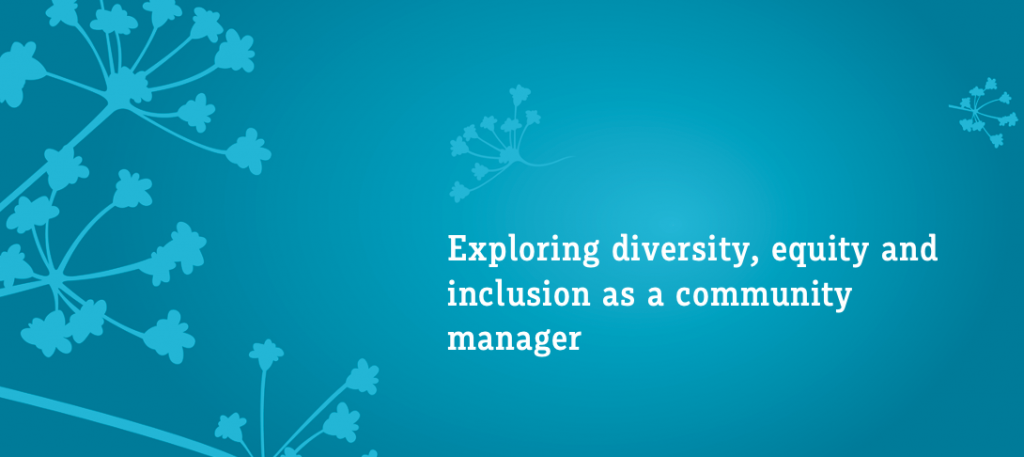 The DEI Project Team Tip Sheets
As part of CSCCE's Community Engagement Fellowship Program (CEFP), fellows develop their own working groups to delve deeper into any aspect of scientific community management. The Diversity, Equity, and Inclusion team from the 2019 cohort of fellows, made up of Kate Baker, Ellen Bechtol, Rayna Harris, and Camille Santistevan, chose to develop tip sheets that help community managers work to ensure their community is welcoming, inclusive, and accessible to all:
On Wednesday's call, the team unveiled the tip sheets to the broader community (they are available for download on our DEI resource page here, along with related blog posts about other aspects of building inclusive communities, written by members of the CSCCE community of practice). We used them as a springboard for small group discussions with call participants each choosing which tip sheet they wanted to explore and then breaking out into smaller groups for 20 minutes to talk.
Sharing, learning, and making the most of Zoom breakout rooms
CSCCE's community calls recently increased in length to a 90 minute format, meaning that those who have time to stay beyond the initial hour can go deeper on whatever topic is on the table for the remaining half hour of the call. This month's discussion began with short report-out's from each of the breakout groups. Their main discussion points included:
Some community managers have experienced push back from their organizations when asking to provide childcare. This involves issues of liability, cost, and a perceived lack of necessity to the community.
When working to decolonize international research collaborations it is extremely important to consider stakeholder engagement early and often, and to include non-westernized cultures in the discussion surrounding open science.
When we design communications or engagement materials, there is an inherent context associated with the language we use; utilizing different language can define who we reach or exclude.
Even job titles can have (for example) masculine or feminine stereotypes and encourage or prevent people from applying (e.g., "developer" is often identified as masculine). How can we avoid them but also not reinforce them?
Participants on the call also shared some additional resources to help people working though some of these issues (included at the bottom of this post).
Running an inclusive community call
In an effort to practice what we teach, our alternative call format aimed to facilitate more intimate and participatory discussion. Rather than asking all the participants to jump in to ask questions in the main room (where there were close to 40 people), our small breakout rooms of 4-8 allowed everyone to have a voice. We also asked everyone to take a moment to introduce themselves to their breakout group, in the hopes of creating new connections within our 150-strong community of practice. Lastly, we ensured that each breakout room recorded notes in a shared, virtual note-taking document, so that those who were torn between two rooms could at least catch a glimpse of the other discussions. Unsurprisingly, for such an important topic, 90 minutes allowed us simply to scratch the surface, and several discussions spilled into the Slack group after the call.
Acknowledgements
A big thank you to everyone who participated this month, and particularly to the CEFP 2019 DEI Project Team:
Kate Baker (presented)
Ellen Bechtol
Rayna Harris (presented)
Camille Santistevan (presented)
Resources
You can access all of the DEI tip sheets on our DEI resources page here. Some addition resources shared on the call include:
Principle for Digital Development – nine living guidelines that are designed to help integrate best practices into technology-enabled programs and are updated over time.
If you build it, they will come…but then what? Facilitating communities of practice in R – Dr. Kate Hertweck (video)
Minority Postdocs are the Source for Future Faculty of Color – by Alberto Roca
DiverseScholar Conference Preps Underrepresented Postdocs for Faculty Jobs – by Barbra A. Rodriguez and Alberto I. Roca
Other relevant pages on MinorityPostdoc.org: Resources (funding), Stakeholders (professional societies, websites, etc) Calendar

To keep up to date with all of CSCCE's activities, follow us on Twitter and LinkedIn, and sign up for our monthly newsletter here.