Last week, we hosted two back-to-back (virtual) reunion celebration events, bringing together graduates from our foundational online training course, Scientific Community Engagement Fundamentals (CEF). It's two years since we launched the pilot of the course, and since then almost 200 learners have participated. So, we wanted to mark the occasion with a celebration!!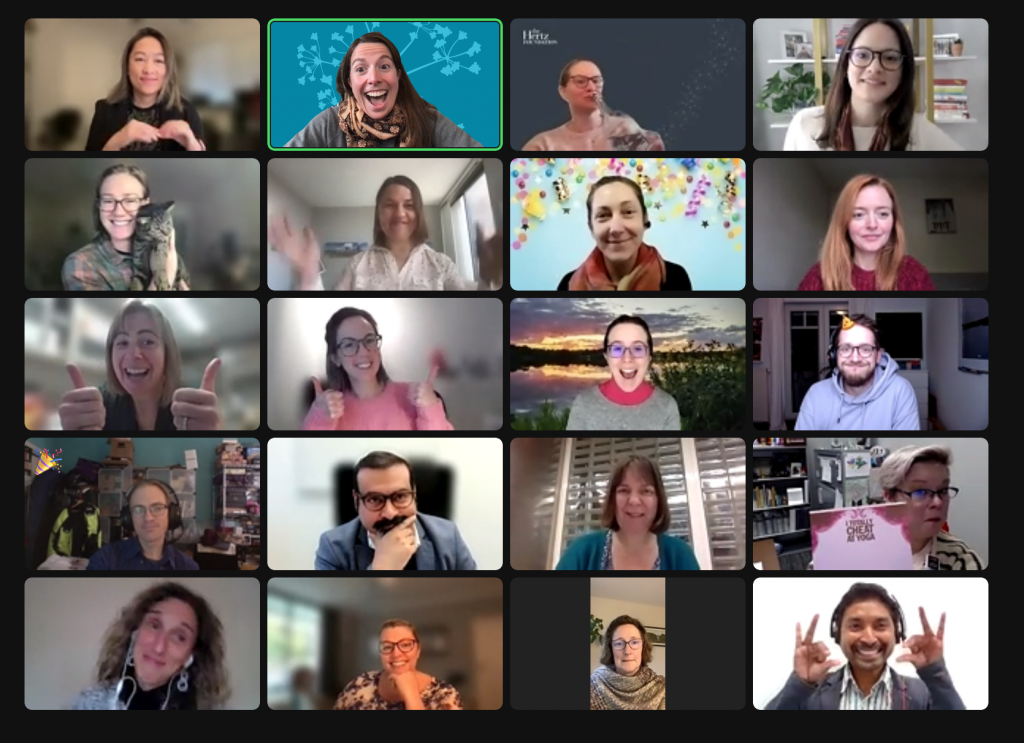 Connecting across cohorts
CEF is an eight-week course, with participants meeting twice a week in synchronous sessions on Zoom. The course is designed so that not only are CSCCE trainers guiding the learning experience, participants also have opportunities to share what they know about community management. For this to work well, we limit enrollment to around 20 learners per cohort, creating unique learning experiences with each course offering.
So, in this first reunion event we wanted to connect between those cohorts and forge new connections. We did this in a couple of different ways…
Lightning talks
At each event, four participants shared a brief lightning talk about something they had put into practice since graduating from the course. Each presenter prepared a single slide, and you can find them all in the slideshow embedded below. 
Small group networking
After the lightning talks, and taking a group photo, we opened up the breakout rooms. As part of our onboarding process, we had asked who people would be most interested in meeting (e.g., community managers working in similar organizations, people from different cohorts, etc.). We used this information to set people up in groups of 3 or 4, and then asked them to fill in the blanks together:
Community management is _________ , especially when ________ . As Community Managers, we really enjoy __________ .
This sparked some fun discussion in the report out, thanks to some very creative responses! We particularly loved the idea of community managers as "grease AND glue," keeping things running while also holding a community together.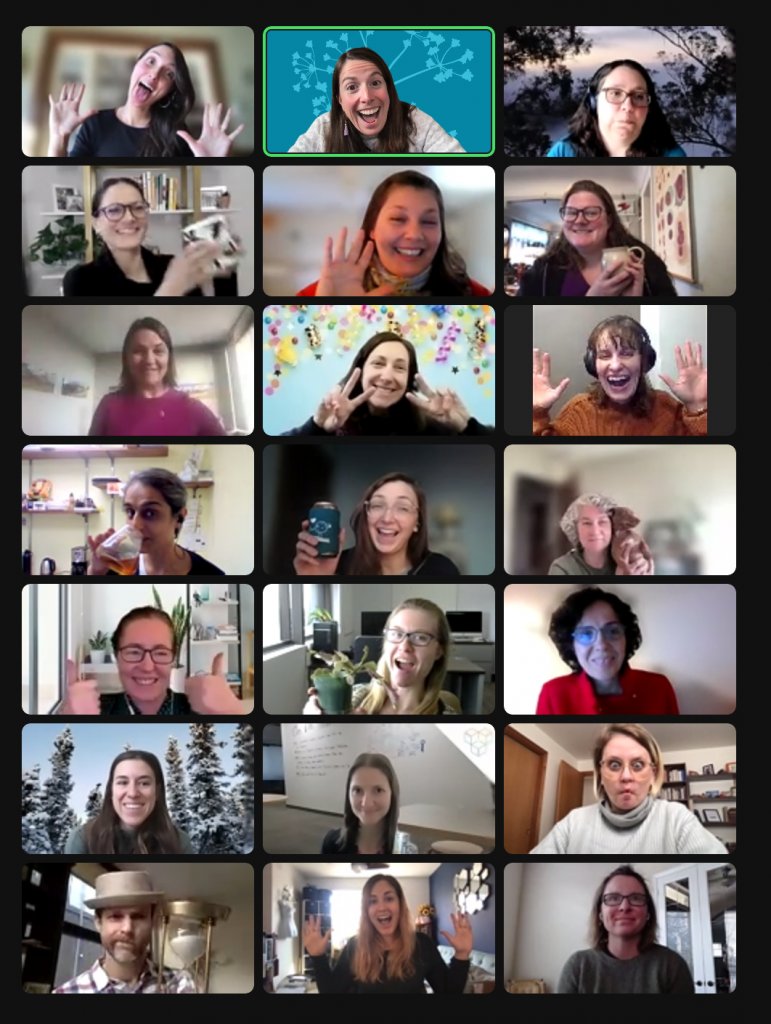 Chatterfalls and emoji gardens
We're always looking for new ways to interact virtually, and appreciate the shared creativity in this ecosystem of community builders! To that end, we incorporated a couple of new (to us) activities in the reunion calls. We created an emoji garden for people to "prune" something that meant something to them, and to close the call we prompted a "chatterfall." The chatterfall format asks for participants to think of one word, type it into the Zoom chat window, but then pause and hit "send" all together. We asked everyone to think of a word that described the event, and here's a selection of what they said!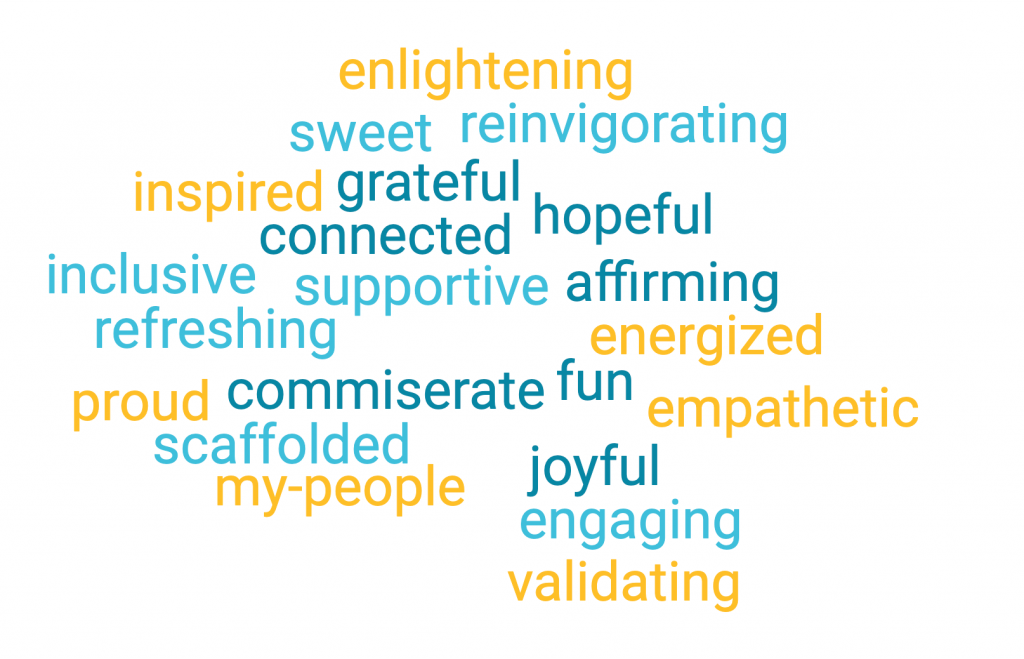 New digital badges! 
The event coincided with the launch of new digital badges for CSCCE multi-week course, and we kicked off this new offering by minting badges for all of our past learners. It's been great seeing our graduates share their digital badges on LinkedIn and Twitter over the past week, and it is our hope that by showcasing their achievements in this way, we also elevate the role of the community manager in STEM more broadly. You can find out more about our approach to digital badges in this blog post.
Image caption: reunion participants also received a thank you packet in the mail, including an IRL sticker version of their new digital badge!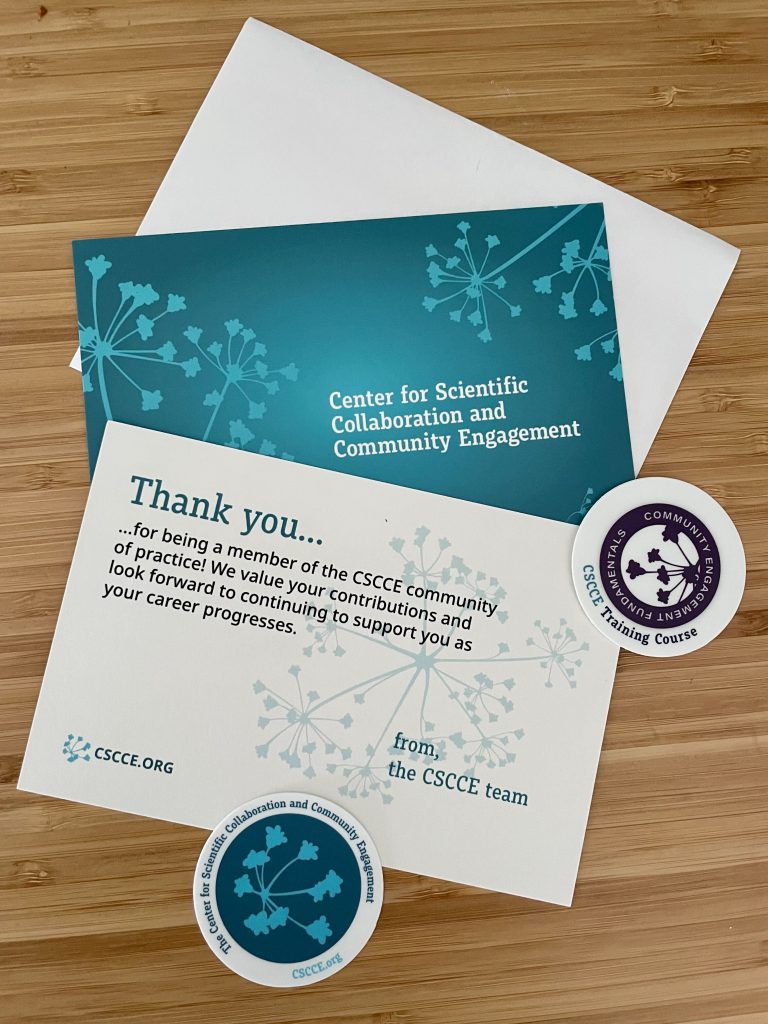 What's next for learners at CSCCE?
We have always seen CEF as the starting point for a deeper learning journey with us at CSCCE, and next year we will be realizing that vision in our new Community Manager Certification Program. Enrolling in the program will guarantee access to four new multi-week courses (Content Design, Creating Community Playbooks, Nurturing Online Communities, and Communities of Practice) as well as the opportunity to explore a variety of topics in a mini-workshop format. We're also continuing our commitment to peer-learning, and enrolling participants in 25-person cohorts twice per calendar year. You can learn more about the program here.
With gratitude
A HUGE thank you to everyone who came to this year's reunion events. We appreciate everything you brought to your CEF cohorts, and we hope to welcome you back as part of the CSCCE Community Manager Certification Program! And thank you also for your feedback, which we will use to improve next year's reunion (yes, we're planning on doing this again!).