With the rollout of several new courses in CSCCE's training catalog comes a new credential to recognize our learners' professional development: digital badges! These badges, which are only awarded to learners who complete all course requirements, can be displayed on personal websites, social media profiles, or as part of a digital CV or resume.
In this post, we share a bit about what it means to receive a digital badge from CSCCE, and how you can earn these badges along a path to certification as a Scientific Community Manager.
Why digital badges?
Digital badges are an increasingly recognized form of digital credential, with a whole range of learning organizations now minting and issuing badges. The digital badge currency is a way for learners to demonstrate the validity of the trainings they list on their resumés, acting a bit like framing a certification or degree on your office wall.
Digital badges also help us as an organization elevate the reputation and professional value of the role of the community manager in STEM. Increasing the visibility of trained and qualified community managers can raise awareness of the field as a whole, benefiting everyone trying to build and nurture scientific communities by ensuring "community manager" is a recognized position.
How to earn a CSCCE digital badge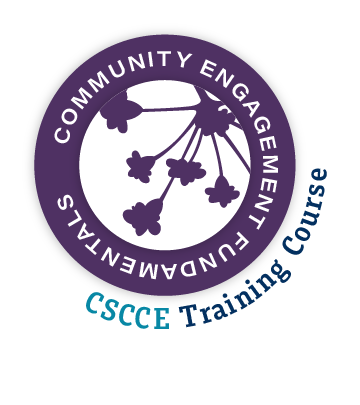 Learners who complete all of the course requirements for the individual courses Content Design (CODE), Creating Community Playbooks (PBK), Nurturing Online Communities* (NOC), and Communities of Practice (CoP) will receive badges for each course, and those who complete the additional requirements for certification will receive a distinctive certified status badge.

We are using a platform called Badgr (currently transitioning to become Canvas Credentials) to create and distribute our digital badges. Badgr uses Open Badges, which means that you can also easily display digital badges earned through different badging platforms. If you are a learner with us, we'll make sure you have detailed instructions on how to access and share your new credential!
*If you took the pilot version of NOC that ran in 2021, we will be in touch with you in the new year about options for claiming your badge.
The CSCCE Community Manager Certification Program
Participants in the CSCCE Community Manager Certification Program will be able to earn all of these badges, as well as an additional badge for certified individuals. By combining multi-week trainings, mini-workshops, and peer learning and networking, the program will equip community managers and their organizations with necessary skills and frameworks to ground their work in a community-centric leadership approach.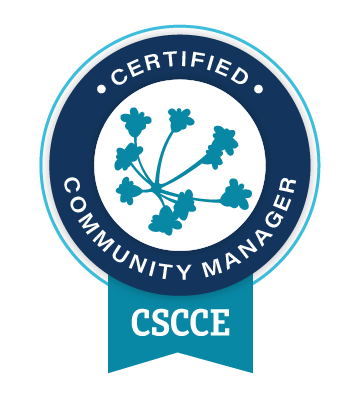 We will be taking early enrollment for the certification program later this month, so check out more details about the program here and make sure you are signed up for our monthly newsletter to be among the first to sign up!