The COVID-19 pandemic has underlined the importance of intentionality and good planning in making the most of virtual gatherings. Whether engaging in ideation sessions, report outs, networking, project planning or seminars, we've seen how careful choices ahead of the event and thoughtful facilitation during and afterwards can lead to more enjoyable and inclusive experiences for everyone in the virtual room.
To support this transition online, over the course of the last year CSCCE has published a series of resources to help community managers and event organizers – including tip sheets, guidebooks and write-ups of different tools. Today we're pleased to share a new guidebook and a new series of mini-workshops to continue that support. 
Make a PACT with us with our new guidebook!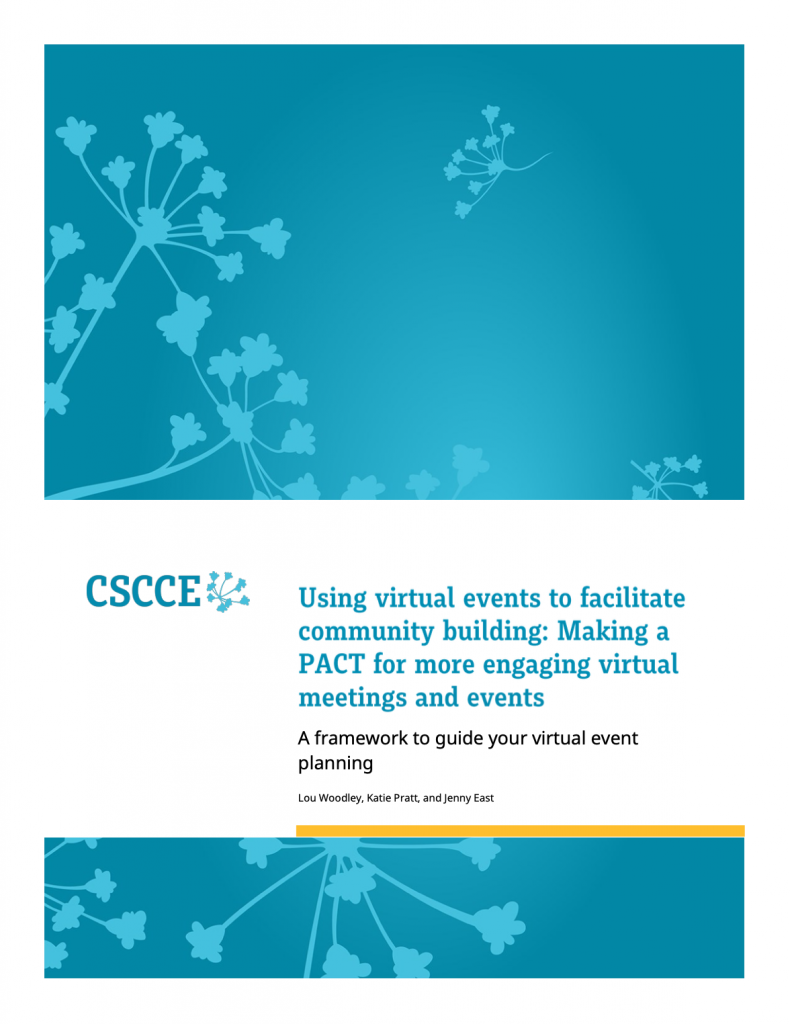 In the fourth section of our FREE guidebook to virtual events, "Making a PACT for more engaging virtual meetings and events" we introduce a new CSCCE framework for event planning. The PACT framework invites event organizers – whether planning a report out meeting or a conference – to consider four key elements of their event: Purpose, Attendees, Community management, and Tech tools. Together those elements enable all facilitators to make a PACT to support virtual events that are inclusive, engaging – and productive.
This framework forms the foundation for one of our newest training offerings, 90 minute mini-workshops for community managers in STEM. Read on to find out more.
Additional resources
The guidebook is intended to complement the three sections of our virtual events guide that have already been published:
Selecting and testing online tools – Five steps to assist your assessment of virtual tools to supplement online meetings and events.
Event formats – 12 recipes for how to structure and facilitate your gathering, co-created with members of the CSCCE community of practice.
Curated resources – A carefully-curated selection of links to useful resources about virtual events, including case studies, articles, and how-to guides.
We have also shared tip sheets addressing specific aspects of virtual events:
CSCCE Tech Tip Sheet – Zoom bombing: How to deal with bad actors during Zoom events
DEI Tip Sheet: Captioning, subtitles, and transcription for online meetings and events
…And we're not done yet! There's more to come, including additional tip sheets. But, with this fourth section of the guidebook we now offer a more complete view of how to create engaging events that support communities in STEM.
Go deeper: Sign up for our mini-workshop series on virtual events
In the first mini-workshop of our series on virtual events, you can delve deeper in the PACT framework, covering materials that are not included in the guidebook. These include how to diagnose why your meetings aren't working the way you thought they would, help with your own specific situations, and example scenarios to work through. Join CSCCE's Director, Lou Woodley, and trainer Jenny East for this 90 minute session on 20 July at 3pm UTC / 11am EDT. 
The mini-workshop series will continue throughout July and August, and will include a total of five sessions, including others on virtual tool selection and facilitation techniques to support decision making and inclusive conversations. Register for individual mini-workshops or sign up for all five with a 10% discount. You can find out more about the full webinar lineup here. 
Co-create with us
We are always interested in working with members of our community of practice on resources to support community managers in STEM. If there's something you'd like to help create, let us know by emailing info@cscce.org. Not a member? Request to join!