August's community call will take place on Wednesday, 26 August at 6pm UTC (2pm US Eastern Time) and will focus on how community managers can describe the different ways in which members engage within a community – and whether those modes align with the overall objectives of the community.
We'll unveil a new resource, the CSCCE Community Participation Model, and hear from two CEFP alumnae who, after learning about the model in our Fellowship training, used it to inform their work. Join us to learn more and add your voice to the discussion.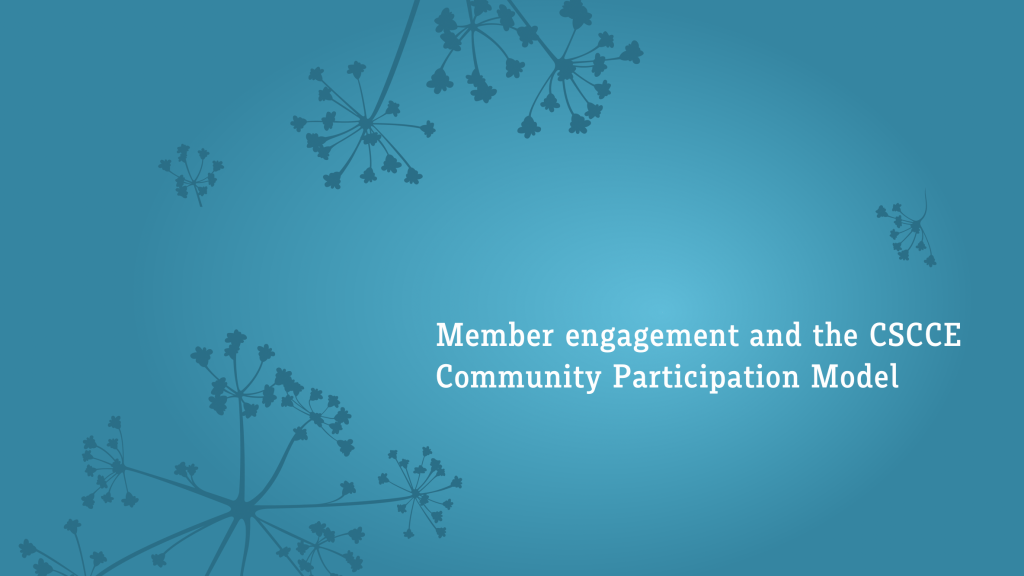 New resource: The CSCCE Community Participation Model Guidebook
This month's call will begin with an overview of the CSCCE Community Participation Model. This model describes five different modes of engagement that we've observed within scientific communities which can be helpful for designing, evaluating, and adjusting your community strategy.
We are putting the finishing touches on a guidebook to accompany the model (out next week!), which includes a series of FAQs to help you use it to inform your work. The guidebook will be available to download for free from our Zenodo community repository. It was made better by the input of several members of the CSCCE Community of Practice, and as always we are grateful for their wide expertise and generous participation.
Using the model to inform member engagement strategy
We'll also hear from two CEFP alumnae, Shane Hanlon (CEFP 2019) and Elisha Wood-Charlson (CEFP 2017), who will share how the model has impacted their own community work. These presentations are intended to help you think through the different ways you can use the model and how it can be tailored to different types of scientific communities (specifically scientific associations and research collaborations).
August's call
ABSTRACT
Join August's Community Call to:
Learn more about the CSCCE Community Participation Model
Hear from community members who have implemented strategies informed by the model
Join a discussion on how this might apply in a variety of scenarios
SPEAKERS
Shane Hanlon, AGU Sharing Science
Title: (Re)building a community from small beginnings to…small middles
Summary: AGU put the machinery in place to host a community before thinking about how to build a community. By starting small, with two pre-existing sub-communities, we are learning what works and doesn't work when trying to foster a collaborative online environment where groups of peers and perfect strangers can come together around a common goal – enhanced understanding of how to communicate science to broad audiences. We're learning that instead of forming the community to our pre-determined idea(s) of what the community should look like, we need to listen and adapt…while giving some (hopefully) helpful nudges along the way.
Elisha Wood-Charlson, National Microbiome Data Collaborative (Lawrence Berkeley National Lab)
Title: Building tiered engagement to (hopefully) meet community members where they are
Summary: Recognizing that everyone in the scientific research space moves through many phases during their professional career, we are building out a tiered engagement strategy that tries to create ways for people to be involved in the community mission regardless of their immediate commitments. Community members can adjust their level of involvement throughout their career, as life happens. The end goal is for the community as a whole to feel a sense of shared ownership that promotes a culture of open science and data sharing with attribution.
How to join
August's call will take place on Wednesday 26 August at 6pm UTC / 2pm US Eastern Time.
Our calls are hosted in Zoom – simply click here and we'll see you in the webinar!
Video or not? You're welcome to turn on your webcam if you like but fine if you prefer just to use audio.
Our community calls last 90 minutes, but all the presentations will take place in the first hour in case you have to leave early. The last 30 minutes is reserved for open discussion and Q&A with the presenters. Come for the hour – or for the full 90 mins, as your schedule permits!
Please note: We'll be recording the first 60 minutes call so that others who couldn't make it can catch up later. The discussion section is not recorded.
ADDITIONAL INFO ABOUT OUR COMMUNITY CALLS
Our community calls usually take place on the third Wednesday of every month at 2pm Eastern, but occasionally times and dates vary so please keep an eye on our calendar of events.
Wonder what we've talked about in previous calls? The archive listings can be found here with, select recordings available on YouTube.
Not yet in our Slack group? Request to join here.