In October of 2021, CSCCE's Lou Woodley and Katie Pratt hosted a session at the Inclusive SciComm Symposium to talk about inclusive language. As a result of that session, and several follow-up co-working sessions with participants and members of the CSCCE community of practice, today we're releasing a new "active glossary" to support community managers as they work to build inclusive and welcoming communities in STEM.
You can read more about the session at the Inclusive SciComm Symposium here. In this post, we focus on the glossary itself, the process we employed to create it, and our plans for a larger glossary on all aspects of STEM community management.
What is an "active glossary"?
Our initial goal was to create a glossary of terms related to inclusive language, however we quickly realized that what would be more helpful were prompts and examples to help the reader understand why certain terms are used or the ways in which our shared language is evolving to be more inclusive. Useful definitions of all of these words already exist in other easy-to-access places. And so, we have termed the final product an "active glossary."
As you read through the document, or use it as a reference, you may find it helpful to talk through the prompts or read the suggested resources with a colleague or two. We also realize that contexts and norms vary, and so your own interpretation of a term might involve more nuance or a caveat.
And that's exactly as it should be! At the core of inclusive programming and language is a commitment to acting with intention, reflecting on how things are going at regular intervals, and then learning from our successes or missteps to be better in the future.
How we made this glossary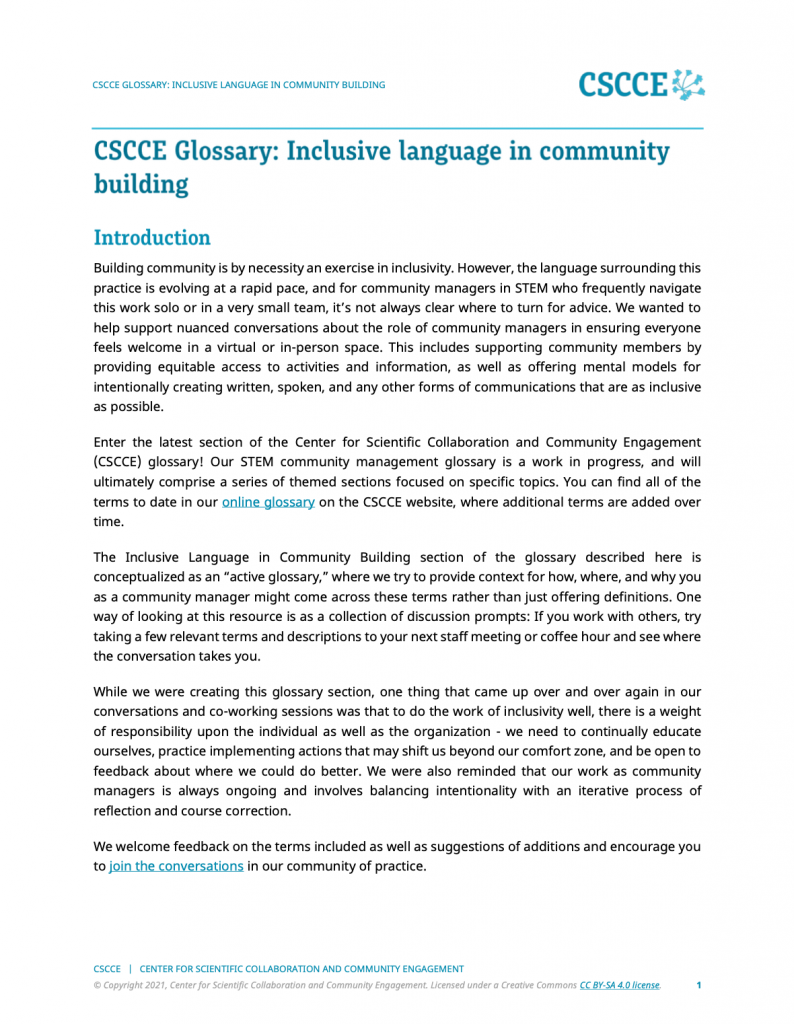 The glossary began as a draft document Katie and Lou put together to form the basis of a game of "Lingo Bingo" at the Inclusive SciComm Symposium. Lingo Bingo is an educational game we devised at CSCCE and use in some of our trainings to unpack jargon and explore group dynamics. In the game, bingo cards are populated with words instead of numbers, and each participant is given a unique card to play. There's more to it, but that's all we're sharing for now!
Before the game of Lingo Bingo, we gathered feedback from members of our community of practice on the glossary terms, and then after the game we opened up our draft Google Doc for participants in the session to weigh in. Having spent half an hour discussing the various terms during the game, it was wonderful to watch the definitions expand with nuance and new perspectives.
Following the symposium, we hosted two more co-working sessions, with session participants and community members, and then, after a final edit, created the version you see today.
You can download your own copy of the glossary from Zenodo for free, or, if you'd like to explore these terms as part of our evolving community management glossary on our website, you can do so here.
Acknowledgements
While Katie and Lou took the lead on this project, it would not be what it is without the many vulnerable, caring, and thoughtful conversations we had along the way with those who contributed their time, words, and feedback on the document. A big thank you to Arne Bakker, Chiara Bertipaglia, Ellen Dow, Rayya El Zein, Brianna Johns, Ellen Kuwana, El Lower, Alberto Roca, and Camille Santistevan.
Coming up next, and how you can get involved
Our plan is to keep expanding our glossary for community managers in STEM, publishing themed glossary sections on Zenodo and growing the interactive version on our website. We'll be scheduling co-working sessions in the new year, so if this is something you'd like to get involved with, please let us know by emailing info@cscce.org.
Some additional resources